Delhi Agra Tour
(3 Nights / 4 Days)Rs 4,999/-
Delhi – Delhi

A visit to the iconic India Gate
Enjoy the view of the Qutub Minar
Visit the architecturally wonderful Lotus Temple
Enjoy a taste of history at the Red Fort and Jama Masjid
Explore the wonderful shopping opportunities and street food in Old Delhi
Visit the spectacular wonder of the world, Taj Mahal
Explore the ancient ruins of the Agra Fort and Fatehpur Sikri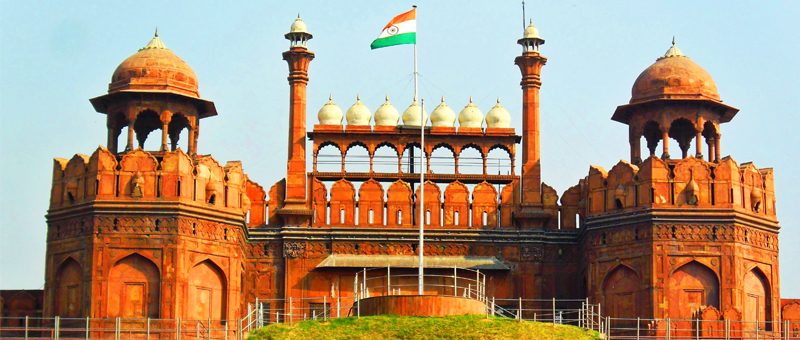 INTRODUCTION
The capital city of India, New Delhi is one of the most interesting and busiest cities in the world. With a rich history merged with a modern-day metropolis culture, Delhi is an extremely fascinating tourist destination. From sightseeing to gorging on delicious street food, you will never find a dull moment in Delhi.
The beautiful city of Agra is located in the North Indian state of Uttar Pradesh, along the banks of the river Yamuna. Known for its Mughal-era architectural wonders, it is undoubtedly a favourite destination amongst tourists. Book your Delhi Agra holiday package at the earliest and feast your senses with beautiful locales and unforgettable adventures.
SHORT ITINERARY
Day 01: Arrival at Indira Gandhi International Airport, New Delhi

Day 02: Sightseeing in Delhi

Day 03: Travel from Delhi to Agra (212 kms. / 3 hours)

Day 04: Departure from Delhi
Upon your arrival in Delhi, you will receive a warm welcome by our representative and will be driven to your hotel.
Start off your adventure in Delhi with a visit to one of the most beloved and significant monuments in the city, India Gate. Built in 1931 as a memorial for soldiers who sacrificed their lives in the war, it is revered as a symbol of patriotism in the capital city.

Next, you may pay a visit to one of the most popular structures in the country. The Qutub Minar is a 72-metre-tall minaret that was built over a thousand years ago. This UNESCO World Heritage Site is definitely an architectural marvel that has withstood the test of time.
Post this exciting day, you may return back to your hotel for a delicious dinner and a good night's rest.
Start off your day with a hearty breakfast and get set to explore this mystical city.
Begin with a visit to the famous Lotus Temple. Open in 1986, this Baha'i Place of Worship is a temple that is open to all regardless of religion, caste or any other qualifications.
Next visit the Red Fort, which was the primary residence for the emperors from the Mughal Era. This red sandstone monument is a historically and culturally significant part of New Delhi.
Right opposite to the Red Fort is the Jama Masjid, one of the largest mosques in the country. Built by Emperor Shah Jahan in 1656, it is definitely one of the most visited tourist destinations in the city.
Old Delhi is one of those locations that cannot be described by words alone, it is meant to be experienced. Here, the famous Chandni Chowk Bazaar will fulfil all of your shopping desires. Be sure to gorge on the delicious and exotic street food of Old Delhi.
Post this exciting day, you may return back to the hotel for a good night's rest.
Start off the day early and get set to travel 212 kms. to Agra, a city in Uttar Pradesh.
Agra, located on the banks of river Yamuna, is one of the most visited tourist destinations in the world. You may start off your trip by visiting the most famous monument in India, the Taj Mahal – also one of the seven wonders of the world. Built in the 18th Century, it is one of the best examples of fine Mughal architecture, not just in India, but in the entire world.
In close proximity is the Agra Fort. Being a primary residence for rulers from the Mughal Dynasty, this architectural wonder is definitely majestic in its own right.
Fatehpur Sikri is a town in Agra that is of much historical significance. It is a popular tourist destination as it houses various monuments and architectural sites that were built during the Mughal rule.
After this interesting day, you may return back to your hotel for a delicious dinner and overnight stay.

Your enchanting Delhi Agra holiday package has come to an end. On this last day, you shall start early and get set to travel from Agra to Delhi (212 kms. / 3 hours). Upon reaching Delhi, you will leave for the airport and begin your onward journey back home. We hope that you had a wonderful experience. We look forward to serving you again.