Jaipur Jodhpur Tour
(3 Nights / 4 Days)Rs 7,999/-
Jaipur – Jodhpur

A visit to the iconic Hawa Mahal
Explore the magnificent City Palace
Enjoy a fun shopping trip at the local markets
A visit to the famous Jantar Mantar
Exploring the magnificent Amer Fort
A visit to the famous Umaid Bhawan Palace
Explore the spectacular Mehrangarh Fort
Visit the white marble structure, Jaswant Thada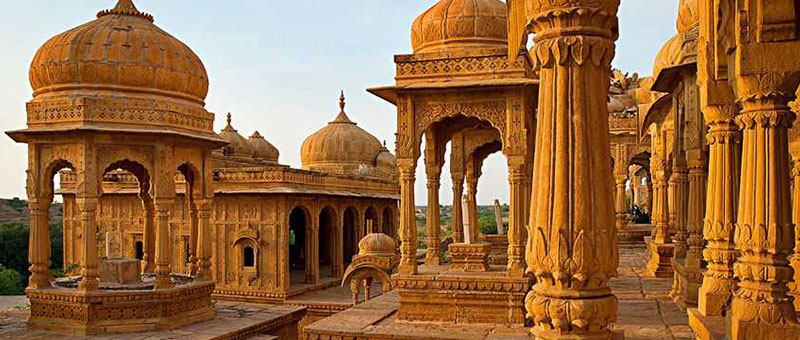 INTRODUCTION
The state of Rajasthan is synonymous with resplendent regal beauty like none other. This region has a rich history that spans over a thousand years. The capital city of Jaipur is a visual and cultural treat in itself. Often called the 'Pink City' for its red sandstone architecture, this place is sure to charm you with its locales.
The 'Sun City' of Jodhpur is one of the most visited tourist destinations for its sunny and warm disposition all year round. Jodhpur offers some of the most scenic and picturesque views of various architectural marvels. Book your Jaipur Jodhpur holiday package at the earliest and get ready to enjoy the experience of a lifetime.
SHORT ITINERARY
Day 01: Arrival at the Jaipur International Airport

Day 02: Sightseeing in Jaipur

Day 03: Travel from Jaipur to Jodhpur (One-hour flight journey)

Day 04: Departure from Jodhpur
Upon your arrival at Jaipur International Airport, you shall be received by our representative and escorted to your hotel.
Start off your Jaipur trip with a visit to the famous Hawa Mahal. This red and pink sandstone monument is a focal point of tourism in Jaipur. Don't miss out on the extraordinary view from the top of the building.

Later on, you may set out to explore the various stalls and shopping kiosks. These shops sell various traditional and unique merchandise ranging from clothes to décor.
After this interesting day, you may return back to your hotel for a warm dinner and retire for the night.
Start off the day with a hearty breakfast and get ready to explore the beautiful capital city. The first destination of the day is the magnificent City Palace. In the past, various rulers have chosen to make this palace their home. This pink and red sandstone marvel is an elegant mixture of Rajput and Mughal architecture.
Next, you may pay a visit to the UNESCO World Heritage Site, Jantar Mantar. Built in the 18th Century, the primary purpose of this monument was to compile astronomical tables.
About an hour's drive away from Jaipur city is Amer Fort, a stunning monument that overlooks the Maota Lake. This architectural wonder is built of red sandstone and white marble. This site also has various stalls that sell handicrafts and other traditional artefacts. Don't miss out on the famous light show that takes place in the evenings.
Later on, you may return back to your hotel for a warm dinner and a good night's rest.
Start the day off early with a tasty breakfast and get ready to begin your journey to Jodhpur. The flight travel time between the two cities is approximately one hour.
Upon reaching Jodhpur, you may start off the sightseeing adventure with a visit to the famous Umaid Bhawan Palace. The historical museum situated here is known to house various culturally significant pieces of art and history.
An experience that cannot be missed in Jodhpur is a visit to the Mehrangarh Fort. This perpendicular marvel is known to offer some of the most spectacular views of the 'blue city' from above. The fort also houses various palaces with beautiful, expansive courtyards. You may also indulge in some fun shopping adventures at this location. Another must-see is the Jaswant Thada, a white marble structure built in memory of Maharaja Jaswant Singh, which is located very close to the fort.

Post this exhilarating experience, you may return back to the hotel for a lovely dinner and a good night's rest.

On the last day of your Jaipur Jodhpur holiday package, you shall start the day early for a hearty breakfast and get set to leave for the airport. You will then begin your onward journey back home. We hope you had a memorable experience. We look forward to serving you again.