Jaisalmer, the Golden City, gets its name from the magical sand castle that sits on Trikuta Hill. The moniker suits this city perfectly because, from a distance, Jaisalmer look like a gold leaf painting shimmering in the desert air. The vantage points around the main fort offer such breath-taking views of Jaisalmer, easily making it one of the prettiest cities in all of Rajasthan.
Desert splendour and ancient trade routes are synonymous with Jaisalmer's history. Sonar Quila (Jaisalmer Fort) is a formidable citadel that one cannot escape while exploring the city. The descendants of the maharaja's workers still live within the fort walls, and the yellow sandstone bastions and palaces are a sight to behold. The Old Quarter is sprinkled with intricately designed sandstone havelis, soft sand dunes, Thar hamlets and wind turbines.
One of the main reasons why people land up in Jaisalmer is to experience life in a desert camp. Jaisalmer is the go-to destination for camel safaris, desert camping and adventure sports. The Sam Sand Dunes and Khuri are popular destinations if you want to live the life of a nomad for a few days.
Because of the city's popularity, how to reach Jaisalmer is not a big issue, at all. If you're travelling in the winter months, make sure you book your tickets in advance to avoid the tourist rush.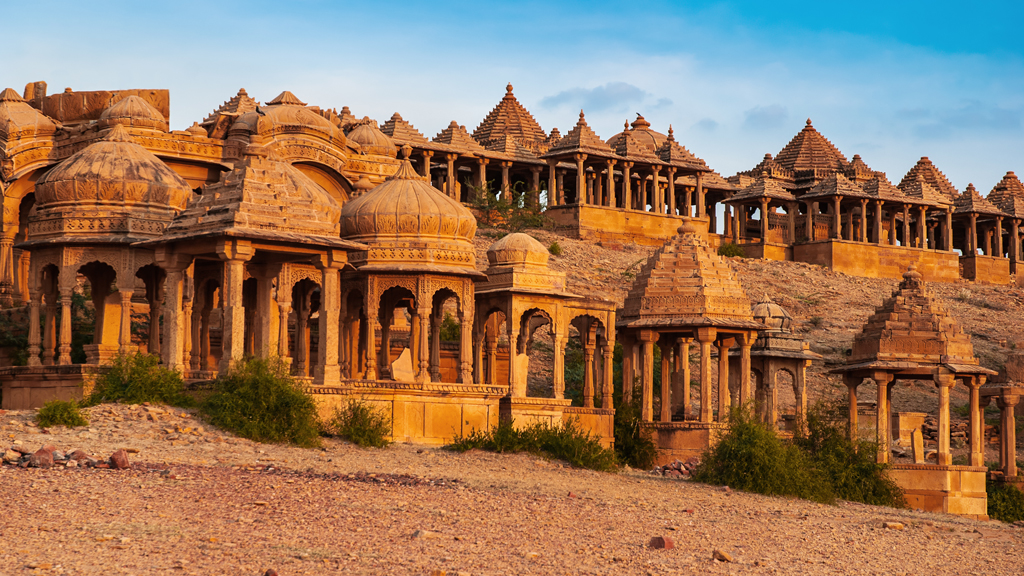 1.By Air:
The Jaisalmer Airport (JSA) is 15kms from the main city, and flights from Jaipur, New Delhi, Bengaluru and Mumbai land here on a regular basis. As a foreign traveller, your best option is to land at Jaipur International Airport and take a connecting flight to Jaisalmer. A road journey from Jaipur to Jaisalmer is simply too long if you're travelling with family. The flight from Jaipur to Jaisalmer is no more than 90 minutes in duration.
2.By Train:
The Jaisalmer Railway Station is in close proximity to the city, a mere 2.8kms away, via Gadisar Road. If you're travelling from Delhi or Jaipur, there are quite a few direct trains that halt at Jaisalmer. The journey from Jaipur is approximately 12 hours long.
If you're in Jodhpur and planning a train journey to Jaisalmer, the Jodhpur-Jaisalmer Express is a 6-hour journey that begins at night, allowing you enter Jaisalmer in the early parts of the morning.
Jaisalmer Station is also well connected with all major cities in Rajasthan.
The luxurious Palace on Wheels is an option for the well-heeled. It makes a scheduled stop In Jaisalmer and you get to explore the city's attractions, as well.
3.By Road:
A number of people opt for a road trip to Jaisalmer during the winter months. This is a memorable experience as you get to witness the amazing desert landscape along the way. A road trip from Jodhpur, Jaipur or Delhi is best attempted by seasoned drivers. If you're driving from Delhi, it's always a good option to make a pit stop at Ajmer and Jodhpur along the route.
A bus service to Jaisalmer is available from all major Rajasthani cities.
The Jaisalmer Bus Stand is on Gadisar Road, and there are regular buses running to and from any city in Rajasthan you might be at.
As you can tell, a bus or a train journey are your best options on how to reach Jaisalmer, if you're already in Rajasthan.
Explore Highly Recommended Jaisalmer Tour Packages for You
Click Here