Pushkar translates to 'blue lotus' and the thousands of pilgrims that land up here certainly agree with that name. This peaceful Hindu pilgrimage town sits on the banks of a sacred lake. There are 400 temples and more than 50 sacred ghats in Pushkar. This makes it a must-visit destination for Hindu devotees, and secular travellers curious about exquisite temple architecture.
The laidback vibe of Pushkar draws a number of travellers here. After you're done exploring the Brahma Temple and many others, you can easily spend the rest of the day holed up in a café. The sleepy mysticism of Pushkar is a huge draw and if you're looking to chill, this is where you should be.
A good time to visit Pushkar is during the annual Camel Fair that takes place around October/November. This is when the sleepy town really comes to life with cultural performances and camel races.
How to reach Pushkar is simple and we'll walk you through the different way to get to this town.
Explore Highly Recommended Jaipur-Pushkar Tour Packages For You
Click Here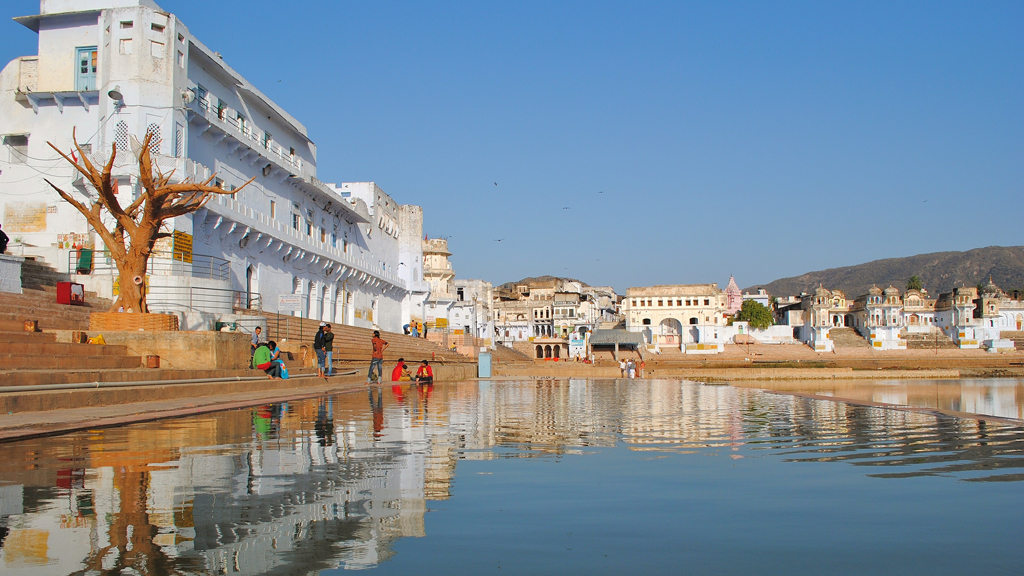 1.By Air:
The Jaipur International Airport is the closest airport to Pushkar. A 3 hour car ride from the airport will see you enter this town of temples and ghats. This is the best option for foreign tourists flying in to visit Pushkar.
2.By Train:
The hilly landscape of Pushkar means there aren't direct trains that reach here from major cities. The Pushkar Terminus Railway Station is quite small and mostly sees a number of local passenger trains. The Ajmer Junction is the main railway station that has a number of trains landing up from all across Rajasthan and beyond. A 40 minute taxi or auto-rickshaw ride will deliver you at Pushkar from Ajmer Junction.
3.By Road:
If you want to immerse yourself with the locals in Rajasthan, a bus journey is a must try. The 2hour30minute journey from Jaipur to Pushkar by bus is a great introduction to the people of this region. There are buses where you can reserve a seat and local buses, as well. The former is a better option for tourists.
If you're visiting Pushkar from Jodhpur, a bus journey will take around 3hours and 30 minutes. For those travelling from Delhi, the journey duration is around 6 hours long. It is always best to book a seat on an AC bus for a journey longer than two hours.
At the end of the day, how to reach Pushkar is not as hard as you might think. All you need to be careful of is confirming your travel plans well in advance.