14 Places To Visit in Rajasthan— Uncover the Land of the Kings in 2024!
The beauty of Rajasthan is a mixture of rich heritage and languid modernity. As you explore towering forts, fairy-tale palaces and sweeping bazaars, you realize that Rajasthan holds its history close to its heart. A magical destination that comes alive when you witness camel bartering, twirling moustaches, and intricate handicrafts.
Rajasthan literally translates to 'Land of Kings' and rightfully so. For centuries, the ruling maharajas patronized the arts, leading to a rich culture in this sandy paradise. Whether you're taking a camel ride on the sand dunes, exploring the elaborate royal structures or tasting the local cuisine, Rajasthan never disappoints.
It is a multi-hued destination and the perfect getaway. Falling in love with the desert state is easy, and to make it easier for you, here's a complete list of places to visit in Rajasthan that you simply cannot miss when you visit the biggest state in India.

1Jaipur— The Pink City beckons
The Pink City, situated on one end of the Thar Desert, encompassed by the Aravalli Hills, is the crowning jewel of Rajasthan. Whether you're travelling solo or with your loved ones, Jaipur will mesmerise you with its palaces, forts, bazaars and cuisine. The city's pink colour scheme is a joy to behold, and you'll need more than a few days to get your fill of Jaipur and its many attractions.
Whether you're exploring the royal observatory, or dodging foot traffic as you haggle in a multi-coloured bazaar, Jaipur will ensure you have the time of a lifetime. It comes as no surprise that Jaipur is part of India 'golden triangle' travel circuit, that includes Agra and Delhi.
Best Time to Visit:
Year-round
Tourist Attractions:
Hawa Mahal, Jal Mahal, City Palace, Amer Fort, Jantar Mantar, Nahargarh Fort, Jaigarh Fort, Birla Mandir, Raj Mandir Cinema, Albert Hall Museum, Rambagh Palace, Anokhi Museum, Maota Lake, Samode Palce, Bazaars of Jaipur, Jhalana Leopard Conservation Reserve, Man Sagar Lake, Chour Ghati, Bhuteshwar Nath Temple, Achrol Fort, Sisodia Rani Garden.
Nearest Railway Station:
Jaipur Junction Railway Station, 5kms from Jaipur City wall.
Weather:
Summer (April-June), Winter (October-March), Monsoon (July-September)

2Jaisalmer— The Golden City straight out of Arabian Nights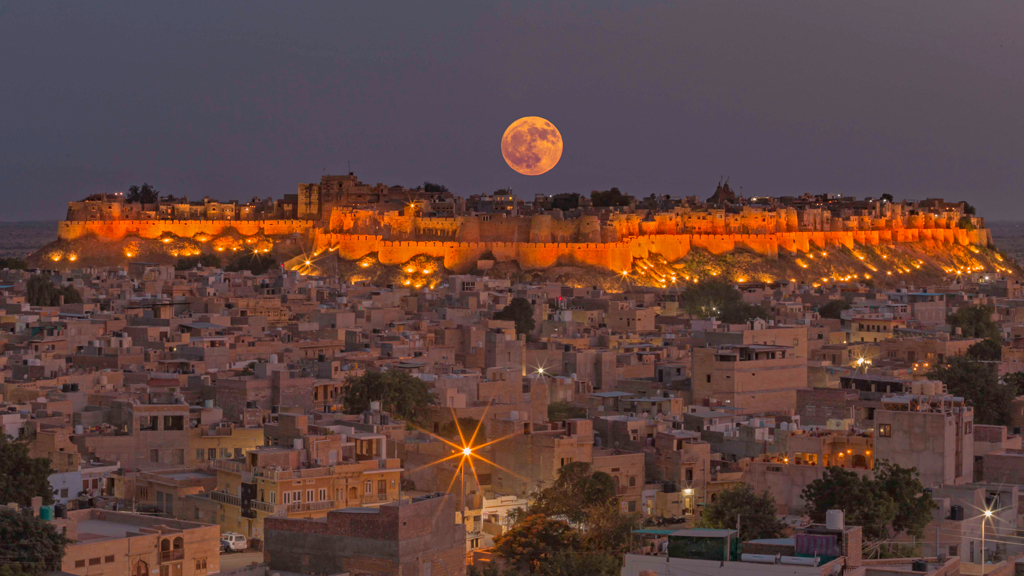 As a traveller enters Jaisalmer, it isn't hard to realize why it is nicknamed the Golden City. Situated in the middle of the Thar Desert, Jaisalmer's undulating sand dunes, and fort situated on Trikuta (three-peaked) Hill, is the perfect introduction to this city's historical wonders. The fort is not simply a tourist destination; the families that continue to live there are descendants of the former maharajas workers. Jaisalmer was founded in the 12th century and as you explore this city, you will find that its history is intertwined with modernity. The sandstone havelis of the old city, kaleidoscopic curio shops, and camel safaris make Jaisalmer one of the most attractive places to visit in Rajasthan.
Best Time to Visit:
October to March. The summer months are extremely dry.
Tourist Attractions:
Jaisalmer Fort, Sam Sand Dunes, Gadsisar Lake, Patwon ki Haveli, Salim Singh-ki Haveli, Nathmal ki Haveli, Kuldhara Village, Khaba Fort, Amar Sagar Lake, Vyas Chhatri, Desert National Park, Surya Gate, Mandir Palace, Desert Culture Centre and Museum, Bada Bagh, Khuri Sand Dunes, Akal Wood Fossil Park, Maharaja's Palace, Chandraprabhu Temple, Tazia Tower, Lodhurva, Pokaran Fort,
Nearest Railway Station:
Jaisalmer Railway Station
Weather:
Summer (March-August), Winter (November-February), Monsoon (September-October)

3Udaipur— The tranquil City of Lakes
The moniker, 'Venice of the East', doesn't do the city justice because Udaipur is a unique travel getaway in its own right. The azure waterbodies and the rippling green Aravalli Hills elevate this southern Rajasthan city's natural splendour. Udaipur was born in the mid-1500s as the capital of the Mewar Kingdom. The palaces, temples, and lakes here are testament of a bygone royalty that charms and excites travellers. Explore the cream-coloured City Palace, in the middle of Pichola Lake, or the Monsoon Palace, that sits pretty on a peak like a beautiful mirage, to get a taste of the man-made structures of Udaipur. Whether you explore this romantic city on foot, or horseback, you will be taken in by the natural magnificence and royal grandeur. When it comes to romantic places to visit in Rajasthan, Udaipur is second to none.
Best Time to Visit:
September to March
Tourist Attractions:
The Lake Palace, City Palace, Jagdish Temple, Monsoon Palace, Shilpgram, Udaipur Solar Observatory, Fateh Sagar Lake, Fateh Prakash Palace Crystal Gallery, Lake Pichola, Bagore ki Haveli, Eklingji Temple.
Nearest Railway Station:
Udaipur City Railway Station
Weather:
Summer (March-June), Winter (October-March), Monsoon (July-September)

4Jodhpur— Wander around the Blue City
The first thing that hits you when you enter Jodhpur in western Rajasthan is its mass of blue houses. As you enter the old part of the city, the blue walls dazzle in the noonday sun and create a magical setting heightened by the 16th century, 10km-long, wall that surrounds Jodhpur.
A walk through the medieval bazaars of Jodhpur and their meandering lanes is filled with surprises. Curio shops sell trumpets, saris and woodwork miniatures. The scent of roses and incense hangs heavy in the air. The second largest city in Rajasthan has a massive fort on a rocky ridge that looms over the blue houses of Jodhpur.
Best Time to Visit:
July-March
Tourist Attractions:
Mehrangarh Fort, Khejarla Fort, Umaid Bhavan Palace Museum, Ghanta Ghar, Tripolia Market, Moti Mahal, Phool Mahal, Sheesh Mahal, Ranisar Lake, Padamsar Lake, Jaswant Thada, Mandore Gardens, Balsamand Lake, Masuria Hills, Guda Village, Chokhelao Bagh, Umed Garden Zoo, Chand Baori
Nearest Railway Station:
Jodhpur Junction Railway Station
Weather:
Summer (April-June), Monsoon (July-August), Winter (October-March)

5Pushkar— The land of multi-hued fairs
Pushkar's uniqueness lies in its religious history and modern touristy vibes. It is a popular Hindu pilgrimage town with 400 temples, over 50 bathing ghats, and exists on the banks of a sacred lake that, according to Hindu mythology, sprung up when a lotus flower was dropped by Lord Brahma. Non-pilgrim travellers flock to Pushkar because of the quietude on offer, and this town is the perfect balance of religiosity and tourism. Even though tourists appear in large numbers here, Pushkar is still surrounded by a mystical aura.
The camel fair that takes place in October/November is an experience of a lifetime and shouldn't be missed if you're travelling in Rajasthan during this period. Pushkar is known as 'the rose garden of Rajasthan' and Nag Pahar (Snake Mountain) separates it from Ajmer.
Best Time to Visit:
Year-round
Tourist Attractions:
Pushkar Lake, Brahma Temple, Varaha Temple, Gurudwara Singh Sabha, Savitri Temple, Rangji Temple, Pap Mochini Temple, Atmateshwar Temple, Pushkar Camel Fair, Merta, Naga Pahar, Rose Garden, Sarafa Bazaar, Kishangarh, Man Mahal
Nearest Railway Station:
Pushkar Terminus Railway Station
Weather:
Summer (April-July), Monsoon (July-September), Winter (October-March)

6Mount Abu— The only desert hill station
At over 1700m above sea level, Mount Abu is where tourists go for respite from the sultriness. The ripples of green, courtesy of the Aravalli Hills, makes this a travel hotspot for Indian and foreign travellers. Coupled with mild temperatures, cascading waterfalls, and tranquil lakes, Mount Abu offers a holiday in the lap of nature.
The only hill station in Rajasthan is perfect for adventure lovers as there are a number of short treks in the region. A major attraction of Mount Abu is the wildlife sanctuary that spreads over 289 sq.km. of the mountain. For the religious traveller, Mount Abu is home to over 80 Hindu and Jain shrines and temples.
Mt Abu is, quite literally, one of the coolest places to visit in Rajasthan.
Best Time to Visit:
Year-round
Tourist Attractions:
Nakki Lake, Guru Shikhar, Toad Rock View Point, Dilwara Jain Temples, Mount Abu Wildlife Sanctuary, Peace Park, Lal Mandir, Trevors Tank, Achalgarh Fort, Achleshwar Mahdev Temple, Shri Raghunath Temple, Gaumukh Temple
Nearest Railway Station:
Abu Road Railway Station
Weather:
Summer (April-June), Monsoon (July-September), Winter (November- February)

7Bharatpur— A birdwatcher's paradise
Bharatpur is well known for two major attractions. First, it is home to the Keoladeo National Park (UNESCO-listed) which is an important migratory bird sanctuary and wetland. Secondly, the exuberant and multi-hued Brij Festival that takes place here, just before Holi, is a must for those who want to get a taste of local culture. Commonly known as the eastern gateway into Rajasthan, this city may not be as popular as Jaipur or Udaipur, but it certainly has its own charm.
If you're interested in Rajasthani handicrafts, this city offers a wide variety at slightly cheaper rates than the other tourist cities. Bharatpur is an amalgamation of historical structures and cultural throwbacks.
Best Time to Visit:
July-March
Tourist Attractions:
Keoladeo National Park, Bharatpur Government Museum, Bharatpur Palace and Museum, Bankey Bihari Temple, Lohagarh Fort, Chawad Devi Temple, Laxman Mandir, Seetharam Temple, Ganga Mandir, Deeg, Dholpur Palace, Band Baretha
Nearest Railway Station:
Bharatpur Junction Railway Station
Weather:
Summer (April-June), Monsoon (July-September), Winter (October - March)

8Bikaner— Home to the Ship of the Desert
Unlike other touristy cities of Rajasthan, Bikaner still hangs on to its rustic charm. For the traveller looking for a change of scenario, Bikaner has its old city surrounded by a battlement wall. The red sandstone havelis and the narrow by-lanes look almost medieval and is the perfect setting for a unique travel experience.
Tourists flock here because of an extensive camel-safari scene, and the Karni Mata Temple, where rats are worshipped by the pilgrims. The fire dance performed solely by the Jas Naths, a Hindu sect, is an added attraction during the Bikaner Camel Festival. All in all, Bikaner is a haven of camel safaris and a city with its own Rajasthani appeal.
Best Time to Visit:
July-February
Tourist Attractions:
Junagarh Fort, Lalgarh Palace and Museum, Rampuria Haveli, Laxmi Niwas Palace, Ganga Government Museum, Karni Mata Temple, Prachina Museum, Jain Temple Bhandasar, Shri Laxminath Temple, Gajner Palace and Lake, Gajner Wildlife Sanctuary, Kolayat, Katariasar Village, Jorbeed,
Nearest Railway Station:
Bikaner Junction Railway Station
Weather:
Summer (March-June), Monsoon (July-November), Winter (December-February)

9Bundi— The City of Stepwells
Bundi is for the traveller who wants to get off the beaten track. This town is painted blue and rests just below a crag-mounted palace. Bundi's bazaars, bustling streets, hills and lakes is the perfect getaway from the dazzle of Udaipur. Situated in southern Rajasthan, this is where Rudyard Kipling wrote a novel and it is easy to understand why. Bundi is all about relaxation and enjoying Rajasthani culture at its unadulterated best.
Don't forget to ogle at the Bundi murals inside the palace and if you're visiting around August-September, you can witness the Kajli Teej festival, a celebration of the upcoming rains. Bundi is also locally known as the City of Stepwells.
Best Time to Visit:
August-March
Tourist Attractions:
Bundi Palace, Raniji ki Baori, Sukh Mahal, Taragarh Fort, Kshar Bag, Dabhai Kund, Nagar Sagar Kund, 84 Pillared Cenotaph, Lake Jait Sagar, Lake Nawal Sagar, Ramgarh Vishdhari Sanctuary, Garh Palace Bundi, Badal Mahal, Chitra Mahal
Nearest Railway Station:
Bundi Railway Station
Weather:
Summer (April-July), Monsoon (July-September), Winter (October-March)

10Kota— Where the River Chambal flows
If you're in the town of Kota, there is no way you can miss out on a boat ride or three. Situated on the east bank of the Chambal River, Kota offers picturesque boat trips and, if you're lucky, you might just spot a crocodile or a rare bird. The famous kota doria saris hail from a village in this town, and the intricate embroidery on the multi-coloured cotton and silk make for a great Rajasthani souvenir.
The festival of Dussehra celebration is worth witnessing if you're here around October or November. Make sure you check out the miniature paintings of Kota depicting a variety of social and pastoral scenes.
Best Time to Visit:
October-March
Tourist Attractions:
Garh Palace, Maharao Madho Singh Museum, Abheda Mahal, Charan Chauki, Jagmandir Palace, Kota Barrage, Chambal Garden, Godawari Dham, Alnia Dam, Garadia Mahadev Temple, Kansua Temple, Gaiparnath Temple
Nearest Railway Station:
Kota Junction Railway Station
Weather:
Summer (March-June), Monsoon (July-September), Winter (October-February)

11Ajmer— The city of the 'invincible hill'
About 130kms southwest of Jaipur lies the city of Ajmer, an important location of Islamic heritage and history. Located beside the calm waters Ana Sagar Lake, a day trip here will introduce you to beautiful structures of early Islamic architecture and the city is best known for the shrine of Khwaja Muin-ud-din Chishti. An important Sufi saint who founded the Chishtiya order of Sufism.
Ajmer's roots go deep as the city was founded in the 7th century, and it was also one of the first meeting points of the Mughals and the British. Sir Thomas Roe met Emperor Jahangir here in the early 1600s. Today, Ajmer is a bustling centre of tourists and pilgrims. The city's Naya Bazaar has a vast collection of tie-dyed fabrics and silver jewellery.
Best Time to Visit:
Year-round
Tourist Attractions:
Ajmer Sharif Dargah, Adhai Din Ka Jhonpda, Soniji ki Nasiyan, Nareli Jain Temple, Ana Sagar Lake, Lake Foy Sagar, Sai Baba Temple, Ajmer Government Museum, Gateway of Taragarh Fort, Kishangarh Fort, Prithvi Raj Smarak, Victoria Clock Tower, Ana Sagar Baradari, Akbar's Palace, Daulat Bagh, Mahila Mandi
Nearest Railway Station:
Ajmer Junction Railway Station
Weather:
Summer (April-June), Monsoon (July-September), Winter (October-March)

12Chittorgarh— The city with a resilient fort
Chittorgarh, or Chittor, is synonymous with Rajput pride. History reminds us, that on three separate instances, the fort was besieged by a superior enemy, and every time the Rajput warriors chose to ride out to battle towards a fatal end. The Rajput women and children performed jauhar, the act of sacrificing their lives over a funeral pyre.
Chittor's main attractions are within the fort and a visit here turns out to be an inspiring history lesson. Suraj Pol, the eastern entrance of the fort offers brilliant panoramas of the countryside and town. The 15th century palace and temple still contain impressive remnants of an ear of man-made splendour. The nine-storied Tower of Victory is another beautiful sight you shouldn't miss while visiting Chittor.
Best Time to Visit:
Year-round
Tourist Attractions:
Chittorgarh Fort, Kirti Stambh, Vijay Stambh, Padmini Palace, Rana Kumbha Palace, Kalika Mata Temple, Sathis Deori Temple, Ratan Singh Palace, Samadhisvara Temple, Gaumukh Reservoir, Fateh Prakash Palace, Sitamata Wildlife Sanctuary, Bassi Wildlife Sanctuary, Bhainsrodgarh Wildlife Sanctuary
Nearest Railway Station:
Chittaurgarh Junction Railway Station
Weather:
Summer (April- July), Monsoon (July-September), Winter (October-March)

13Alwar—The City of Rajputana pride
Alwar was a former capital of a Rajput State making it an important stopover for those who want to get the best of both worlds- natural splendour and historical monuments. The good thing about Alwar is that it is not overcrowded making it the perfect haven for the peace-seeking traveller.
The bazaars here are colourful and you will not be hassled by a large crowd. A good time to visit is during the Alwar Festival as the city comes alive. Alwar is a traveller's dream because of its dense forest cover that is home to a number of rare species of fauna- from the golden jackal to the Bengal tiger. It is also a birdwatcher's paradise with a variety of avian species- white-throated kingfisher and grey partridge, among others.
Mythologically, Alwar is where the Padavas spent the final years of their exile.
Best Time to Visit:
July-March
Tourist Attractions:
Bala Quila Fort, Bhangarh Fort, Palace Museum, City Palace, Vijay Mandir Palace,Neelkant Mahdev Temple, Moosi Maharani Ki Chhatri, Fateh Jung Gumbad, Purjan Vihar, Pandu Pol, Sariska Wildlife Sanctuary, Garbhaji Waterfall
Nearest Railway Station:
Alwar Junction Railway Station
Weather:
Summer (April-June), Monsoon (July-September), Winter (November-February)

14Ranthambore—The land of the tiger
14kms from the railway town of Sawai Madhopur, lies the breath-taking Ranthambore National Park and Tiger Reserve. Spread over 1334 sq.km. of thick jungle, this is where you can spot the elusive big cat in its natural habitat. Even if the tiger plays hide and seek, you can still have a wonderful safari with a number of other animals and birds on display. Jackal, hyena, Indian wolf, nilgai, sambhar deer, greylag goose, nightjar, great crested grebe, and many more. A trip to Ranthambore feels like you're part of a live-action movie of The Jungle Book!
The dry-deciduous forest landscape is made up of sparkling rivulets, crags, lush meadows and densely-covered hills. Animal lovers are spoiled for choice when it comes to places to visit in Rajasthan, and Ranthambore is the wildlife jewel.
Best Time to Visit:
1st October-30th June. The park is closed from 1st July-30th September.
Tourist Attractions:
Ranthambore Fort, Trinetra Ganesh Temple, Surwal Lake, Padam Lake, Kachida Valley, Jogi Mahal, Raj Bagh Ruins, Lakarda, Anantpura, Malik Talao, Akaula
Nearest Railway Station:
Sawai Madhopur Railway Station
Weather:
Summer (April-June), Monsoon (July-September), Winter (October-March)
It's impossible to explore all the places to visit in Rajasthan, but no matter where you choose to land up, a good time is guaranteed.