Udaipur Mount Abu Tour
(4 Nights / 5 Days)Rs 9,999/-
Udaipur – Mount Abu

Enjoy the panoramic view of Udaipur city with a ropeway ride
Go on a shopping spree in the streets of Udaipur
Take a boat ride and fancy the view of Fateh Sagar Lake
Explore the extensive Kumbhalgarh Fort
A visit to the lavish City Palace
Be spirituality cleansed at the Dilwara Jain Temples
Enhance your photography skills at the Guru Shikhar viewpoint
Go back in time when you visit Achalgarh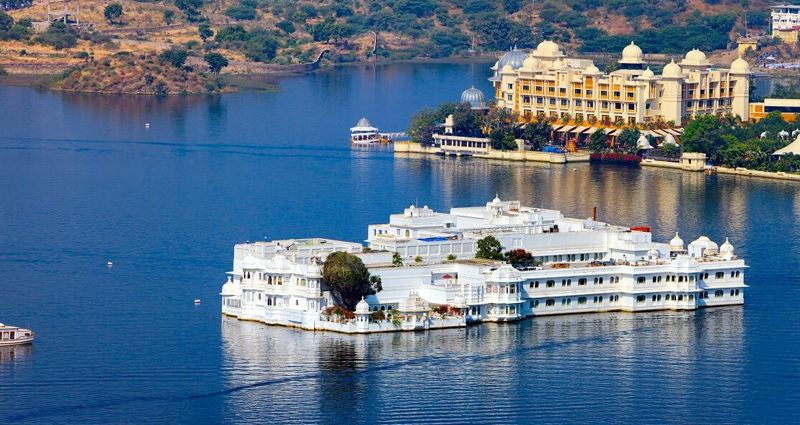 INTRODUCTION
Udaipur often referred to as "Venice of the East" is known for its beautiful backdrops of lakes, palaces, forts, and gardens. Also known as the "City of Lakes", this city in Rajasthan has a wealth of heritage, culture, and history.
The Aravallis never before seemed so calling. The spiralling roads to Mount Abu Hill Station, the only hill station of Rajasthan, catch the fantasy every time a visit is made. What sunrise could be like and how sunset can leave mere humans unnerved is understood in its full impact only in a place like this and more in Mount Abu. All these imageries and more takes shape of reality with the decision to tour.
With this stupendous line of two amazing cities in Rajasthan, your Udaipur Mount Abu holiday package is a surely going to make you rejoice this trip.
SHORT ITINERARY
Day 01: Arrival at the Udaipur Airport

Day 02: Sightseeing in Udaipur

Day 03: Udaipur to Mount Abu (164.1 km. / 2 hrs. 59 minutes)

Day 04: Sightseeing in Mount Abu

Day 05: Departure from Udaipur
When you arrive at the Udaipur Airport, you will be given a warm welcome by our representative and be escorted to your hotel.
After your check-in procedure, you can head out and start exploring the city. Your first destination on the list is the City Palace of Udaipur. This humongous complex is the pride of the city. Its magnificent architecture and the intricate carvings on the walls will take your breath away. City Palace boasts of the wonderful blend of Medieval, European and Chinese Architecture. The Palace has various towers, domes, and arches, which add to the flavour of the heritage site. Towering on the banks of Pichola Lake, City Palace is truly a feast to the eyes. City Palace is a marvellous assortment of courtyards, pavilions, terraces, corridors, rooms, and hanging gardens. Encircled by fortifications, this imposing Palace is wholly built in granite and marble.
After you are done with the sightseeing you can head out in the market and shop for some local souvenirs.
At night, you can head back to your hotel for a delicious meal and some sound sleep.
Kick start your day with a healthy breakfast and be ready to explore the city, yet again.
For today, your first destination for the day will be the Kumbalgarh Fort. The fort is also known as the crowning glory of Rajasthan. If there is one fort that personifies the spirit and grandeur of the state more than anyone else, it is the impressive and awe-inspiring Kumbhalgarh fort. In fact, the fort has the second largest wall after the Great Wall of China. Also, it is a UNESCO world heritage site. Now, who would want to miss out on such a place?
The next attraction on your list is a boat ride along the Fateh Sagar Lake. The lake is beauty at its best. It is circled by scenic mountains and the sight is just picturesque. A boat ride will rejuvenate you and will allow you to take a view of the city being right in the middle of the lake.
After, this tranquil boat ride it is time you get a bird's eye view of the entire city. For that, we will be making our way to the Mansapurna Karni Mata Ropeway. The rope-way is located in the heart of the city, so, one can get access to the place easily. It is located in the main tourist area and can be best visited in the evenings. It will give you access to view the entire city from the top.
It is time to catch up on some sleep and take some rest at your hotel.
Start your day with an early breakfast. Today you will be traveling to Mount Abu. The distance between the two cities is 164.1 km. and it will take around 2 hours and 59 minutes to reach Mount Abu by road.
On your arrival in Mount Abu, check-in at the hotel. Post some relaxation; you can visit the Guru Shikhar viewpoint.
This is the perfect place for your cameras to come into action. The backdrop is located at a height of 1772 meters above sea level, and one can enjoy the view of Mount Abu region from this peak. It provides a breath-taking panoramic view of Mount Abu town and green Aravali range.
Post this tiring day you can catch up on some rest and have a good night's sleep at your hotel.

After a satisfying breakfast head into the city for some more exploration. Today you will start your day with a spiritual touch. We are talking of the Dilwara Jain Temples.
Dilwara Jain Temples is one of the finest Jain temples known over the world for its extraordinary architecture and marvellous marble stone carvings, some experts also consider it architecturally superior to the Taj Mahal. It seems like a fairly basic temple from outside but every cloud has a silver lining, the interior showcases the extraordinary work of human craftsmanship at its best.
The last destination on your list will be Achalgarh. The Achalgarh fort is notably many centuries old and is renowned for many attractions. It houses many historical relics and temples of great historical importance. A must visit if you are in Mount Abu.
To end your day you can enjoy your dinner at the hotel and start packing to head back home the next day.
For your journey back home you will be traveling back to Udaipur, the closest airport from Mount Abu. We hope we could be of great service to you on your Udaipur Mount Abu holiday package and we definitely wish to serve you again.