11 Places to Visit in Jaisalmer— The Golden City Attractions of 2019
Travellers are left spellbound when they get their first view of Jaisalmer, and rightfully so. A fantastical sand castle, multi-turreted, sits on a three-peaked hill like a shimmering mirage. A panoramic view of the Golden City makes it seem as if it were magically brought to life from a gold leaf miniature painting. The city's history is intertwined with desert grandeur and ancient trade routes.
The Jaisalmer Fort is still inhabited by descendants of the maharajas' workers, who run shops and stalls within the walls, today. There are 99 gigantic bastions that circle the winding streets, temples, and palaces carved out of yellow sandstone. Off the fort is the old city, peppered with sandstone havelis and beyond that, the undulating dunes, wind turbines, and villages of the omnipresent Thar Desert.
Jaisalmer was founded in the 12th century and its rulers patronized the fine arts and were tolerant of other religions, especially Jainism. Jaisalmer's glory reached new heights from the 16th to the 18th century. Since Jaisalmer was situated on the trade routes that connected India with Central Asia, the local folk and merchants commissioned impressive mansions of wood and sandstone. This makes a walk through Jaisalmer a wonderful experience, where at every corner sits an architectural delight.
We picked out a handful of breath-taking places to visit in Jaisalmer while exploring the Golden City of western Rajasthan.

1Jaisalmer Fort—The Aurum mirage of Rajasthan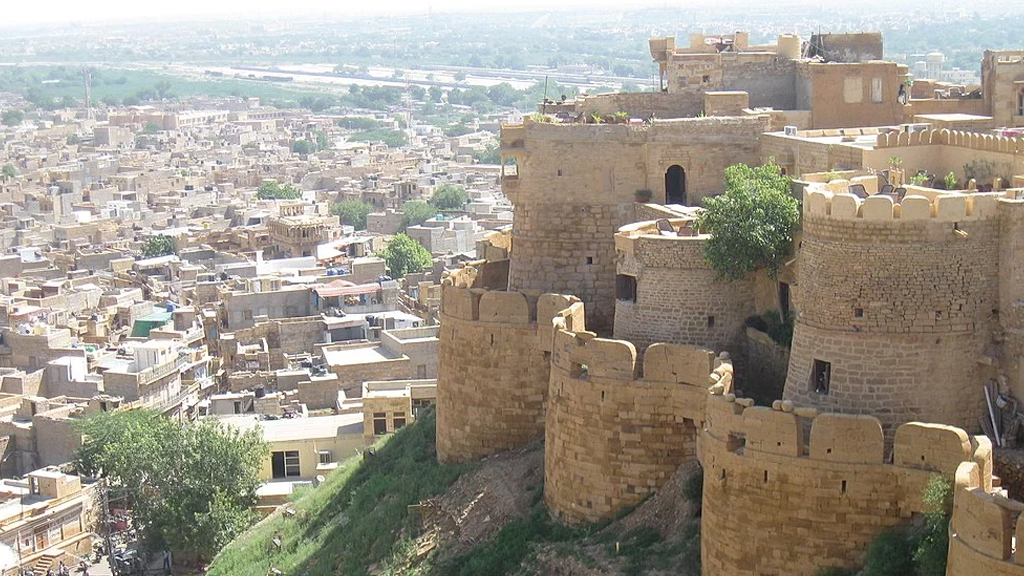 Sitting atop Trikuta Hill, the Sonar Quila (Golden Fort) was the epicentre of a number of wars between the Rathores and Mughals. The bastion is surrounded by two imposing walls and one enters through a number of sky-high gates that lead to an airy inner courtyard. A stroll along the fort's ramparts offers brilliant vistas of the city. Jaisalmer Fort was declared a UNESCO World Heritage Site in 2013.
Looming over the main courtyard is the seven-storied Maharaja Mahal, the king's former palatial residence. Now converted into the Fort Palace Museum, this sprawling mansion is a network of ornate rooms and balconies.
The Diwan-i-Khas (Hall of Private Audience) and Diwan-i-Am (Hall of Public Audience) are two majestic halls worth checking out. The former has a collection of rare Rajput stamps and the room looks out on the fort's entrance ramp and the town. The porcelain tiles of the Diwan-i-Am hark back to Jaisalmer's opulence. The room near the maharaja's private chamber contains a collection of stone panel friezes while another is lined with white and blue tiles. Don't miss out on the eastern pavilion-like-balcony where drummers announced an oncoming siege. It's no surprise that travellers have elevated Jaisalmer Fort to one of the best places to visit in Jaisalmer.
The 7 Jain Temples within the fort date back to the 12th and 16th century. The Chandraprabhu Temple is dedicated to the 8th tirthankar (revered teacher). The intense carving and sculpting work on the mandapa and surrounding pillars makes this temple a must-visit. The Rikhabdev Temple has sculptures that are protected by glass and a life-like carving of a mother and child. Behind Chandraprabhu lies the Parasnath Temple with its brightly painted ceiling. The carved torana (gatepost) and apsara attract hordes of travellers. Gyan Bandhar is not a temple but an underground vault that served as a library when it was constructed in 1500. It houses rare 11th century illustrated manuscripts and the Shroud of Gindhasuri, a Jain hermit. The other four Jain temples are- Shitalnath, Sambhavanth, Shantinath and Kunthunath.
Timings:
Fort Palace Museum: 8 AM – 6 PM (April – October), 9 AM – 6 PM (November – March); Jain Temples: 8 AM – 12 PM (Chandraprabhu, Rikhabdev, Gyan Bhandar), 11 AM – 12 PM (other temples)
Entry Fee:
Fort Palace Museum: INR 100 for Indians, INR 500 for Foreigners (audio guide included); Jain Temples: INR 50 for Indians, INR 200 for Foreigners

2Salim Singh ki Haveli—A tyrant's beautiful mansion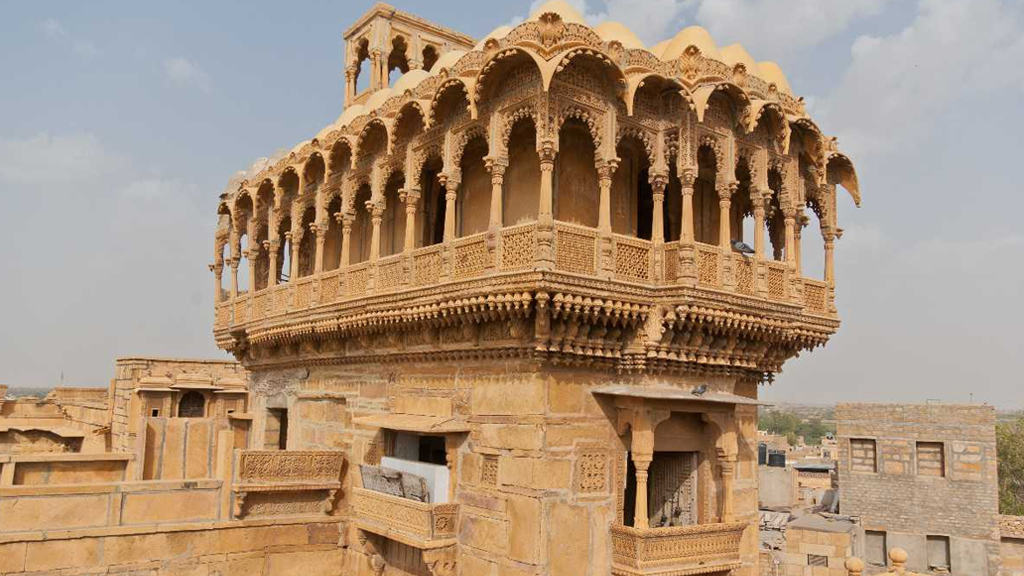 Salim Singh was a prime minister of Jaisalmer whose ill treatment of the locals led him to be murdered on orders of the maharaja. Although he wasn't a pleasant person to be around, his havelis stands out as a magnificent example of Rajput architecture.
The 300-year-old havelis is narrow along the lower floors and then blooms into arched balconies and light blue cupolas. The brackets on the aesthetically carved roof are in the form of peacocks. There are 38 balconies, each with their own unique design, in this haveli. No mortar was used in the construction of this mansion and locals call in Jahaj Mahal, because of its unique shape in the form of a ship's stern. Salim Singh ki Haveli stands out because it is designed to look completely different from the other aristocratic houses in Jaisalmer.
Timings:
8 AM – 6 PM
Entry Fee:
INR 10-50 for Indians; INR 100 for Foreigners
Explore Highly Recommended Jaisalmer Tour Packages for You
Click Here

3Patwon ki Haveli—The largest aristocratic mansions in the Golden City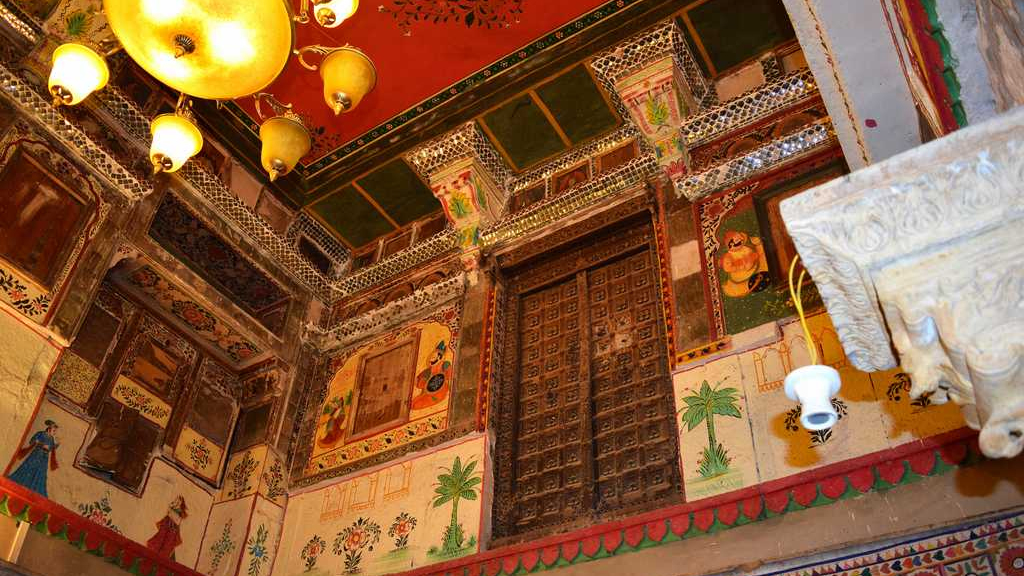 Patwon ki Haveli was constructed in the 1800s by the Patwa brothers who were brocade and jewellery merchants. Their line of work may have influenced the architecture of this 5-sectioned haveli as the stonework resembles honey-hued lace. Patwon ki Haveli stands out as an architectural wonder among all the places to visit in Jaisalmer.
The roof of this haveli affords a brilliant vista of the Jaisalmer Fort. Like all the havelis in Jaisalmer, the owners were more bothered about an external display of their wealth, making the exterior walls of these mansions as arresting as possible. Patwon ki Haveli has intricately carved windows and balconies, while the interior contains a tiny museum, mirror work, and a few crackling paintings.
Timings:
9 AM – 6 PM
Entry Fee:
INR 50 for Indians; INR 200 for Foreigners

4Nathmal ki Haveli—A mansion that still houses residents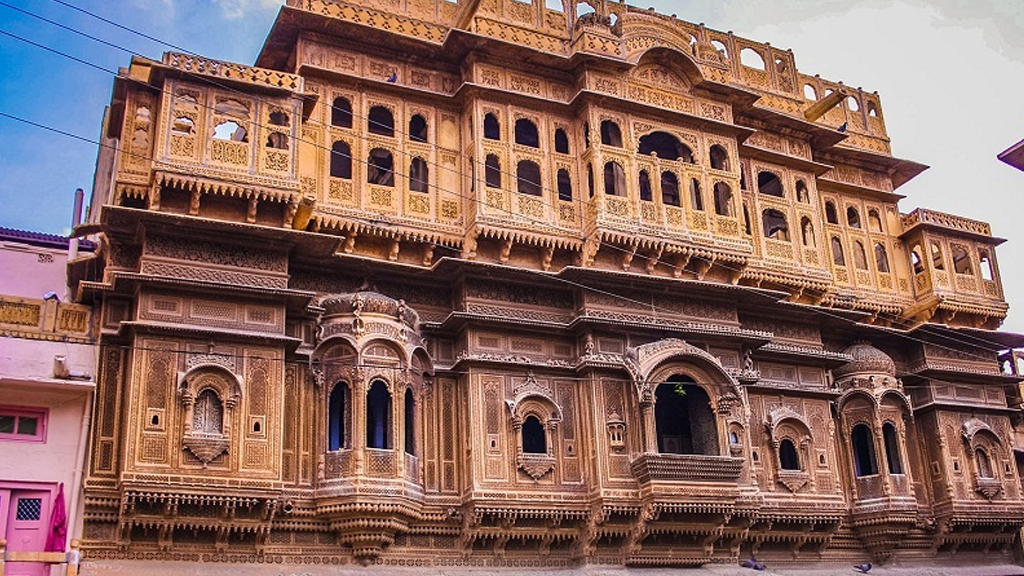 Nathmal ki Haveli is one of the few mansions that are still inhabited. This 19th century haveli was constructed by two brothers who decided to give their imagination free reign as they took charge of either wing. The result is an eerily symmetrical haveli that comes together beautifully, but isn't completely identical. The outer walls of this mansion are closely carved and there are two yellow sandstone elephants guarding the entrance. The main reason to enter Nathmal ki Haveli is to explore the beautiful paintings on the first floor that made use of nearly 1.5kg of gold!
Timings:
8 AM – 7 PM
Entry Fee:
Token payment
You May Also Be Interested In: "Things To Do In Jaisalmer"
Click here

5Gadi Sagar Lake—The 14th century tranquil reservoir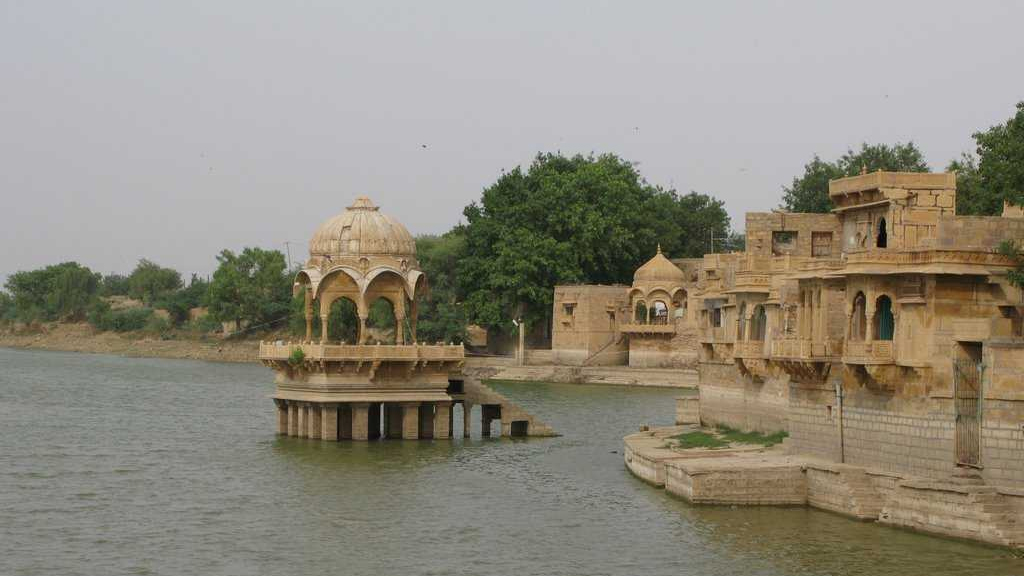 The Gadi Sagar Lake was built in 1367 by Maharaja Gadsi Singh to provide water to the old city. That's why the reservoir is dotted with shrines and temples erected by the inhabitants in honour of this man-made oasis. The emerald waters of this lake make it a perfect place to take a stroll and just unwind after the day's sightseeing. You can even hire a boat and while away your time at this picturesque location.
One needs to enter via Tilon ki Pol gateway. The local legend is that a prostitute wanted to pay to have this gateway built but the maharaja refused permission on the grounds that he would have to walk under it while visiting Gadi Sagar. The story goes that she had it constructed anyway when the maharaja was out of town, and added a Krishna temple so that he couldn't have it demolished! Gadi Sagar is one of the most mesmerising places to visit in Jaisalmer.
Timings:
8 AM – 9 PM
Entry Fee:
Free

6Pansari Bazaar—The Golden City's shoppers delight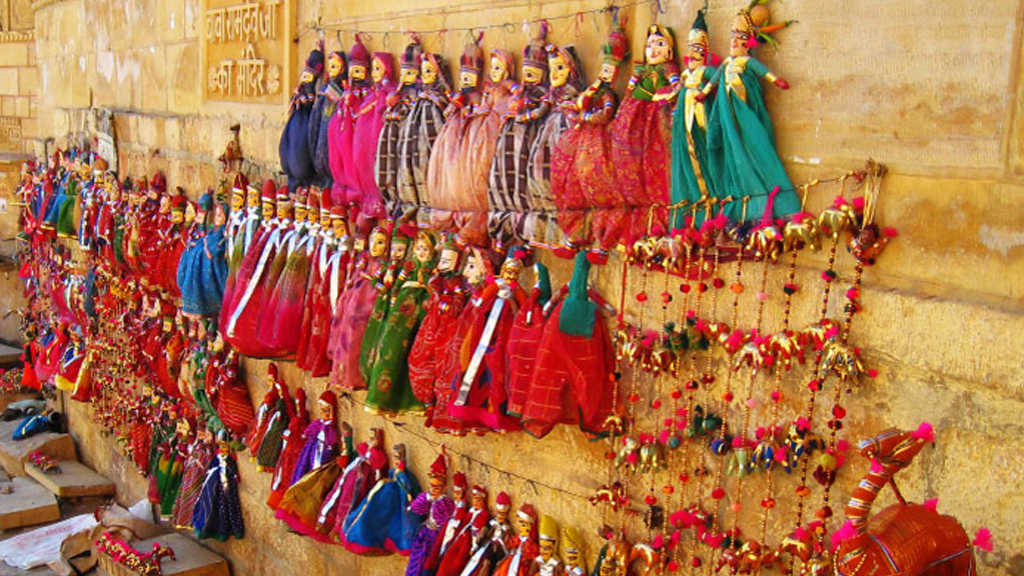 Jaisalmer's bazaars are kaleidoscopic groupings of shops selling everything you can wish for while on holiday. Pansari Bazaar is one of the oldest street markets in Jaisalmer and is the perfect destination to pick up local trinkets. Handmade puppets, traditional Rajasthani clothing, home décor items, and camel leather goods are all available here.
Sonaron ka Baas (Abode of Lapidaries) is another famous market for those interested in buying ethnic jewellery. Whether you're shopping for stone-engraved jewellery or silver ornaments, this bazaar has got you covered.
Exploring the lanes of these bazaars can be an exciting experience and you better be prepared to haggle.
Timings:
Pansari Bazaar: 10 AM – 6 PM; Sonaron ka Baas: 9 AM – 9 PM

7Bada Bagh—The royal memorial set amidst wind-harnessing equipment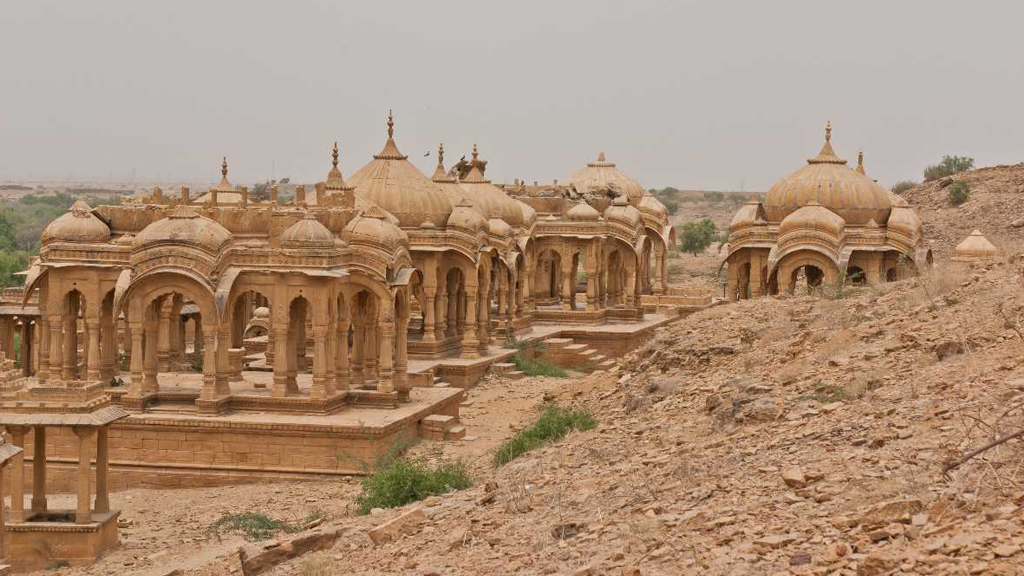 Bada Bagh was commissioned in the 16th century by Maharaja Jai Singh II and completed after his death. Situated 6kms to the north of Jaisalmer, Bada Bagh includes a garden, and is surrounded by a nearby dam and massive wind turbines. This adds to the beauty of the royal cenotaphs and equestrian statues here.
10 minutes away is Vyas Chhatri, an ancient Brahmin cemetery dedicated to Ved Vyas, the sage who authored the Mahabharata. The delicately carved sandstone cenotaphs are not the only attraction of this place as Vyas Chattri is a popular sunset point from Jaisalmer. The site offers panoramic views of the desert and Jaisalmer Fort, and you will find locals playing their traditional musical instruments here.
Timings:
8 AM – 6 PM
Entry Fee:
INR 20 for Indians; INR 50 for Foreigners

8Sam Sand Dunes—The ultimate desert experience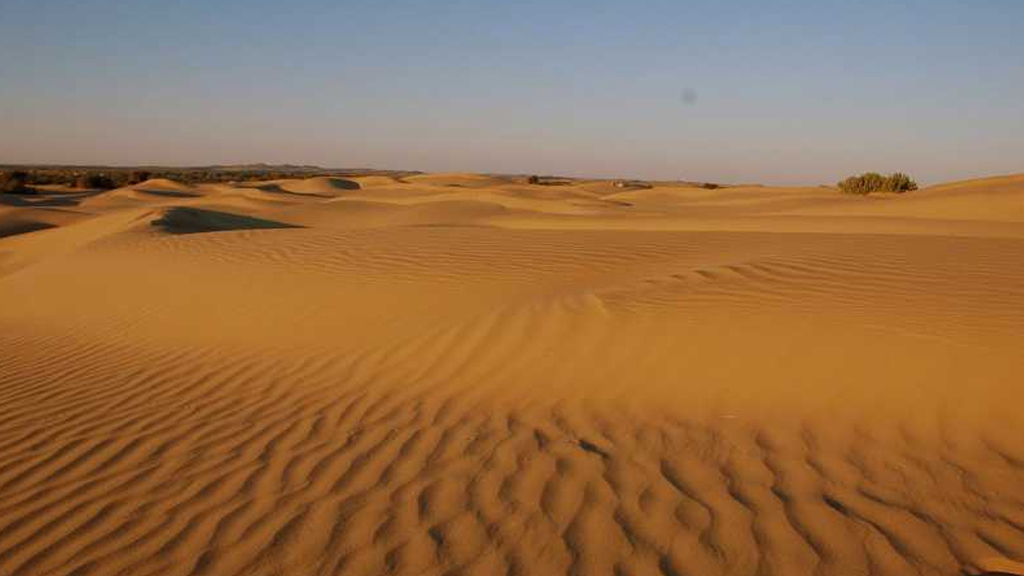 42kms from Jaisalmer city are the Sam Sand Dunes, undulating hills of golden-brown peppered with tribal villages and scanty vegetation. These dunes are perfect sunrise and sunset viewing points and you can even sign up for a night camp, spending the dark hours under the beautiful desert sky.
If you're planning an evening visit, you can sit by a campfire, listen to traditional Rajasthani music and take in the complete desert experience. Sam Sand Dunes are also perfect for camel safaris. In February, these dunes are home to the Jaisalmer Desert Festival.
If you're looking for a quieter sand dune experience, head to the nearby village of Khuri, 48kms from Jaisalmer. This is the right destination if you want to enjoy the desert minus the touristy crowd.
Timings:
Throughout the day/night

9Desert National Park & Sanctuary—Saving the Thar/h5>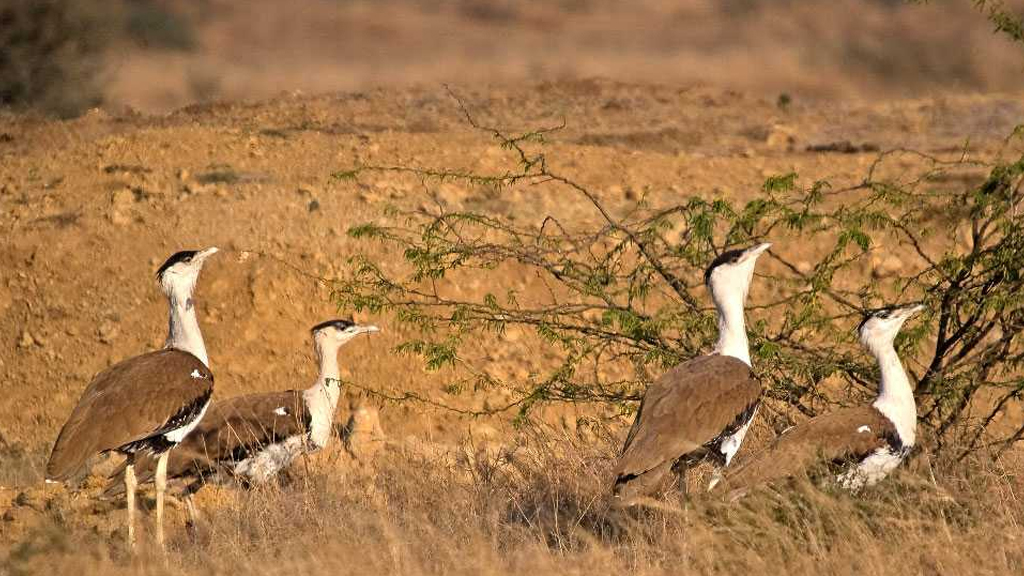 Right before the Sam Sand Dunes is the Desert National Park that was set up in 1980 to safeguard the Thar Desert ecosystem that includes the critically endangered godawan (Indian bustard). This national park and sanctuary is unique because its landscape includes thorn forests, scanty vegetation and sand dunes. For the nature lover, the 3162 sq.km. of desert land offers a glimpse at the arid topography that makes up the Thar Desert.
A safari here will see you spot the desert fox, black buck, and chinkara (Indian gazelle). Birdwatchers visiting in the winter will find the park inhabited by migratory raptors such as the Saker Falcon, Eurasian Griffon Vulture and the majestic Eastern Imperial Eagle.
The Desert National Park & Sanctuary is located 42kms southwest of Jaisalmer.
Timings:
October – March, 10 AM – 5 PM
Entry Fee:
INR 100

10Akal Wood Fossil Park—The history of trees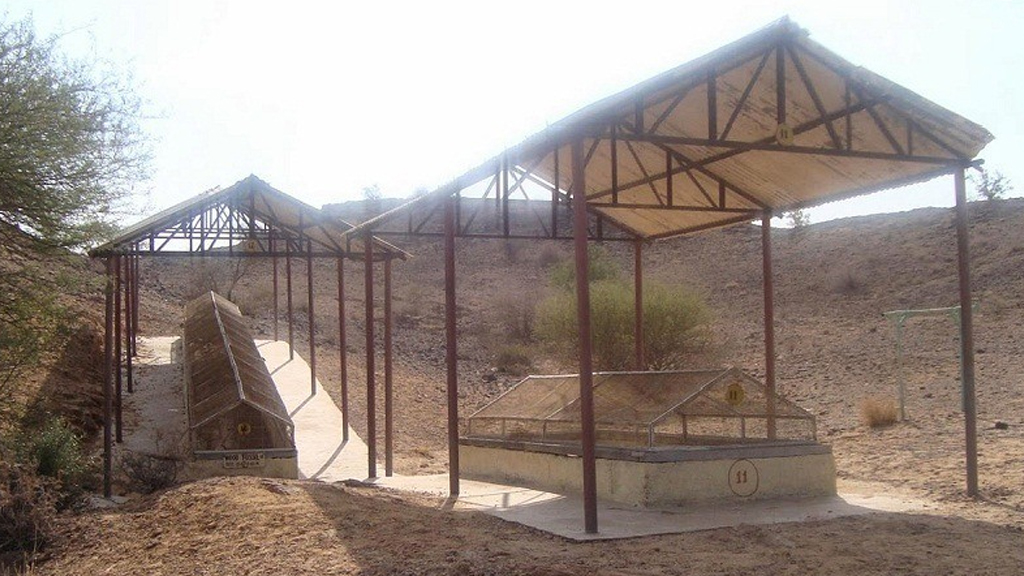 The havelis and palaces of Jaisalmer all date back to a bygone era, but the Akal Wood Fossil Park takes you all the way back to the prehistoric Jurassic period. Situated 17kms from Jaisalmer is a museum of primeval flora. The 21 hectares of Akal was once a dense forest (nearly 180 million years ago) that was submerged by the sea, thus preserving the tree trunks. This is a massively interesting park to explore because it proves that, at the beginning of time, Rajasthan was a densely forested area compared to the dry desert it is today. The highlight of the park is the gigantic redwood tree trunk fossil.
Timings:
10 AM – 6 PM
Entry Fee:
INR 5 for Indians; INR 20 for Foreigners

11Kuldhara—An abandoned village with a spooky past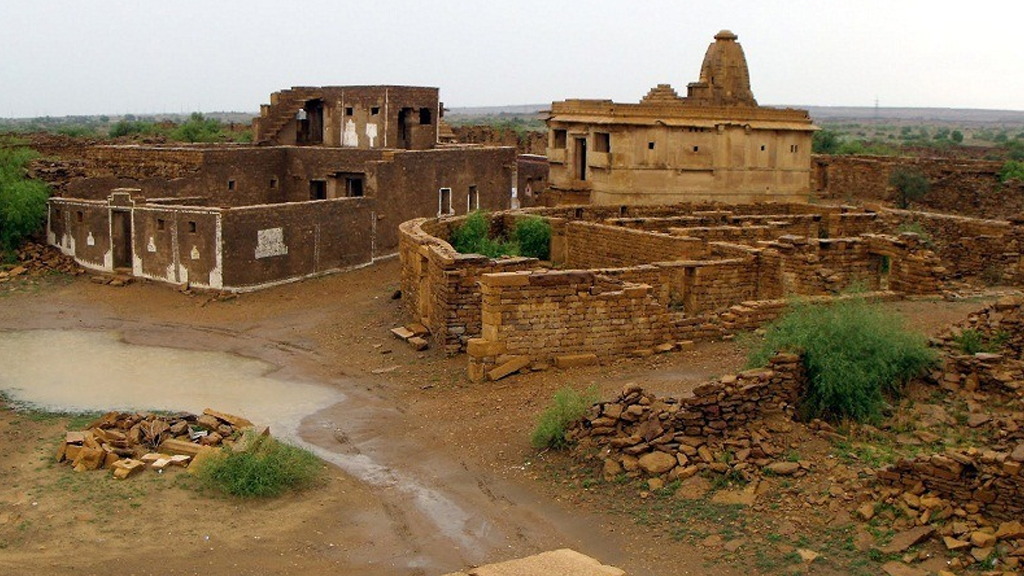 Rajasthan is peppered with stories of haunted forts and mysteriously abandoned villages. An hour from Jaisalmer is the village of Kuldhara that lies abandoned, as legends go, because a Jaisalmer minister wanted to marry the daughter of the village headman by force, and the entire population decided to leave instead of giving in to his threatening demands. However, the story goes that nobody knows where the mass exodus of people landed up going; they seemed to have vanished into thin air!
The reason you should visit Kuldhara is for its beautiful ruins that whispers of a once-prosperous village that was abandoned nearly 300 years ago. Lovers of rural legends will find Kuldhara better than a few other places to visit in Jaisalmer.
Timings:
8 AM – 6 PM
Entry Fee:
INR 10