Queen Padmini's beauty was so striking that Ala-ud-din Khilji besieged Chittor Fort in the early 1300s in order to capture her. However, the queen committed jauhar (death before dishonour) in order to escape the clutches of the invading emperor. Bahadur Shah eyed Chittor Fort as a major conquest and invaded the fort successfully only to be met by 32,000 Rajput warriors and 13,000 women who took their own lives in order to escape imprisonment. The Mughal Emperor Akbar's conquest was also foiled in the same manner.
It comes as no surprise that folk songs are filled with legends celebrating Chittor's Rajputana pride and valour. Chittorgarh (Chittor) was once the capital of the Mewar kingdom. At present, Chittor is one of Rajasthan's lesser visited city and is the perfect place to relax and understand Rajasthan's rich Rajput heritage.
Chittor Fort is a massive bastion sprawling across 280 ha of land. If you're still deciding on how to reach Chittorgarh, we've got you covered.
You May Also Be Interested In: "Places To Visit In Chittorgarh"
Click here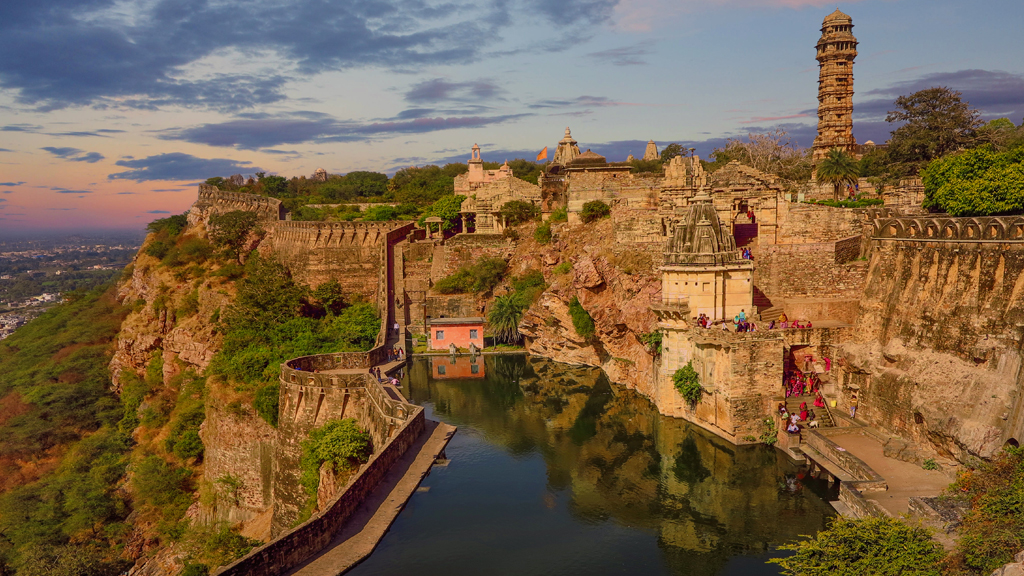 1.By Air:
Your best option for flying into Chittorgarh is to take a flight to Maharana Pratap Airport (UDR), Udaipur. The airport is well connected with most major Indian cities. The city of Chittor is a mere 2 hour car ride away from Udaipur airport along Rajasthan State Highway 9.
As a foreign tourist, book a connecting flight to Udaipur that leaves from Jaipur International
Airport
If you're flying from other major Indian cities like Bengaluru, Mumbai, Delhi or Chennai, you will find flights that fly direct to Udaipur Airport.
2.By Rail:
On the western banks of the Gambheri River lies the Chittorgarh Junction Railway Station. This railway line connects Chittor with Jaipur, Udaipur, Bundi, Alwar, Jodhpur, Kota and Delhi. The northern states of India are well connected with Chittorgarh Junction, and finding the right train will not be an issue.
A train journey is best for those on a tight budget and it can also turn out to be a memorable experience if you haven't taken a train before.
The main city area is simply 3kms away from Chittorgarh Junction.
3.By Road:
The main bus terminus is 2kms from Chittorgarh Junction and you can easily book a bus out of Chittor from here.
For those holidaying in Bundi, there are regular buses that run to Chittorgarh and the journey is an agreeable 3 hours long. For those boarding a bus or renting a car in Udaipur, the road journey is a mere 2 hours long.
There is nothing better than a road trip in Rajasthan, and if you're travelling by car or bus to Chittor you're in for a good time.
How to reach Chittorgarh has never been a complicated procedure and you have a host of options whether you're travelling solo or with family and friends.