10 Places to Visit in Chittorgarh— The Fort City Beckons History Lovers in 2019!
Chittorgarh's (Chittor) crowning glory is the gargantuan fort that looms over this southern Rajasthan state. Chittor goes down in Rajasthani folklore for its Rajput kings of old who exhibited massive levels of valour and courage while defending the area. Travellers here are not just regular tourists; backpackers looking to experience a different side of Rajasthan, architecture and history buffs, and crowds of pilgrims make their way to Chittor, all through the year. Besides the Chittor Fort, a curious traveller can explore a variety of palaces, temples, tanks, and wildlife sanctuaries.
The nearest airport is at Uadipur and Chittor is a 70km car ride away. The Chittorgarh Railway Station is the nearest railhead to the city.
The capital of the former kingdom of Mewar has a story to tell in every historical structure. Here's an eclectic list of all the places to visit in Chittorgarh.

1Chittorgarh Fort— The bastion of giants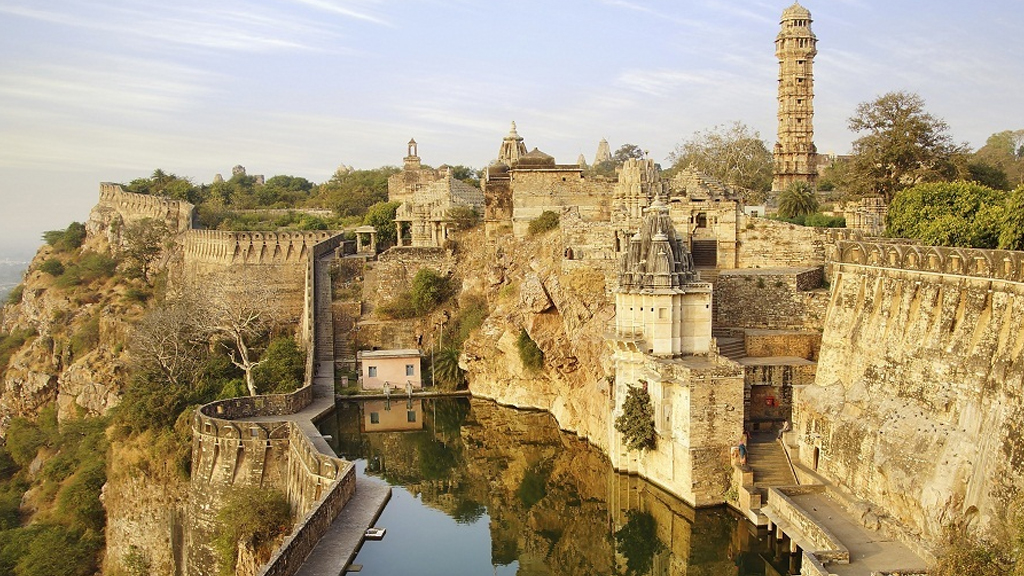 The surrounding plain gives rise to a 180m hill upon which sits the imposing Chittor Fort. Historically, this fort has faced imminent defeat three times, and every time its inhabitants decided to sacrifice their lives rather than fall into the hands of the enemy. Stories like this abound throughout Rajasthan, but it is in Chittorgarh where Rajput pride is most tangible.
As you take the snaky road up to the fort, you will reach the western entrance, Ram Pol (pol means gate). You will pass two memorials dedicated to Kalla and Jaimal who fought to the death at this very spot against Akbar in 1568. The eastern gate, Suraj Pol, is a must-visit because of its panoramic views of the surrounding plains.
While the Chittorgarh Fort is in ruins, there is a certain appeal in its dilapidation. Spread out over 240 hectares, this 7th century bastion encompasses over a hundred temples, a number of water tanks and palaces.
Timings:
4 A.M. – 10 P.M
Entry Fee:
INR 10 for Indians; INR 100 for Foreigners

2Kirti Stambh—Tower of Fame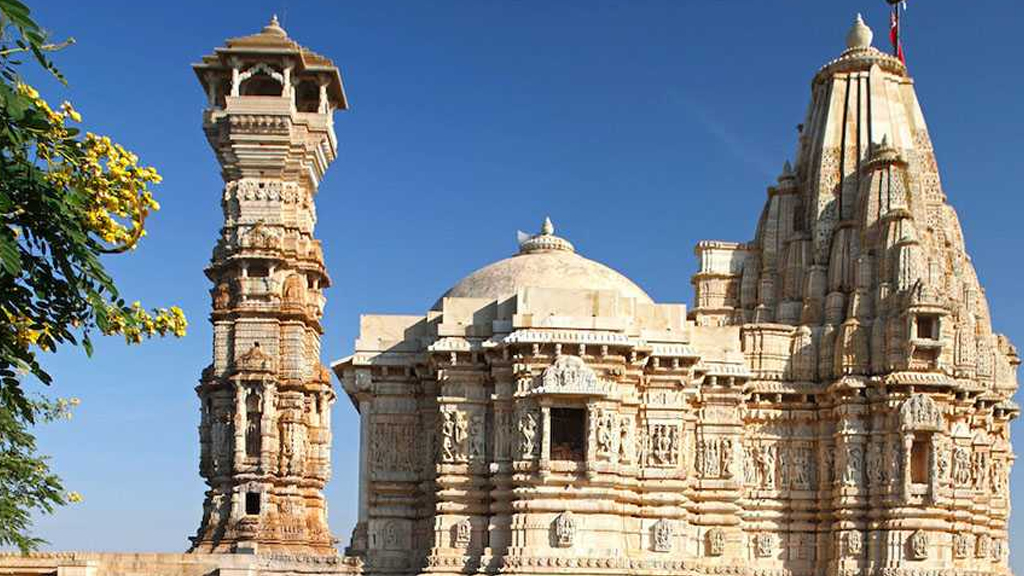 Kirti Stambh is situated within Chittor Fort and is a 22m tower dedicated to Adinath, the first of the 24 Jain tirthankars (teachers). Constructed in the 12th century by a prosperous Jain merchant, the Tower of Fame is a seven-storied structure with a narrow staircase leading all the way to the top. If you're up for it, you can tip the gatekeeper and ask him to unlock the doors for you to take in the view. This is the older of the two main towers and is intricately carved with images of other Jain tirthankars.
Timings:
9:30 A.M. – 6:30 P.M.
Entry Fee:
Covered by Chittor Fort ticket
You May Also Be Interested In: "Things To Do In Chittorgarh"
Click here

3Vijay Stambh—Tower of Victory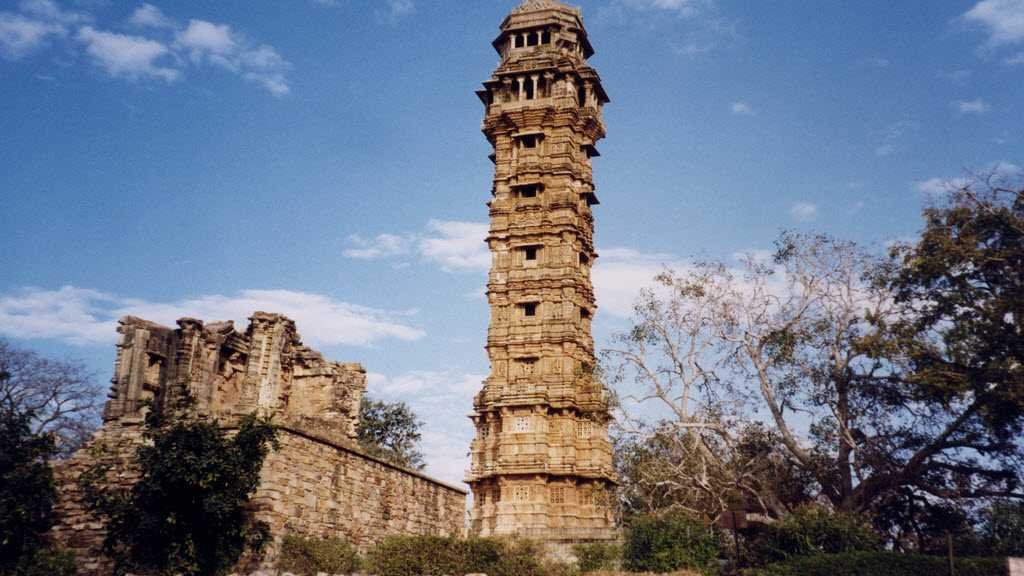 In the mid-1400s, Rana Kumbha commissioned the magnificent Vijay Stambh. The tower was built to commemorate his victory over Mahmud Khilji of Malwa. The 37m, nine-storied tower has intricate carvings on the exterior and interior walls. Make sure you take the vertical winding walk up 157 stairs to the eight storey where you get a birds-eye-view of the surrounding area. Lightning damaged the dome of Vijay Stambh but it was restored in the 19th century. The walls of this tower are adorned with rich sculptures of Hindu deities making this an important attraction within Chittor Fort. Don't leave for the other places to visit in Chittorgarh, without exploring Vijay Stambh.
A short stroll from Vijay Stambh is the Mahasati area where 13,000 women commited jauhar in 1535 and their sacrifice is market by sati stones. If you're interested in religious architecture and minute carvings, visit the 6th century Sammidheshwar Temple nearby.
Timings:
9:30 A.M. – 6:30 P.M
Entry Fee:
Covered by Chittor Fort ticket

4Rana Kumbha Palace—The palace of self-sacrifice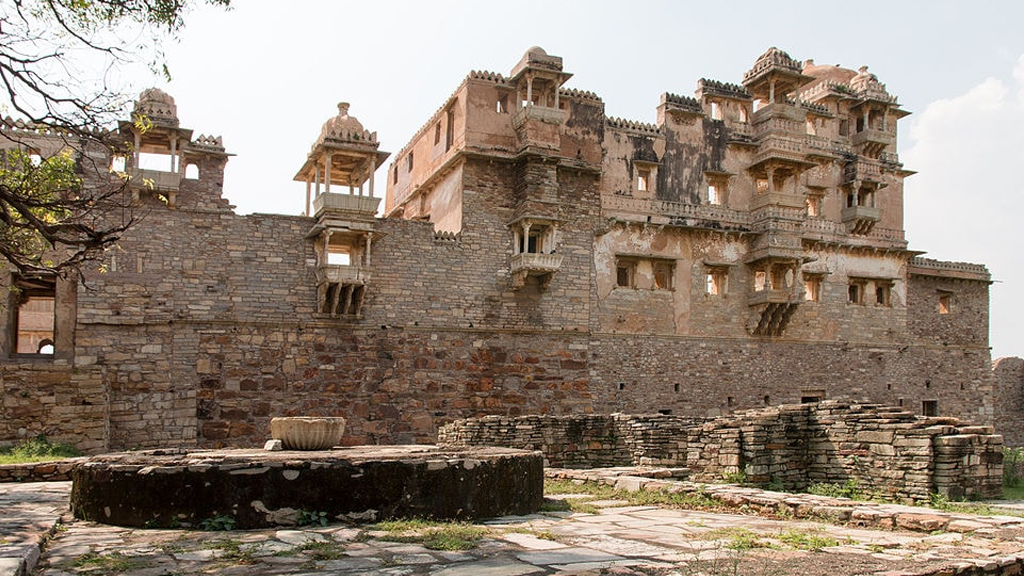 Take a right turn after entering Chittor Fort to reach the massive ruins of the 15th century Rana Kumbha Palace. Take in the elephant and horse stables and the Shiva temple, here. Princess Meera Bai, Bappa Rawal, Maharana Kumbha, Rani Padmini and other royalty spent time here in a bygone era.
According to local legend, Rani Padmini is said to have committed jauhar in the underground cellars of this palace. This may be the reason why there are a number of stories that say the Rana Kumbha Palace is haunted. The battered canopied balconies are proof of this palaces' bygone splendor.
Timings:
9:30 A.M. – 6:30 P.M
Entry Fee:
Covered by Chittor Fort ticket

5Fateh Prakash Palace—The youngling among the ancients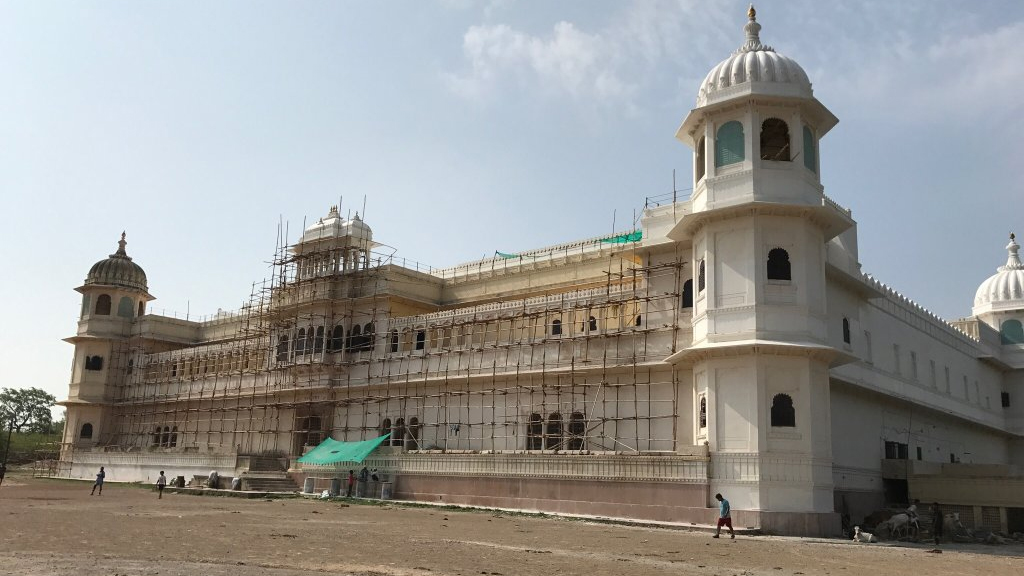 The Fateh Prakash Palace stands out because its architecture is in stark contrast to the ancient styles represented within Chittor Fort. Constructed as the residence of Maharana Fateh Singh, this palace was occupied till 1930. Today, it has been converted into a museum that houses ancient murals, paintings, frescoes, crystal artefacts, weaponry, post-medieval Jain statues, and local wooden handicrafts. If you'd like to know more about the history of Chittor Fort, this palace museum should be on your list.
Don't forget to visit the Meera Temple nearby. Its Indo-Aryan architecture is a joy to explore and is named after the mystic-poetess, Meerabai, who is said to have drunk poison and survived due to the protection of Krishna. The larger temple in this complex, Kumbha Shyam, has a pyramid-like roof and richly decorated walls and pillars.
Timings:
9:30 A.M. – 6:30 P.M
Entry Fee:
Covered by Chittor Fort ticket

6Padmini Palace—The legend of a fierce and beautiful queen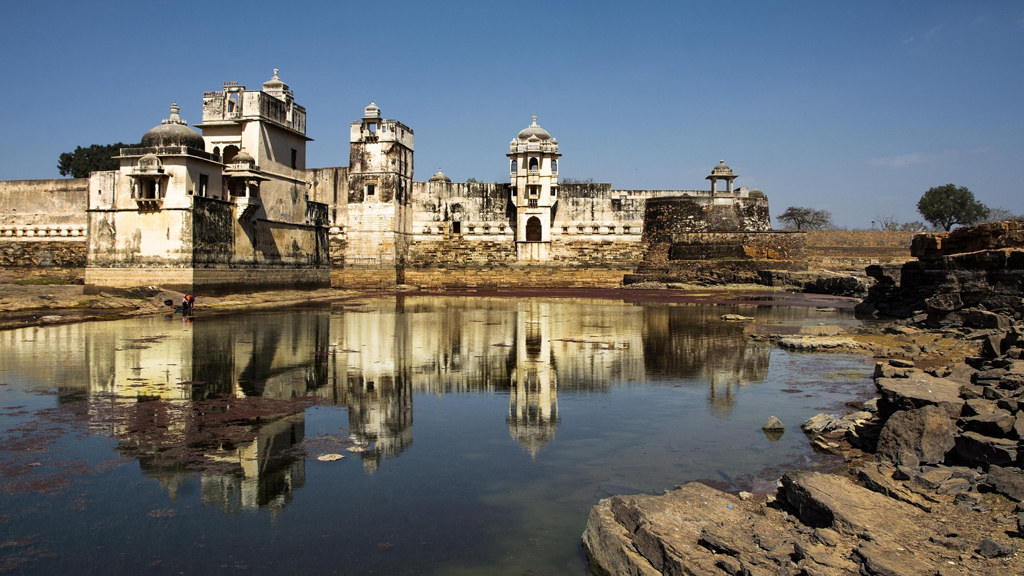 Walking south within Chittor Fort will bring you to Padmini Palace, named after the erstwhile Rajput queen. Epics have been written of her intelligence, beauty and honour, and a legend you will hear quite often in Chittorgarh is about her part in Ala-ud-din Khilji's attack on Chittor. It is said that Khilji viewed Padmini's reflection in a pond and was so taken in by her beauty that he decided to invade the kingdom.
Legends aside, Padmini Palace sits on the banks of a pavilioned lotus pool that served as a private lounging area for the women of the royal family. The palace offers some breathtaking views of the rest of Chittor Fort.
For temple enthusiasts and pilgrims, the Kalika Mata Temple sits right opposite Padmini Palace. This temple was constructed in the 8th century, plundered during the first attack on Chittor, and restored in the 14th century.
Timings:
9:30 A.M. – 6:30 P.M
Entry Fee:
Covered by Chittor Fort ticket

7Ratan Singh Palace—The royal winter abode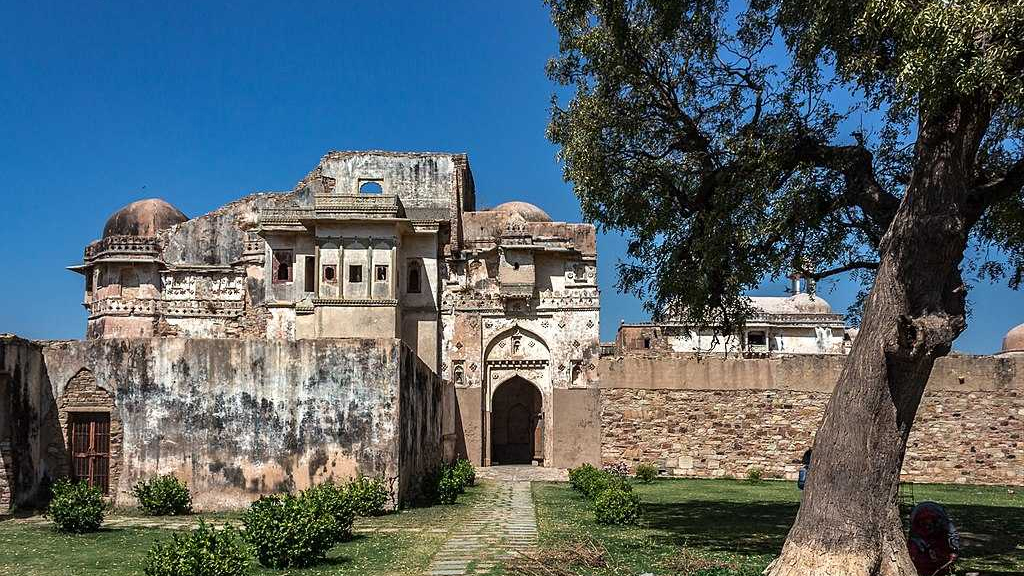 Near the Ratneshwar Lake, within the grounds of Chittor Fort, sits the Winter Palace. While the massive abode is derelict, the carved pillars, imposing domes and decorated walls make it an attraction worth exploring. The royals of Chittor spent the cold months here and Ratan Singh Palace was the centre of many celebrations. If you're looking for a pleasant view of the sprawling fort grounds, the Winter Palace offers that and much more.
Timings:
9:30 A.M. – 6:30 P.M
Entry Fee:
INR 15 for Indians; INR 200 for Foreigners

8Gaumukh Reservoir—A sacred spring-water tank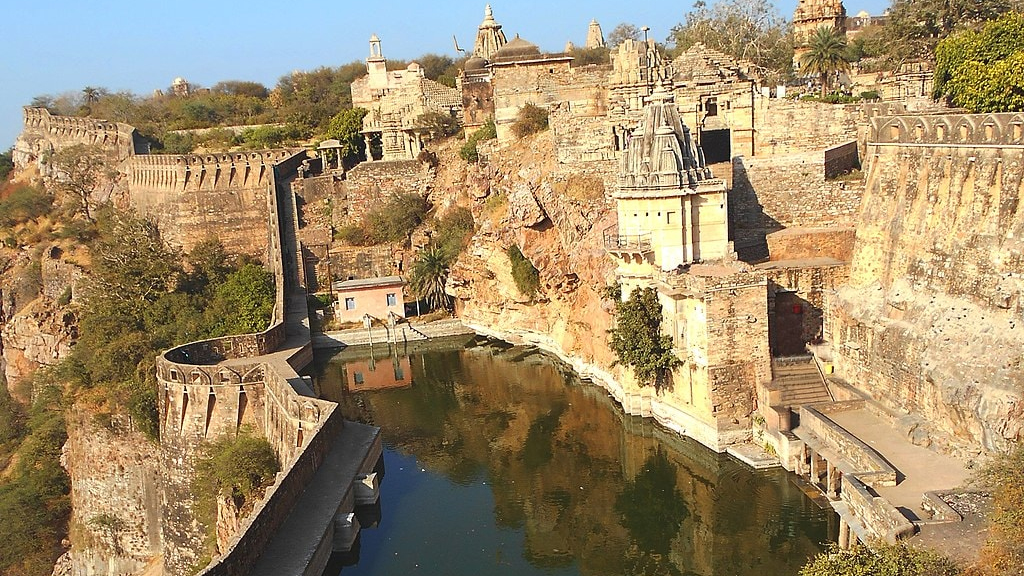 By far the most important of water bodies within Chittor Fort, Gaumukh Reservoir is held in sacred regard by Hindu pilgrims and locals. The reservoir gets its name from a rocky formation that resembles a 'cow's mouth' from where a perennial spring flows into this water body. As a traveller interested in the local culture, you can visit Gaumukh Reservoir to feed the fish and make a short stop at the nearby Samadheswar Temple.
Timings:
9:30 A.M. – 6:30 P.M
Entry Fee:
Covered by Chittor Fort ticket

9Bassi Wildlife Sanctuary— Nature lover's haven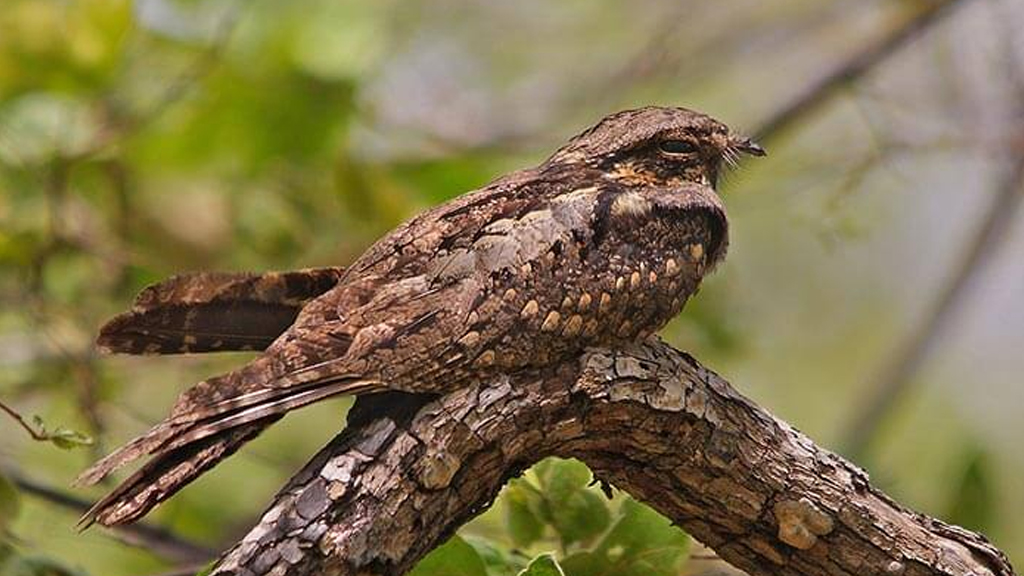 25kms from Chittor is the lush Bassi Wildlife Sanctuary, the perfect destination for those in need of some peace and quiet. Since the sanctuary isn't as popular as Sariska or Ranthambore, one can have a peaceful safari and spot a number of wild animals from four-horned antelopes and chitals to panthers and jackals. You can capture panoramic shots of the thick forest area from two vantage points within the sanctuary.
Bassi Wildlife Sanctuary is one of the few nature destinations in Rajasthan open to visitors all year round. However, October to February is the best period to witness the flora and fauna of this park.
Timings:
8 A.M. – 6 P.M.
Entry Fee:
INR 10 for Indians; INR 80 for Foreigners

10Nagari—A primeval village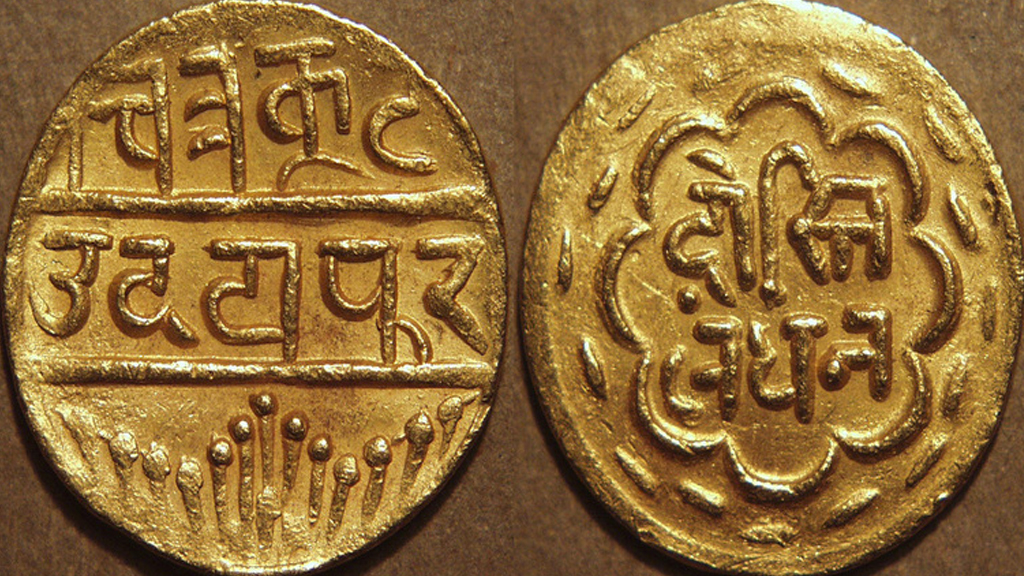 Around 15kms from Chittor is the ancient village of Nagari situated on the banks of the river Berach. Various inscriptions and ancient Sanskrit texts mention Madhyamika, the old name of this village, putting its origins somewhere between 443 B.C. and 150 B.C. Nagari was a prosperous town from the Mauryan period to the Gupta period, and a number of excavations here have yielded coins dating back to those eras. History buffs will find it hard to tear themselves away from Nagari, one of the spellbinding places to visit in Chittorgarh.
Nagari is the right destination for history lovers and the main attractions include the Shiva Temple, Prakash Stambh and Hathiyon ka Bara.
Timings:
Day time
Entry Fee:
Free