8 Things to Do in Jodhpur— All the Travel Activities in the Blue City
According to the Ramayana, western Rajasthan was created by Rama who was about to punish the sea god, but changed his mind at the last minute. Instead, he changed the direction of his cataclysmic arrow, thus creating western Rajasthan.
This rudimentary paraphrasing of a vivid mythological incident is important to understand the dry, arid Thar Desert that stretches across the west of this state. Jodhpur's citadels, lakes, and palaces make this barren land into a traveller's delight. The things to do in Jodhpur are many, and you need to plan your trip carefully in order to squeeze out all the fun.
Present-day Jodhpur district was once the largest Rajputana kingdom of Marwar. Rao Jodha founded the capital city in 1459, and Jodhpur grew to become an important centre of culture in Rajasthan. Today, the Mehrangarh Fort stands tall as testament to a glorious past. Perched on a rocky outcrop, calling travellers to explore its ancient architectural delights.
A crumbling, 16th century wall demarcates the old quarter where the houses are painted the colour of a cloudless sky, giving Jodhpur its moniker. The Blue City is bustling with activity, and travellers here will take some time getting used to the pace of Jodhpur. Any first-time visitor will be taken in by the colourful street bazaars, street food, and royal relics. The trick is to take it all in your stride and let Jodhpur wash over you.
Travellers land up here for a variety of reasons— to get a glimpse of history, explore rustic village life, or simply discover western Rajasthan. No matter what the reason, you're bound to have a rollicking time in Jodhpur.
Explore Highly Recommended Jodhpur Tour Packages for You
Click Here
1Zip-lining at the Mehrangarh Fort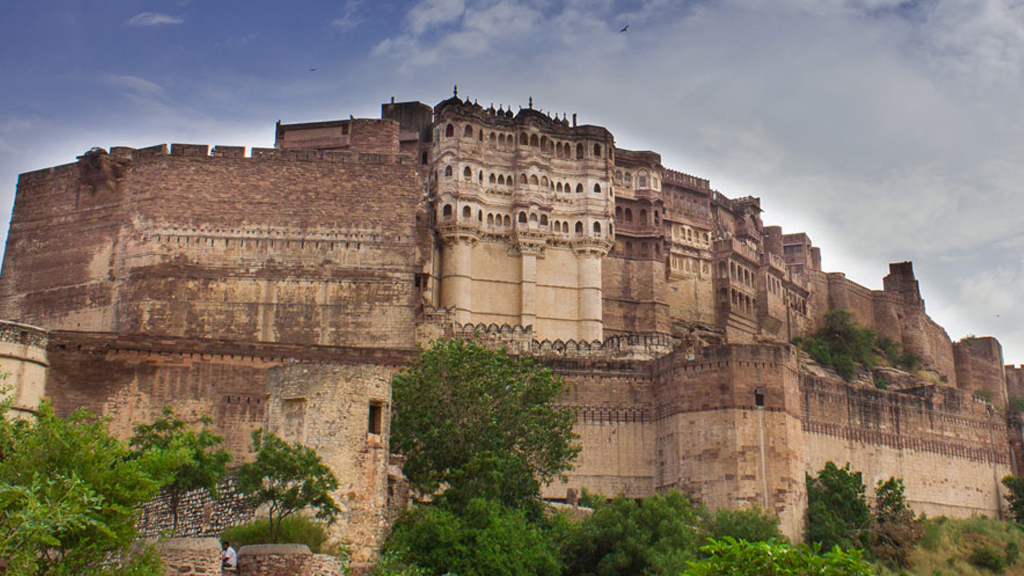 The majestic allure of Mehrangarh Fort is heightened by the 125m hill it sits on. A number of thrill-seeking tourists sign up for a zip-line ride that lasts for around 90 minutes and gives you an aerial view of the fort's battlements and the desert lakes. Glide over battlements, towers, and the Blue City's rocky terrains with zips that last for nearly 300m. Mehrangarh Fort, with its vantage point, and battlements that reach 36m, is the perfect zip-lining destination, and this is an activity you should sign up for before exploring the fort's rich history.
There are seven imposing entrances to the fort, and you enter via Jayapol, the gate built in 1806 by Maharaja Man Singh, after he defeated the maharajas of Bikaner and Jaipur. Certain areas of the fort's wall here have deep recesses caused by cannonballs.
The Surajpol gate leads to the majestic museum that contains a wide array of royal artefacts. The sword of Emperor Akbar and the Maharaja's golden howdah are on display here. The other items worth your time are exquisitely designed palanquins, camel-bone carpet weights and hand-crafted weapons.
The Phool Mahal is a must-visit palace with its stained glass windows and gold leaf paintings. Travellers flock to the Moti Mahal because of its walls that are covered with crushed shells and lime plaster, giving them an otherworldly glow. The paintings at Takhat Vilas depict scenes from Hindu mythology, hunts and Jodhpuri folklore.

2Desert safari at Khimsar for the adventure-seeking traveller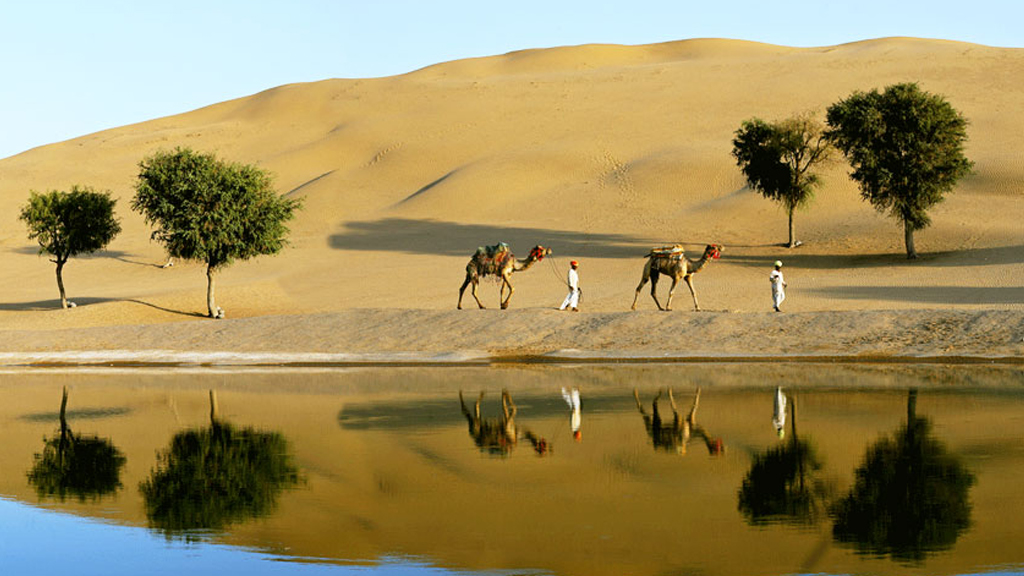 Khimsar's allure lies in the fact that it is only accessible by camel, horseback or jeep. This is the perfect destination for those looking to explore rustic, desert life in close quarters. This village is nestled among sand dunes and the oasis you spot is not a mirage. Khimsar is wild desert country and you should sign up for a jeep or camel safari here.
This village of dunes is reached by camel cart and as you reach the end of a beautiful golden slope, a breath-taking sight awaits you. There are undulating dunes and thorny scrubs as far as the eye can see, making Khimsar a perfect destination for those who want to view the Thar Desert in all its gloriousness. Sunsets here are most spectacular. If you're taking a safari in the winter months, make sure you carry heavy woollens. The desert may seem like a hot place, but the wind that blows over it is unforgiving.
Guda is a Bishnoi village that is another great spot for a day safari. The Bishnoi tribal folk practice animal husbandry and are extremely caring of the environment they live in. The Guda Lake is a birdwatcher's paradise, as well.

3Explore the royal memorial of Jaswant Thada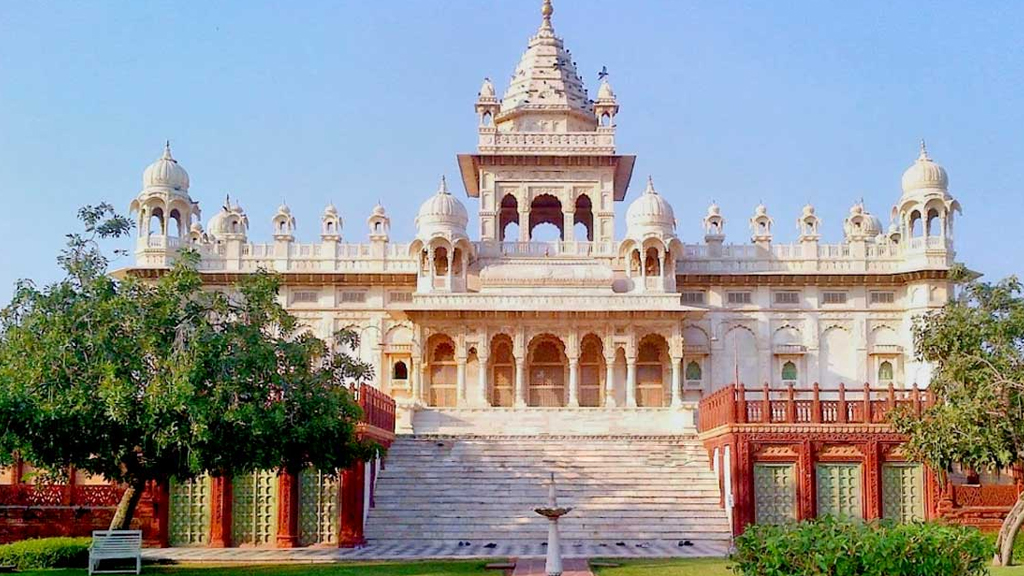 A stone's throw from the Mehrangarh Fort is an attraction that any history lover would not want to miss out on. Your first glimpse of Jaswant Thada is from the top of Mehrangarh Fort. The onion-shaped, milky-white domes of the cenotaphs stand out against the clear blue sky. Jaswant Thada is the memorial ground for Jodhpur's Marwar rulers, commissioned by Maharaja Jaswant Singh II, in 1899.
The main reasons you should visit Jaswant Thada is for its peace and quiet and for its majestic architecture. The manicured lawns, intricately chiselled motifs, wooden entrance doors, and marble lattice work make it a popular spot with travellers. The spot also offers brilliant panoramas of the fort, and its surroundings. Commonly known as the 'Taj Mahal of Marwar', this is an attraction you shouldn't miss out on after exploring Mehrangarh.

4A walking tour exploring the Clock Tower (Sadar Market) and finding the blue houses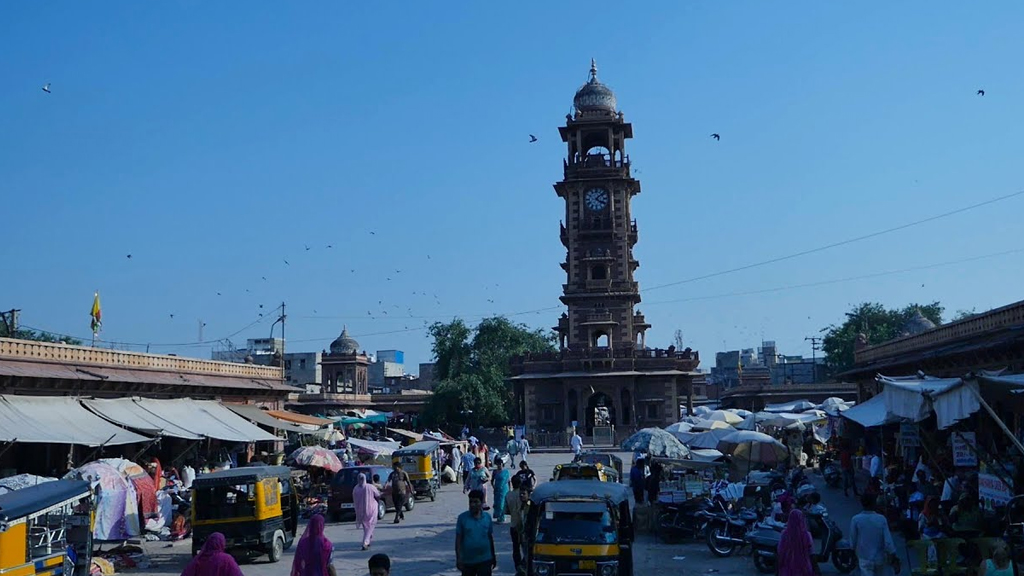 The Clock Tower, or Ghanta Ghar, as the locals call it, is a popular landmark in Jodhpur's old city. This pleasantly chaotic area is where you should start your walking tour of Jodhpur. Spread out around the Clock Tower area is the prismatic Sadar Bazar, where hole-in-the-wall shops sell handicrafts, curios, ethnic clothing, spices, saris, bangles, and nearly everything Rajasthani you can dream of. This is the perfect place for shopaholics and also for those wanting to take in the true essence of Jodhpur city life.
Jodhpur may be known as the Blue City, and the blue-painted walls are visible from Mehrangarh Fort, but finding them can be a slightly more challenging task. Your best bet is to wander away from the Clock Tower towards the blue section, and lo and behold, you're greeted by fading blue walls, blue arches, and columns that make this area look like it could be at home in Atlantis! A walking tour is one of the most exciting things to do in Jodhpur.

5A day trip the magnificent Osian Temples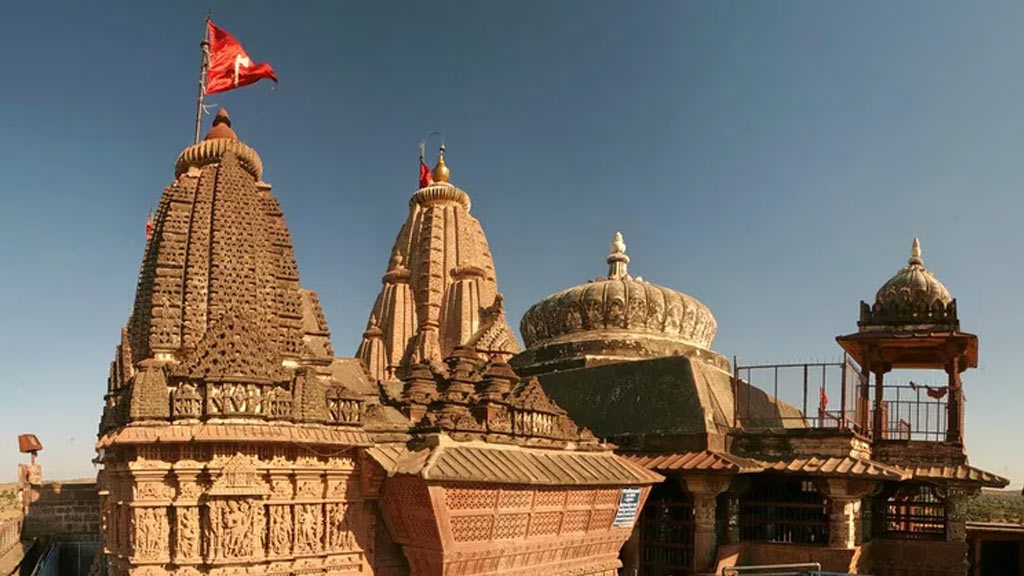 If you've got a day to kill in Jodhpur, why not plan a trip to the magnificent town of Osian? A 90km drive from Jodhpur will bring you to the midst of an ancient settlement of temples rightfully nicknamed, the Khajuraho of Rajasthan. Osian is still a pilgrimage point for Hindus and Jains and some of the temples in the complex here date back to the 8th century. The Sachiya Mata Temple is by far one of the grandest because of its hand-carved statues, pillars and gateways. A great way to spend a day is to explore the ancient cluster of 18 temples at Osian.

6Land up during the culture-rich Marwar Festival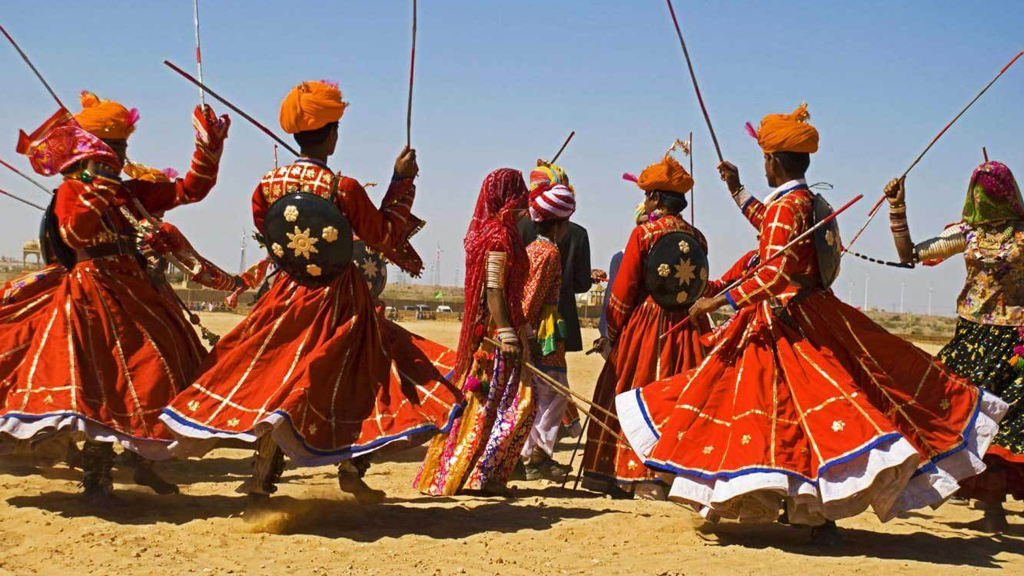 Previously known as the Maand Festival, this is a celebration of Jodhpur's royalty and takes place between September and October. As a curious traveller, landing up during the Marwar festival will see you immerse yourself completely in the local culture. The folk music and dance performances intrinsic to Jodhpur are colourful, lively, and a treat to the senses.
The festival serves as a reminder of the heroic stories of the warriors and maharajas of Jodhpur. Taking place on a full moon night, the Marwar Festival is also attended for the puppet shows, polo matches, and an all-round celebration of arts and culture.

7Try the local Jodhpuri snacks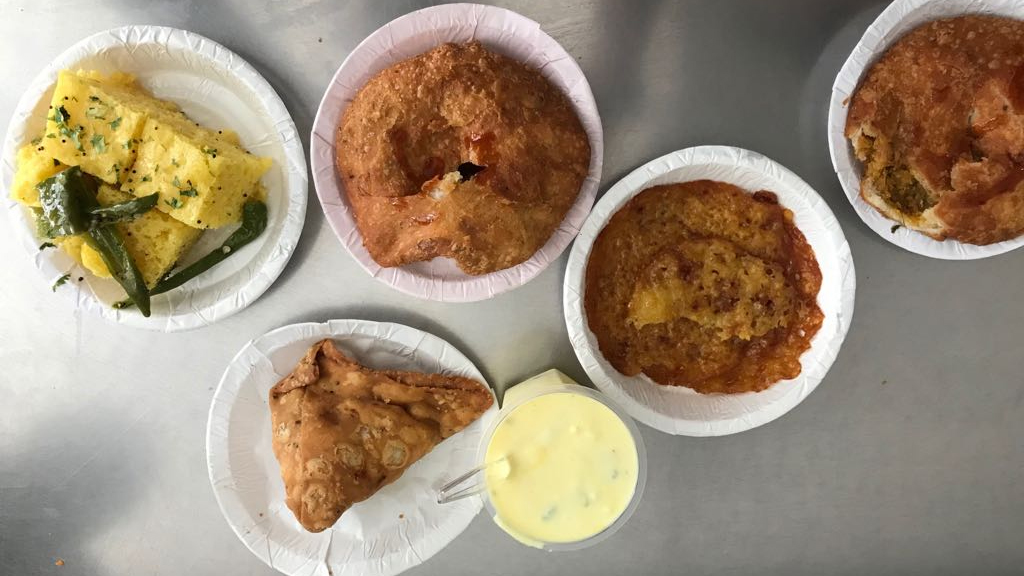 A culinary tour of Jodhpur cuisine is never complete without tasting the city's local street food. Spicy onion dumplings are a big hit and are usually served with a sweet-and-sour tamarind chutney. Mirchi badaa is a gram flour marinated pepper that is deep fried and best tried with a mint chutney. If you're around the Clock Tower area, find a street stall preparing fresh Makhaniya lassi, a creamy sweet drink made of curd and topped with cardamom and saffron. For those with a sweet tooth, don't leave Jodhpur without trying this local delicacy.

8A daycation at Mandore Gardens and Rao Jodha Desert Rock Park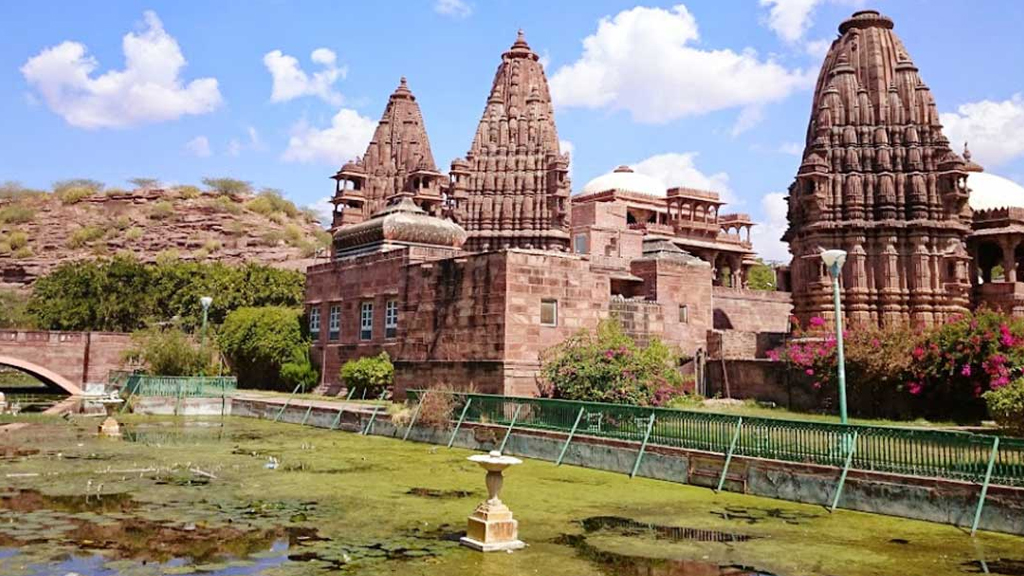 Mandore used to be the ancient Marwar capital and today people land up here to for a picnic at the sprawling Mandore gardens. Situated 9kms from bustling Jodhpur, this is the destination for family vacationers or solo wanderers. Mandore is also home to beautiful cenotaphs dedicated to the Jodhpur kings of old. A winter morning excursion to Mandore makes for a brilliant outing.
A 20 minute drive from Mandore Gardens is the resilient homeland of a variety of plant-life at Rao Jodha Park. This park was set up to preserve and nurture the natural ecology of the arid area, and today this desert rock park is home to a variety of flora. This 70 acre park is perched on ancient volcanic rock and the walking trails make it seem as if you're on a completely different planet! The things to do in Jodhpur are many, but a visit to Rao Jodha Desert Rock Park shouldn't be skipped