It's easy to see why Udaipur is the jewel of southern Rajasthan. The majestic Lake Palace seems to hover above the languid waters of Lake Pichola; the Monsoon Palace (formerly Sajjan Garh) is a grand sight on top of a ridge; the winding streets, kaleidoscopic bazaars, and the ancient city wall offer travellers an experience of a lifetime.
The short-lived clement weather of February-March is the perfect time to visit Udaipur and witness the festival of Holi. Udaipur is an explosion of colours during this national holiday and the highlight is the City Palace celebration organized by the royal family. In April, the Mewar Festival will give you a closer look at the cultural heritage of Udaipur. All in all, Udaipur during the winter months is the romantic getaway you've been dreaming about.
Maharaja Udai Singh II founded Udaipur in the 1500s and it remained a fiercely independent princely state. Both the Mughals and the Marathas tried hard to conquer the city but the fierce Mewar rulers were not one to back down from a showdown. In the 19th century, Udaipur signed a treaty with the British that brought a certain superficial peace.
Commonly called the Venice of the East, Udaipur's charm is positively unrelenting. If you're thinking about how to reach Udaipur, let us show you the way to Rajasthan's most romantic city.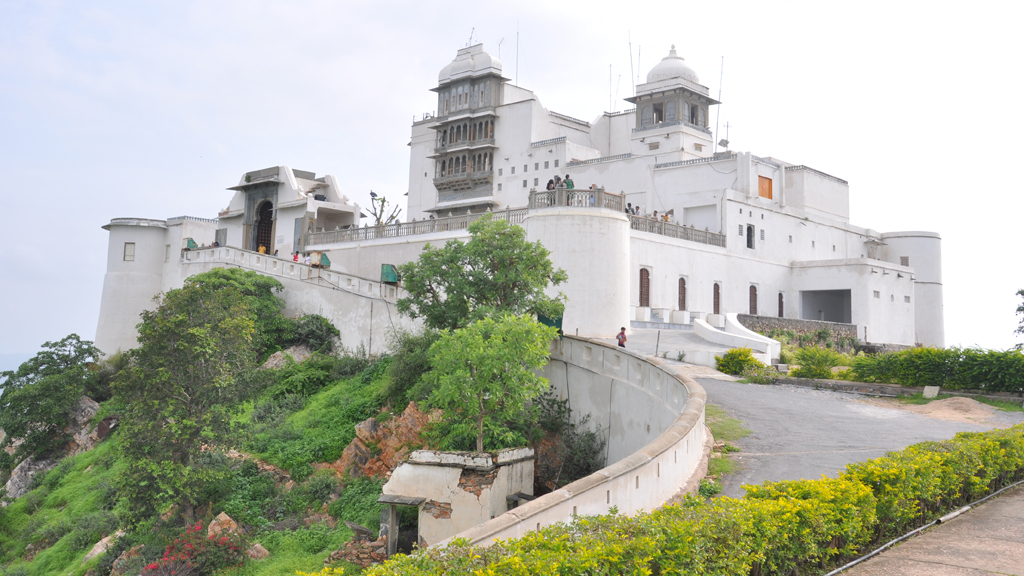 1.By Air:
The Maharana Pratap Airport (UDR) in Udaipur has a number of regular domestic flights from all major metropolitans in Rajasthan and around the country. The Udaipur Airport is a 40 minute car ride from the city.
For foreign travellers visiting Rajasthan, your flight will land at Jaipur International Airport and booking a connecting flight to Udaipur is easy-peasy.
If your holiday is limited then flying into Udaipur is your best option. There are regular flights from Mumbai, Delhi, Kolkata and Bengaluru. Make sure you book a pre-paid taxi to take you into Udaipur city.
2.By Train:
The first thing you notice about Udaipur Railway Station is the 1400 sq. ft. "living wall". This is a vertical garden mounted on a barren wall in the railway station that increases its aesthetic and natural appeal.
There are a variety of trains connecting Udaipur with all major cities in Rajasthan. If you're travelling from outside the state of Rajasthan, the Udaipur Railway Station receives trains from Delhi, Mumbai, Kolkata, and other metropolitans. The Mewar Express and Chetak Express are popular trains that halt at Udaipur.
Palace on Wheels, the luxury train, also makes a pit-stop in Udaipur.
The Udaipur Railway Station is less than 3kms away from the city centre. Make sure you hire a pre-paid taxi or auto-rickshaw from the station to your hotel.
3.By Road:
Depending on how much you're willing to splurge, there are luxury buses, state-run buses and Volvos operating between all major Rajasthani cities and Udaipur. The popular tourist city of Jodhpur is one of the nearest to Udaipur at a distance of 250kms, making it an ideal destination to add to your itinerary. Regular buses run from Chittorgarh as well, just 119kms apart.
The journey from Jaipur to Udaipur is a solid 6 hours 30 minutes and your best bet is to opt for luxury sleeper bus that will make the journey as comfortable as possible. The Udaipur City Bus Depot is 3kms from the main city and is the central bus-stand for state-run coaches and private operators, as well.
If you're a seasoned long distance driver, a road trip to Udaipur from Delhi should be on the cards. The National Highway 8 is a long stretch of well-maintained road that allows for a memorable road trip.
We've helped you figure out how to reach Udaipur. All you need to do is pick a mode of transportation that suits your budget and travel personality.
Explore Highly Recommended Udaipur Tour Packages for You
Click Here