8 Places to Visit in Ajmer— The Dargah Destination Sights of 2019
130kms southwest of the Pink City is Rajasthan's supreme centre of Islamic culture and heritage. Ajmer is a bustling city on the banks of the peaceful Ana Sagar Lake and surrounded by the rugged Aravalli Hills. The city has a number of fine examples of Indo-Islamic architecture and its crowning jewel is a shrine dedicated to the founder of the Chishtiya order— the main Sufi order prevalent in the country today.
Ajmer also speaks volumes of the religious diversity of Rajasthan with Pushkar, an important Hindu pilgrimage town, less than an hour away.
Ajmer has always been a strategic point from the time of the Turks right down to the British colonists. Founded in the 7th century, Ajaipal Chauhan commissioned a fort here and named the area Ajaimeru (Invincible Hill). As time went by, Ajmer became an important centre for the Mughals and it was here that Emperor Jahangir met Sir Thomas Roe that began India's tryst with the British.
Today, Ajmer is seen as a Muslim pilgrimage city but it offers the curious traveller a peek into the multi-cultured existence of Rajasthan. Here's a list of places to visit in Ajmer when you find yourself heading towards Destination Dargah.

1Dargah of Khwaja Muin-ud-din Chishti—The most important Muslim pilgrimage in the country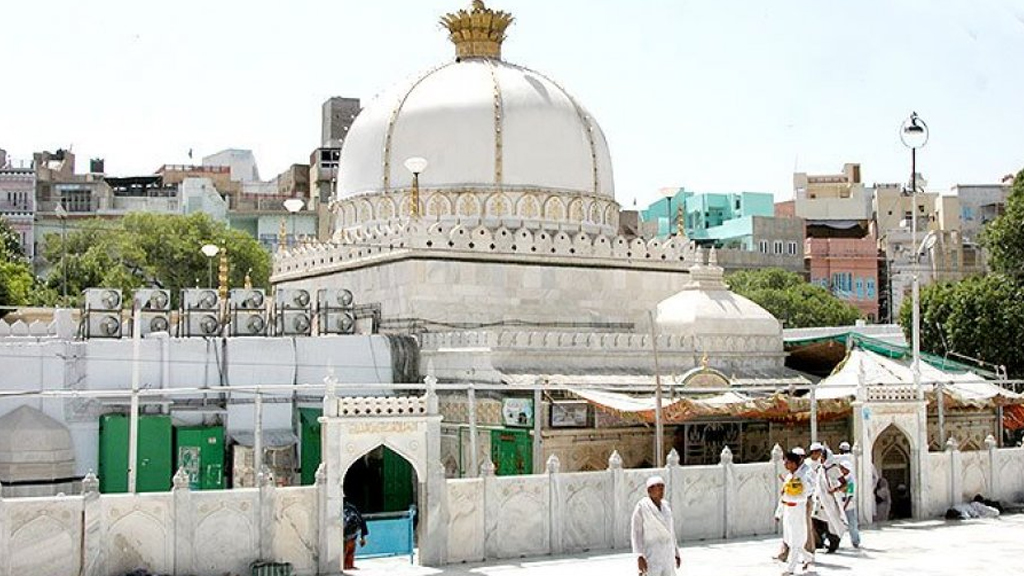 Within the walls of this shrine rests the tomb of the venerable Sufi saint- Khwaja Muin-ud-din Chishti- originally from Persia, who arrived in Ajmer in 1192. He died in 1236 and his tomb has been a pilgrimage spot ever since. The Mughal emperor Humayun completed the shrine and emperor Akbar paid an annual visit to this Dargah from Agra.
This shrine is at its fascinating best in the evening when the structures within are lit up and Qawwali singers sing Urdu verses in praise of the Prophet. These performances are intense to say the least and are best experienced at this Dargah.
You enter the shrine from Nizam Gate and the mosque on the eponymous mosque on the right was constructed by Akbar in 1571. It is now Moiniua Usmania Darul-Uloom, an Arabic and Persian School for religious education. The second gate was constructed by Shah Jahan and so is the white marble mosque that stands in the inner courtyard. The imposing Buland Darwaza is a 16th century gate, more than 25m high, that leads into the main shrine area.
Timings:
4 AM – 9 PM (summer); 5 AM – 9 PM (winter)
Entry Fee:
Free

2Anasagar Lake—Of evenings in Ajmer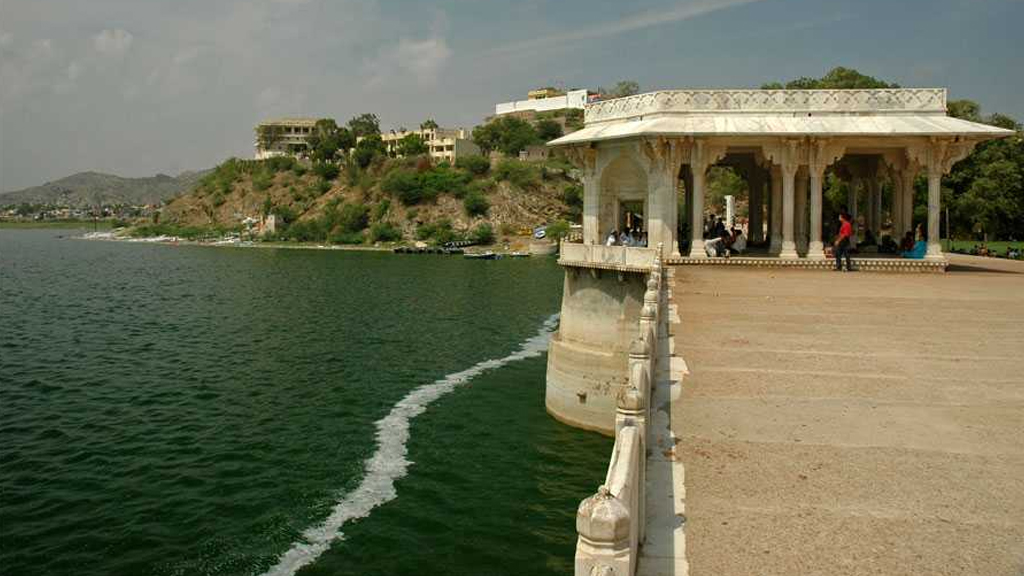 This 12th century artificial lake is the perfect destination for an evening stroll in Ajmer. In the backdrop, you can see the softly rising spine of a hill that makes the banks of Anasagar Lake a great sunset point. The Subash Bagh and Daulat Bagh are two lush gardens that add to the natural beauty of this water body. The gardens contain marble pavilions commissioned by shah Jahan in the 1600s.
If you'd like to explore the waters of the lake, there are boating facilities available.
Timings:
8 AM – 8 PM
Entry Fee:
Free

3Adhai Din ka Jhonpda—A mosque of exquisite beauty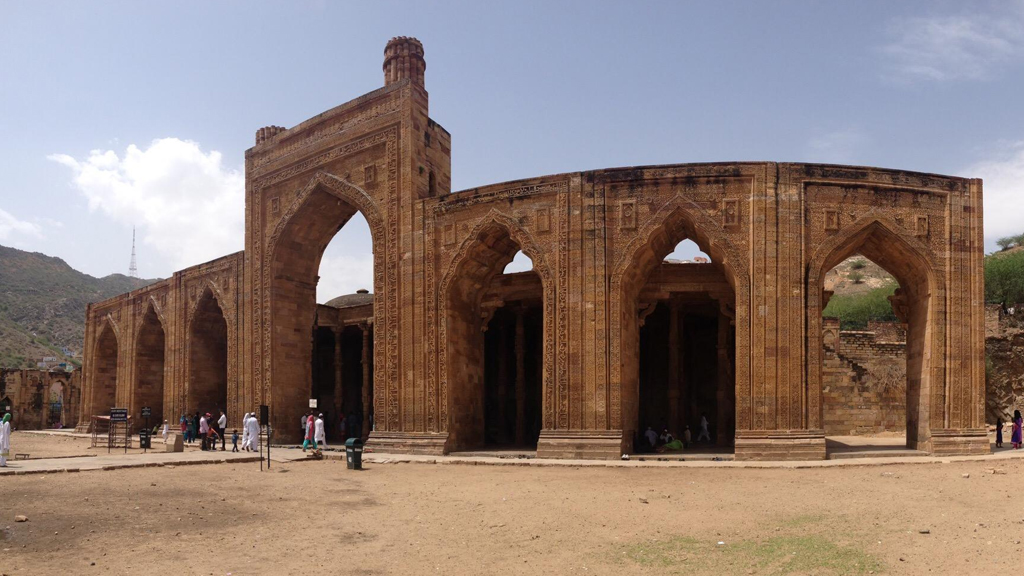 The Adhai Din ka Jhonpda (Two-and-a-half-day Building) mosque got its name from an ancient legend that it was constructed in less than three days! Whether you choose to believe that legend or not, Adhai Din is a living representation of Indo-Islamic architecture.
Originally constructed to house a Sanskrit college, this changed when Mohammed of Ghori invaded Ajmer in 1198 and erected a seven-arched wall engraved with Islamic writings in front of the main hall.
Adhai Din ka Jhonpda is characterized by massive domes, sky-reaching pillars and an awe-inspiring screen constructed out of material from Jain and Hind temples.
This mosque is located on the outskirts and is one of the must-see places to visit in Ajmer.
Timings:
6 AM – 6 PM
Entry Fee:
Free

4Soniji ki Nasiyan—The golden atlas according to Jains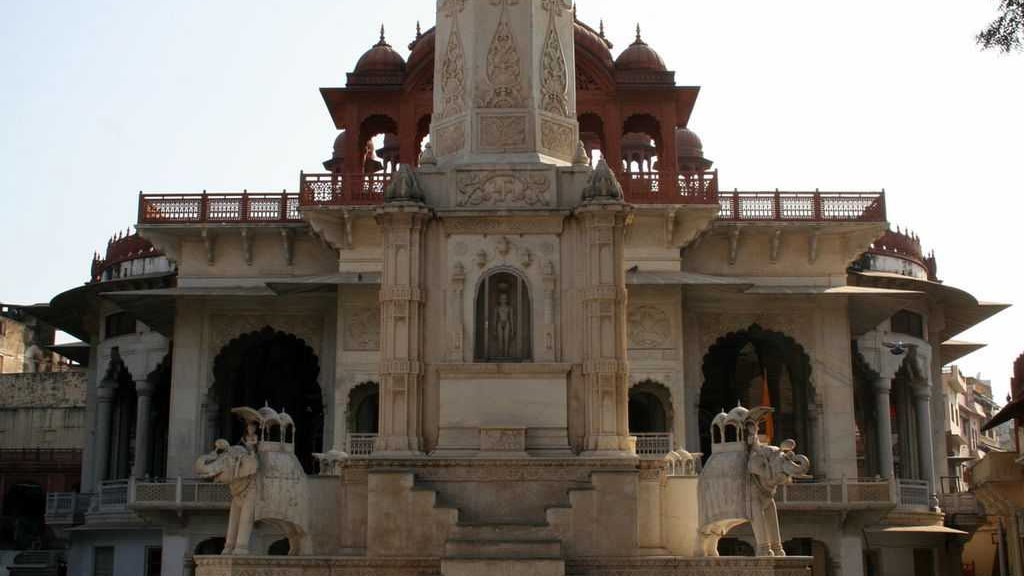 Of all the temples in Rajasthan, Soniji ki Nasiyan is by far one of the prettiest. Constructed in 1865, this Jain temple is dedicated to Lord Adinath and features a two-storied hall that is designed to resemble a diorama of the ancient world according to Jain scriptures. And what a world it is! The 13 continents and oceans are spread out across the hall along with gold-plated representations of swooping peacocks, multi-tusked elephants, gondolas and the city of Ayodhya. It is no wonder that the main chamber is called the City of Gold. Constructed in the 1800s, this Jain temple is decked out with precious gems and stones, gold and silver miniatures, making it a glittering sight to behold.
Timings:
8:30 AM – 4:30 PM
Entry Fee:
Nominal

5Akbar's Palace & Museum—A Mughal emperor's retreat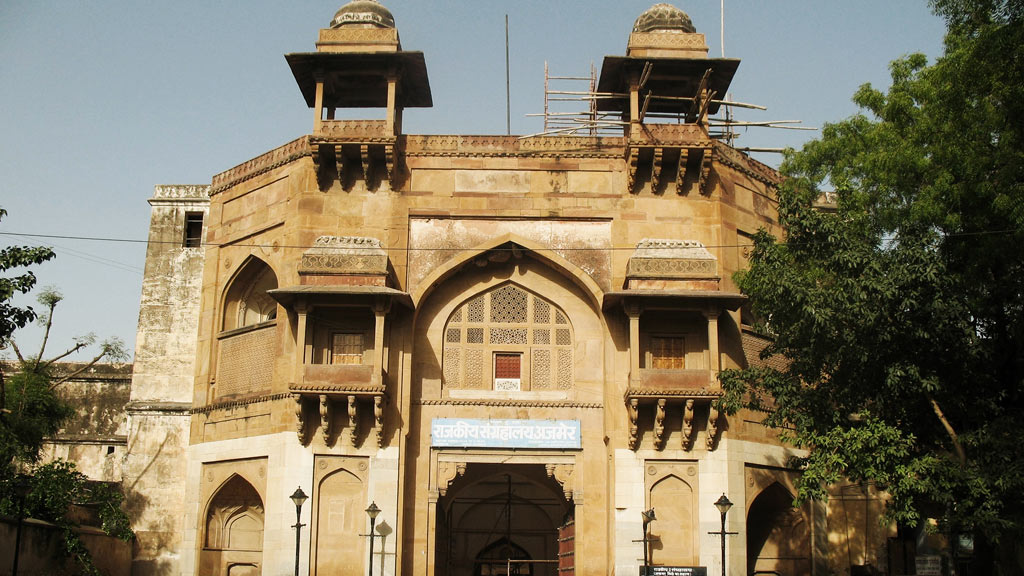 Emperor Akbar commissioned this palace in the 1500s with two intentions in mind- to relax whenever he visited Ajmer and to keep a tab on local chieftains. Today, its imposing walls and ancient artefacts make it a must-visit attraction for anyone interested in the history of Ajmer.
Historically, this is the palace where Jahangir read out the royal mandate that allowed the East India Company to begin trade in the country.
Situated within these imposing walls is the interesting Ajmer Government Museum that houses a rare collection of 8th century stone sculptures. Also on display are medieval paintings, weapons, miniatures, and a fine collection of paintings of the Maharajas of Bharatpur.
Timings:
12 PM – 8 PM; Closed on Mondays
Entry Fee:
INR 10 for Indians; INR 25 for Foreigners

6Sai Baba Temple & Nareli Jain Temple—A pilgrim's trail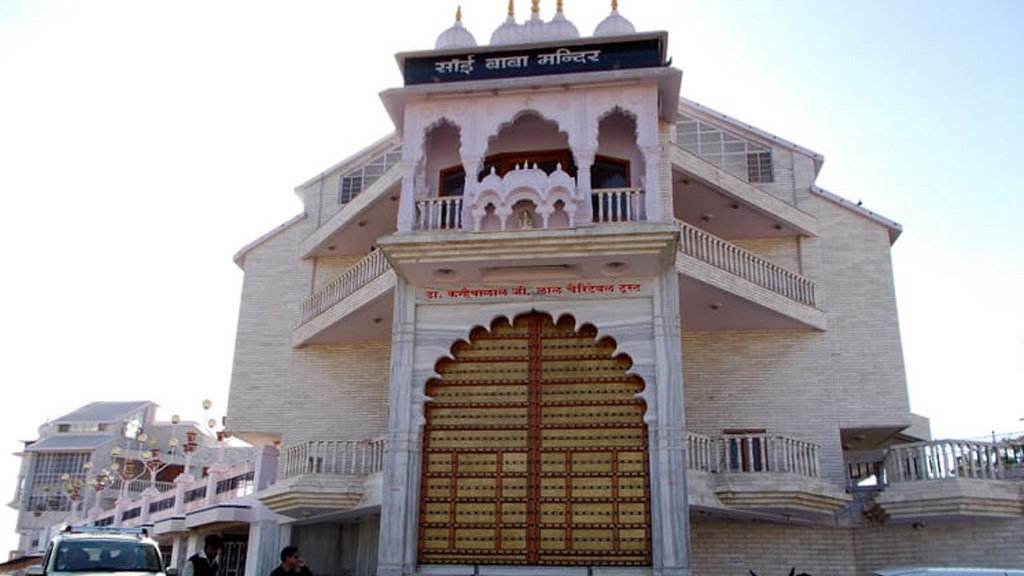 While the Sai Baba Temple is not an ancient piece of architecture, it still stands out for the translucent white marble used in its construction. One can literally see rays of sunlight trapped in the temple floor, and the popular pilgrimage destination is spread out over 2 acres. A must-visit for Sai Baba devotees.
About 30 minutes away is the Nareli Jain Temple, also known as Shri Gyandoaya Tirth Kshetra. This Jain temple is also quite new, but yet it is designed in a way that blends traditional and modern motifs of religious architecture. There are 24 smaller temples around it that represent the 24 Jain tirthankars (revered teachers). Nareli Jain Temple is a crucial stop for Digambara Jain devotees. The location of this temple just in front of the Aravalli Hills adds to the man-made beauty.
Timings:
4 AM – 10 PM (Sai Baba Temple); 6:30 AM – 8 PM (Nareli Jain Temple)

7Victoria Clock Tower—A colonial remainder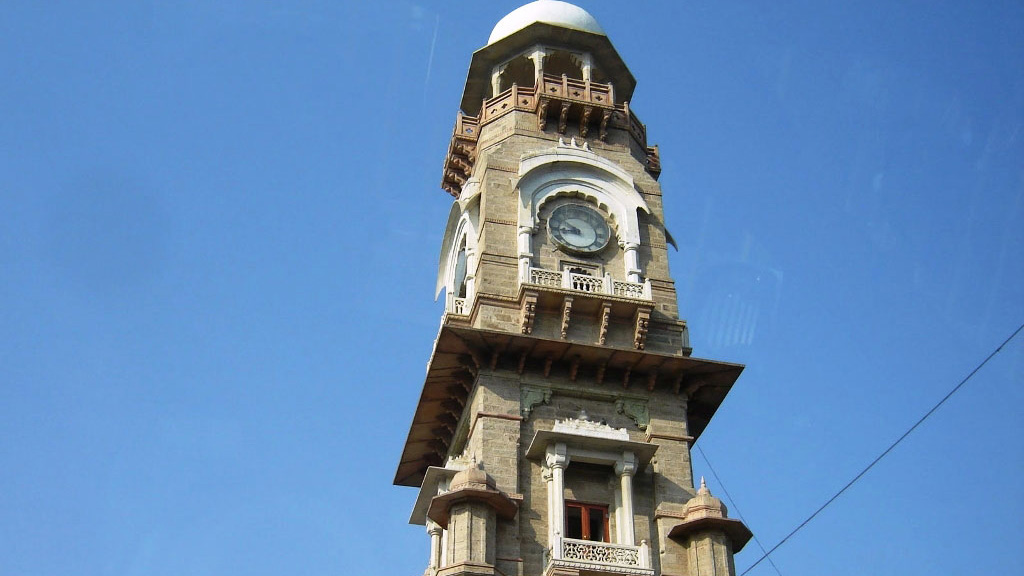 Throughout history, Ajmer has always played a pivotal role because of its strategic location. When the British entered Rajasthan, Ajmer was one of a handful of places that wasn't a princely state. In fact, the British built a number of structures here that are still standing today. The most striking is the Victoria Clock Tower that sits bang opposite the railway station. Constructed in 1887 to commemorate Queen Victoria's Golden Jubilee, this clock tower stands out among the Indo-Islamic architecture that dominates Ajmer.

8Mahila Mandi, Nala Bazaar & Dargah Bazaar—Shop till you drop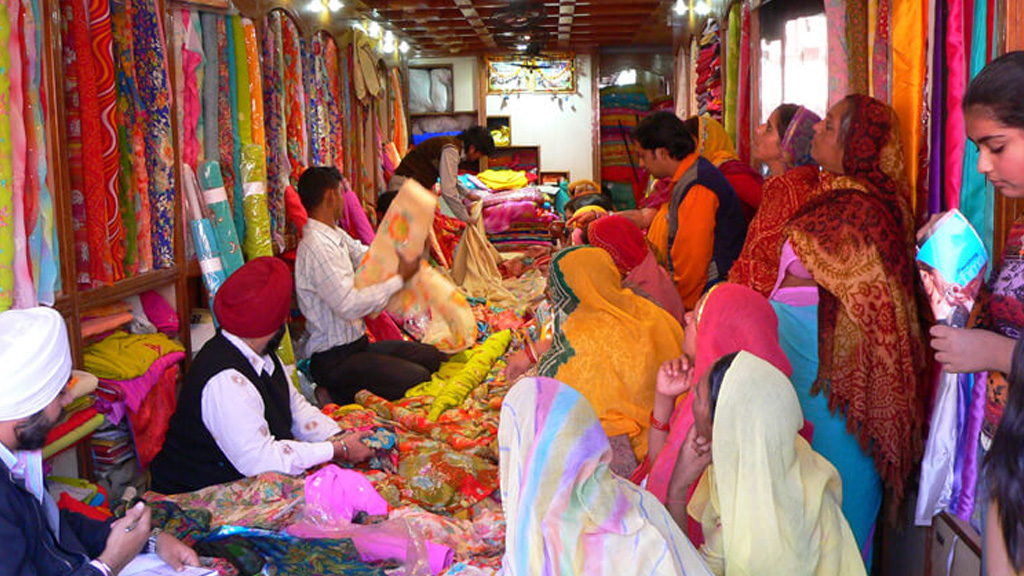 For female travellers looking for a good deal on ethnic wear, Mahila Mandi is where you should land up. On any given day, you will find a number of shops seeling multi-coloured salwars, saris, and other Indian clothing.
Almost flowing into each other, the Nala and Dargah Bazaars will give you the complete Ajmer shopping experience. Whether you want to try the local cuisine or pick up trinkets for your loved ones, you will find it all here…and more! Just be prepared to haggle!
The places to visit in Ajmer offer travellers a glimpse into the cultural diversity of the desert state.