22 Places to Visit in Jaipur— Let the Pink City Mesmerize You In2019!
The traveller visiting Jaipur for the first time will instantly notice the juxtaposition of old and new- lanky camels walk the same roads as luxury buses, swanky malls stand side by side with age-old bazaars. The Pink City has all the tourist amenities but is built on a culture and heritage that permeates the very skeleton of the capital of Rajasthan. Whether you're exploring the City Palace, or taking a ride to Amber Fort, nestled in the Aravalli Hills, Jaipur's majestic history is tangible, breath-taking, and offers travellers exactly what they're looking for- a royally good time!
In 1876, all the buildings of Old Jaipur were painted the colour of pink sandstone in honour of the visiting Prince of Wales, hence the moniker. The Pink City is now a bustling metropolis but its historical monuments haven't lost any of their charm. Make sure you don't miss out on these vibrant places to visit in Jaipur mentioned below.

1Amber Fort and Palace— Myriad reflections and an imposing bastion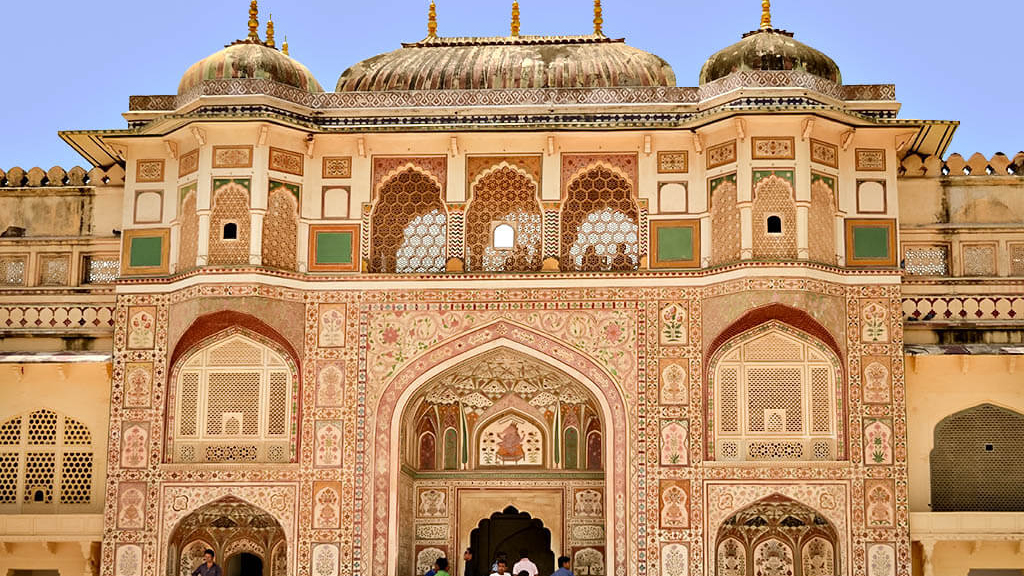 Around 10kms northeast of Jaipur lies a majestic specimen of Rajput architecture. Amber (pronounced Amer) Fort-Palace has four sections, each with their own courtyard. Be prepared to travel back in time as soon as you enter through Suraj Pol (Sun Gate). From there the sights get more majestic as you explore the main courtyard, Jaleb Chowk. The Diwan-i-Am, Hall of Public Attendance, has two rows of columns that have sculptured elephants at the top.
Don't forget to check out the intricate mosaic work at the Ganesh Pol courtyard. The mirrored ceiling and inlaid panels of Jai Mandir, Hall of victory, will leave you enthralled by the beauty of this historical building. Jai Mandir also offers stunning panoramic views of Maota Lake and the palace ramparts.
An elephant ride via the cobbled road that leads to the Amber Fort entrance is a memory that will last forever.
Timings:
10am to 5pm
Entry Fee:
INR 25 for Indians; INR 200 for foreigners
Explore Highly Recommended Jaipur Tour Packages for You
Click Here

2City Palace— Indo-Islamic architecture meets European motifs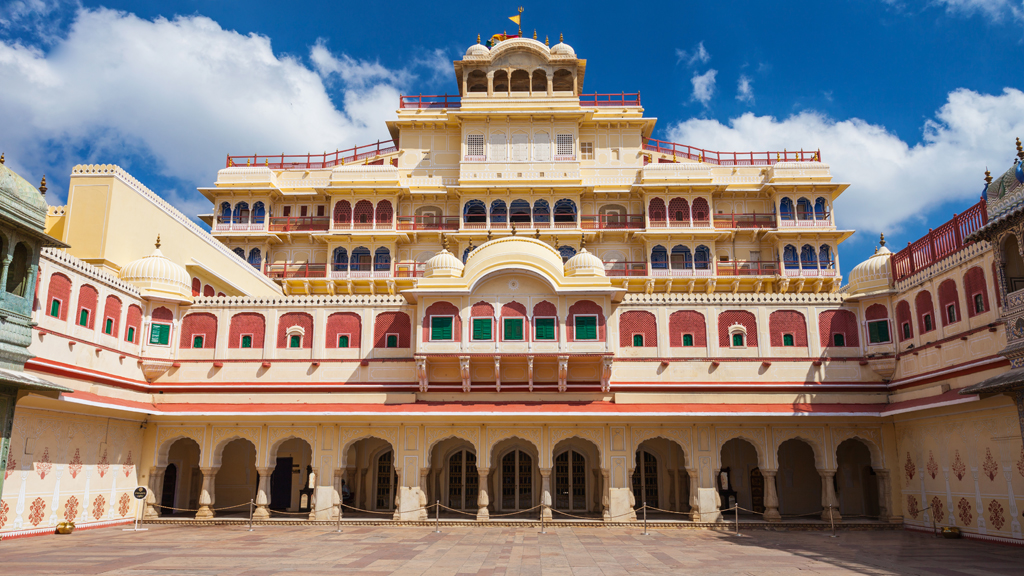 Bang in the centre of the Old City is the City Palace, an amalgamation of various buildings, gardens and courtyards, around which runs a wall erected by Jai Singh, the Hindu Rajput ruler, after whom the city is named. The standout feature of the City Palace is the aesthetic combination of Rajput and Mughal architecture.
As you enter the City Palace from Virendra Pol, you will notice the 19th century Mubarak Mahal (Welcome Palace). The latter contains a variety of royal costumes with exquisite brocade work. If you walk north from Mubarak Mahal, you will reach Rajendra Pol, another entrance, that has carved elephants holding lotus flowers in their mouths. The Diwa-i-Am has a rare, impressive collection of paintings, hand-printed manuscripts of Hindu texts and 17th century Lahori carpets.
The City Palace is one of the best maintained places to visit in Jaipur. You shouldn't leave without exploring the Maharani's Palace that is, surprisingly, home to a vast armoury.
Timings:
9:30am to 5pm
Entry Fee:
INR 75 for Indians; INR 300 for foreigners

3Jantar Mantar— Time as measured by the maharajas of old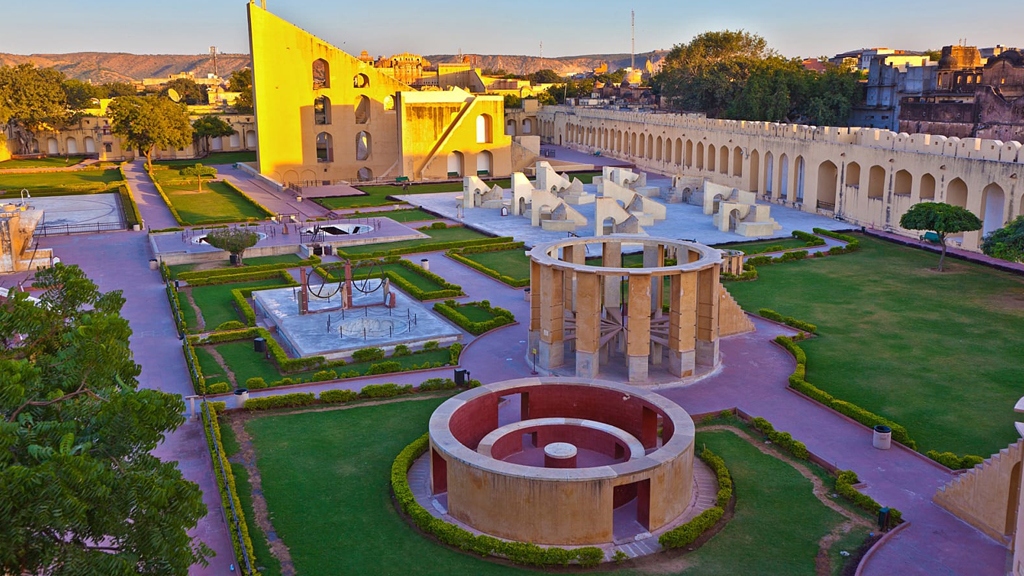 Jantar Mantar's foundation was laid in 1728 by Jai Singh who took more than a passing interest in astronomy. This royal observatory has a number of striking instruments meant to calculate eclipses, altitude and azimuth, and the position of stars, among other.
Hiring a guide is a good idea here as he will take you around and explain how the various instruments were utilized. For instance, the Brihat Samrat Yantra (King of the Instruments) is a massive sundial that has an imposing 27m gnomon that casts an impressive shadow on the dial, according to the position of the sun.
The Ram Yantras consists of 12 vertical and horizontal slabs that measure the altitude and azimuth of planetary bodies. Jantar Mantar will take you about an hour to explore but you will come away with a sense of awe at Jai Singh's search for meaning among the stars!
Timings:
9am to 4:30pm
Entry Fee
INR 50 for Indians; INR 15 for students; INR 200 for foreigners; INR 100 for foreign students.
You May Also Be Interested In: "Things To Do in Jaipur"
Click here

4Hawa Mahal— The wind whistling palace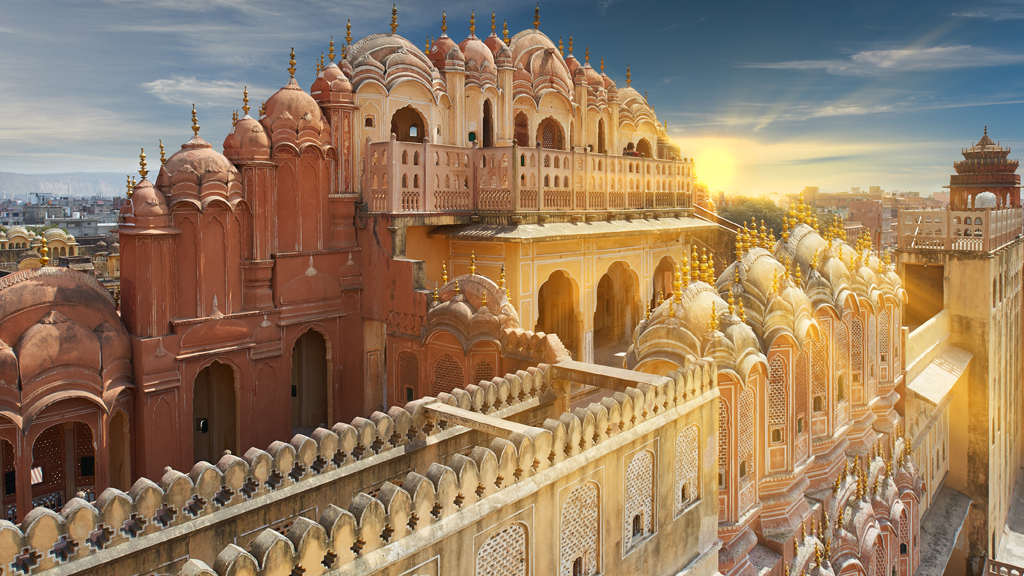 From a distance, the Hawa Mahal (Palace of Winds) looks like an enormous honeycomb. Constructed of pink and red sandstone, this palace is easily the most remarkable structure in Jaipur.
Built in 1799, Hawa Mahal served as the meeting place for the royal Rajput ladies who could survey the life of the city from 953 tiny windows built into the walls. These small windows allowed for maximum ventilation and even today one can get a magnificent view of Jaipur, overlooking Jantar Mantar and City Palace.
The narrow corridors and filtering light make for exciting exploration and the only entrance is from behind this structure of architectural ingenuity.
Timings:
9am to 4:30pm
Entry Fee:
INR 50 for Indians; INR 200 for foreigners

5Jal Mahal— The floating beauty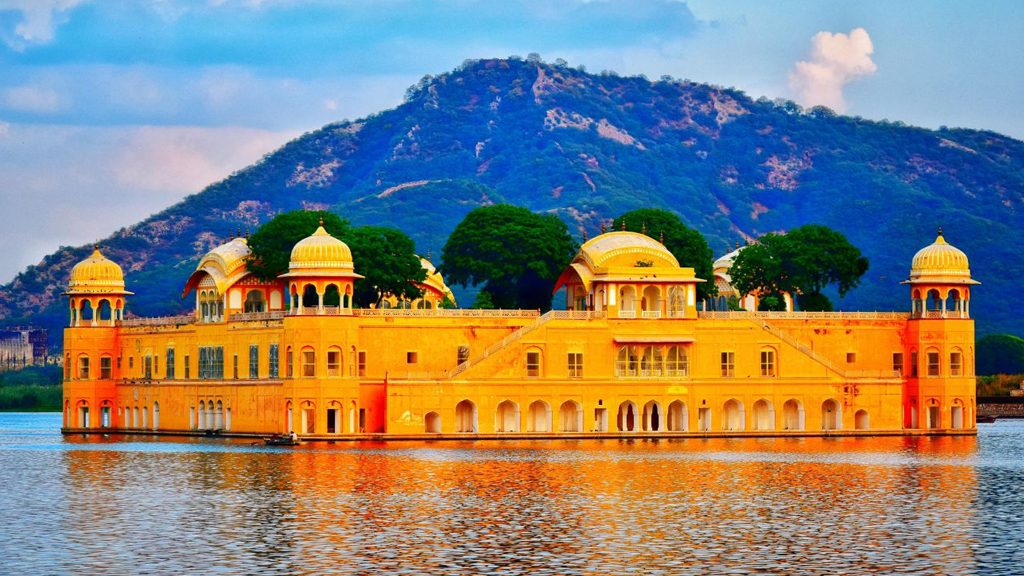 A stone's throw from the memorial tombs of the maharanis of Jaipur lies the fairytale-like Jal Mahal (Water Palace). Maharaja Madho Singh's intention was to use this as a summer getaway where royal duck hunting parties could take place. This makes sense considering Jal Mahal is situated in the middle of Man Sagar Lake. This creates an illusion of the palace seemingly floating in the middle of the lake.
A perfect time to visit Jal Mahal is right before sunset when the dark, tranquil waters of the lake go perfectly with the pink sandstone of the palace. From the banks of the lake, it may seem as if Jal Mahal is a single-storied structure. However, there are four levels submerged under the lake and if you look closely you can make out hyacinths and other water plants sprouting from the inner sanctum of this beautiful structure. When it comes to places to visit in Jaipur, the Jal Mahal should top your list.
Timings:
9am to 5pm
Entry Fee:
INR 10 for Indians; INR 50 for foreigners
Do you know what is the best time to visit Jaipur?
Click here

6Nahargarh Fort— The abode of maharanis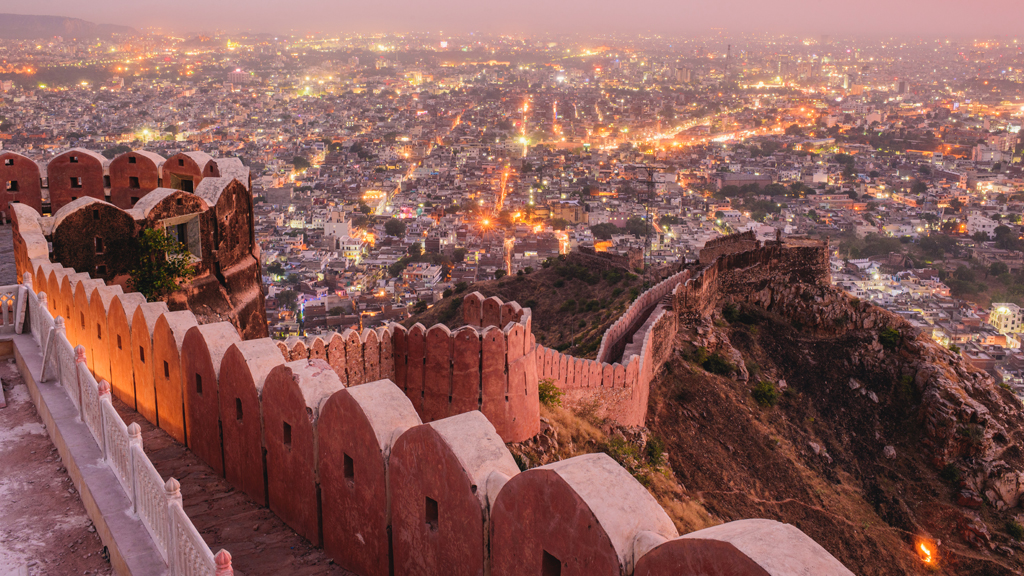 Legend has it that the spirit of a dead prince, Nahar Singh, agreed to stop disrupting the construction of this fort if it was named after him. Local stories aside, this fort is the perfect sunset point and looms over Jaipur from a northern ridge.
The fort was constructed in the 1700s to boost the Amber defences. However, in 1868, Maharaja converted the fort into a residence for his nine wives. One can explore the ancient royal rooms that still contain remnants of their former inhabitants- from coloured window panes to intricately carved Belgian mirrors.
The best way to reach this fort is to hire a cycle rickshaw and then make the steep, yet manageable, 2km hike to the main vantage point.
Timings:
10am to 5:30pm
Entry Fee:
INR 50 for Indians; INR 200 for foreigners

7Sisodia Rani Palace Garden— A royally romantic lawn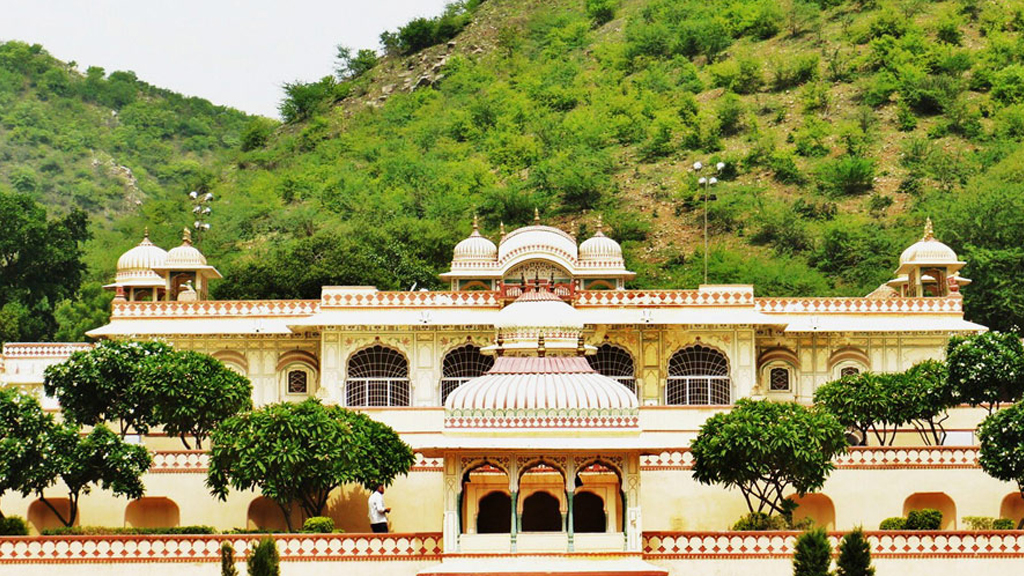 Maharaja Sawai Jai Singh has this sprawling garden erected in 1728, away from the bustling city, for his second queen who was of the Sisodia Rajput clan of Udaipur.
A little above 8kms from the city, Sisodia Rani Palace Garden contains two plots of green land designed for travellers who are up for a quiet stroll amidst flora. The outer walls of the eponymous palace (now closed to the public) that overlooks the garden is etched with beautiful murals inspired by the legend of Radha and Krishna. The Mughal architectural layout is quite obvious, and one can relax after a hectic day of exploration by taking in the flowerbed arrangements, sprawling pavilions, fountains and water streams. If you're visiting Jaipur just after the monsoon season, Sisodia Rani Palace garden will spring to life with lush greenery.
Timings:
8am to 8pm
Entry Fee:
INR 50 for Indians; INR 200 for foreigners
You May Also Be Interested In: "How to Reach Jaipur"
Click here

8Galta and Surya Mandir— A unique temple complex with natural springs and primates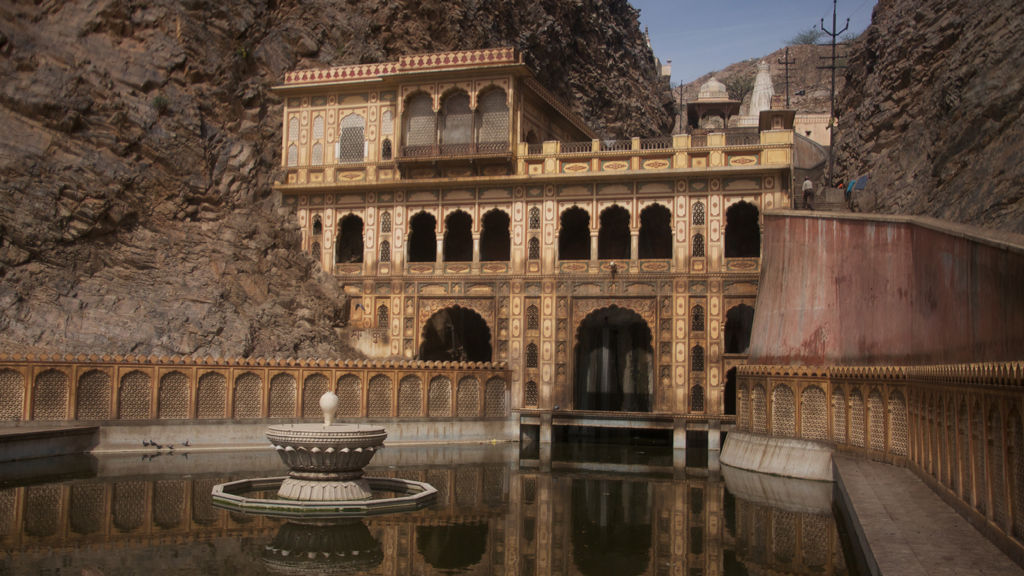 Galta, Monkey Temple, les between a rocky valley and is home to a number of langurs and macaques. The seven pools of this temple are fed from a natural spring and is said to be as deep as the height of several elephants. If you're an adrenalin junkie, a dip in one of these pools should be on the cards. There are a few faded frescoes at the end of the last pool.
If you're visiting the City Palace, Galta is just a few kilometres towards the east. Above Galta is the Surya Mandir (Temple of the Sun God) and there's a 2.5km hiking trail that will get you there from Suraj Pol. Once you reach the temple, you can get a hazy, dreamlike, view of the throbbing city. For those interested in temple architecture, Galta and Surya Mandir are the best places to visit in Jaipur.
Timings:
5am to 9pm
Entry Fee:
Free

9Johari Bazaar— Ancient yet immortal marketplace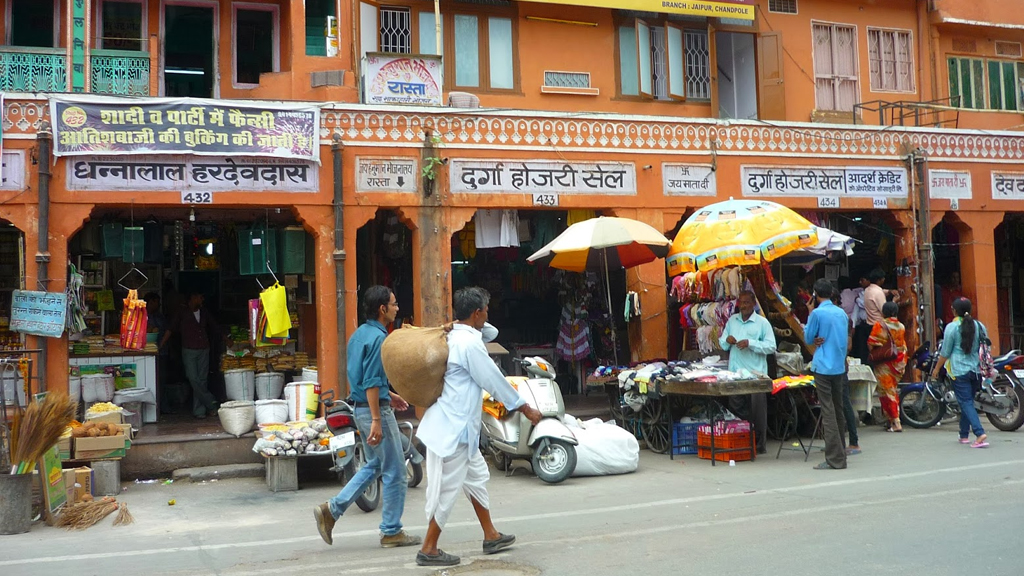 Whether you're an impulsive shopper or simply a curious traveller, Johari Bazaar is a must visit. Intricately designed, handmade ornaments, gems, precious and semi-precious stones glitter in the morning sun and turn this market area into a kaleidoscopic attraction.
If you're more interested in picking up saris, fabric or spices, Johari bazaar is the right place to be, as well. This is the perfect area to pick up curios, souvenirs that will remind you of your Rajasthan vacation for years to come.
Prepare yourself for some hardcore haggling and be wary of a deal that sounds too good to be true.
Timings:
10am to 11pm
You May Also Be Interested In: "Shopping in Rajasthan"
Click here

10Bapu Bazaar— Haven for Rajasthani curios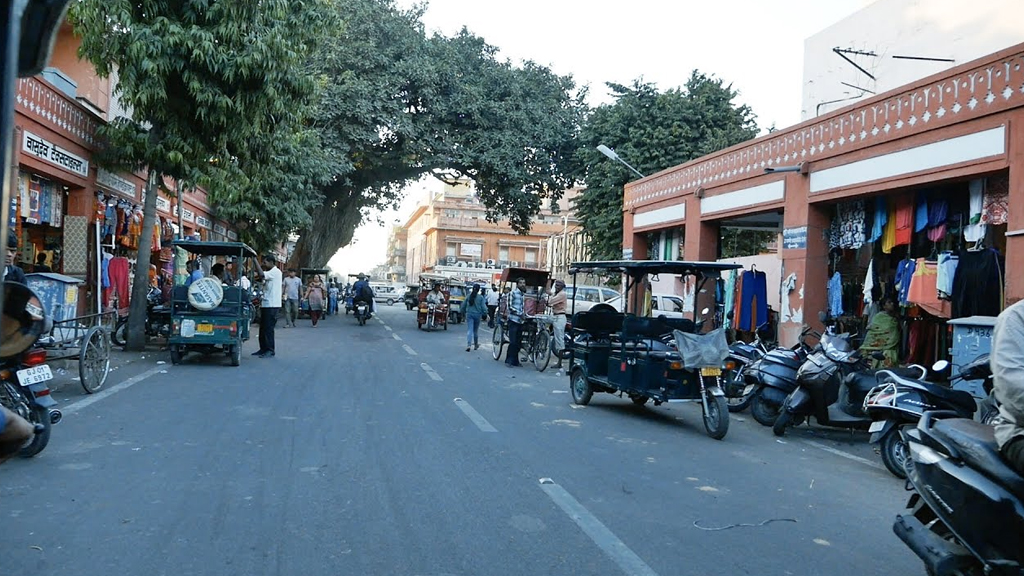 If you're looking for a good bargain, Bapu Bazaar is where you should land up. Situated in the Old City, you will find yourself enamoured by the pink walls of the houses as well as the wares on offer. Perfumes, pashmina shawls, textiles, handicrafts and ethnic footwear are all on offer here.
Bapu Bazaar is the perfect destination for female travellers on the lookout for trinkets, ornaments, richly carved mirrors and just about anything local, under the Jaipur sun! Street-side shopping at this bazaar is an otherworldly experience, as you rub shoulders with the locals and get a feel of how to drive down prices dealing with earnest shopkeepers.
Timings:
10:30am to 7:30pm

11Albert Hall Museum— Rajasthani royal artefacts and an Egyptian twist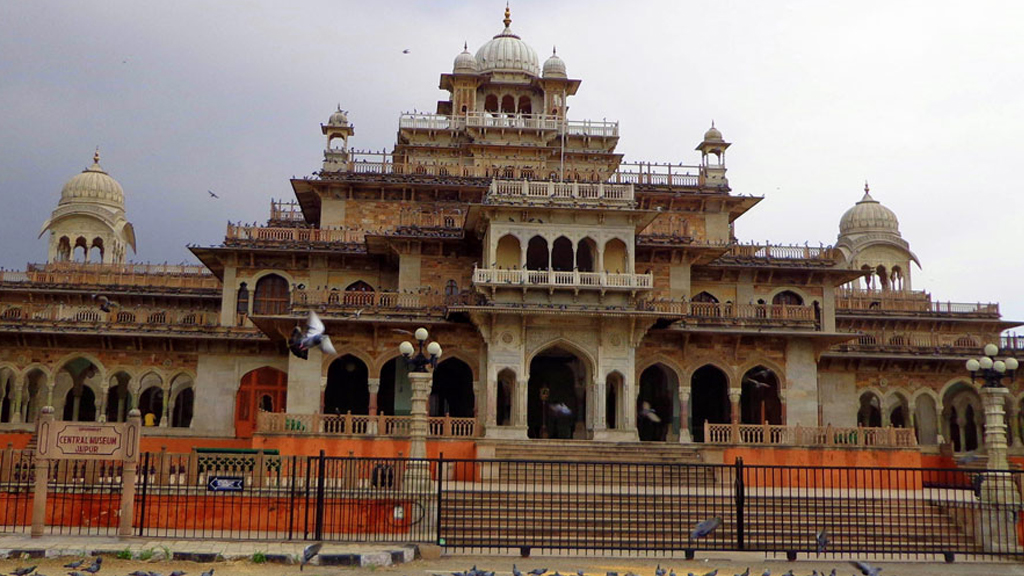 Also called the Central Museum, here you will find an extensive display of ancient miniature paintings, musical instruments, weaponry, royal costumes, tribal dresses, carpets, vessels, and dioramas. Interestingly, the museum also contains an Egyptian section with a mummy purchased by the maharaja!
Notice the Indo-Saracenic architectural style of the Albert Hall Museum, that came into prominence towards the end of the colonial era in India. This museum is a combination of Victorian and Islamic architectural elements, and that's just the outside!
The museum was inaugurated in 1876, and with extensive renovation, its doors are open to the public again. You'll need a good two hours to explore Albert Hall Museum in its entirety.
Timings:
9am to 5pm; 7pm to 10pm
Entry Fee:
INR 40 for Indians; INR 20 for Indian students; INR 300 for foreigners; INR 150 for foreign students

12Jaigarh Fort— Bastion of Rajasthani military prowess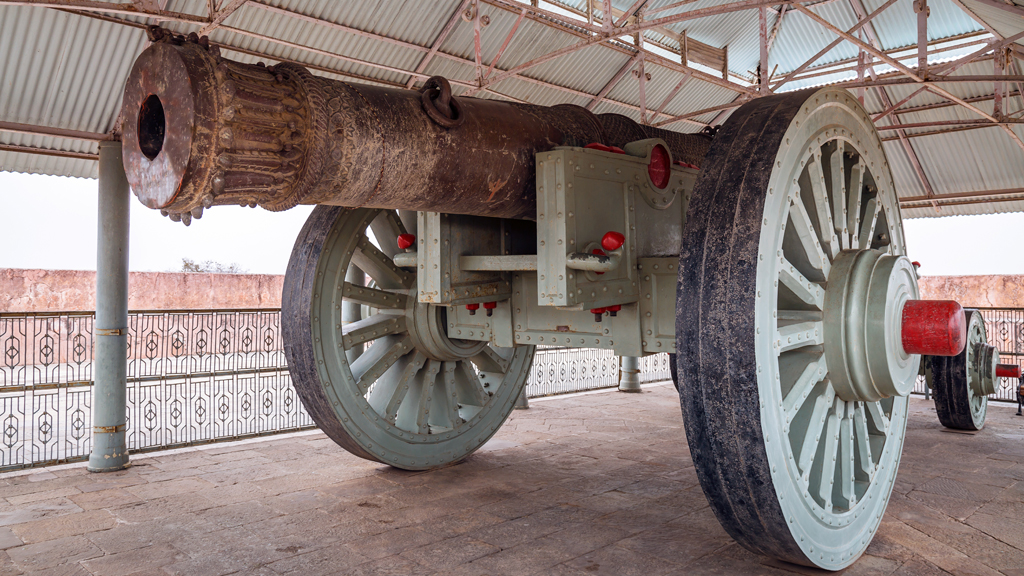 Above Amber is the aptly-named Cheel ka Teela (Mound of Eagles), a green hill that boasts of the imposing Jaigarh Fort. Constructed in the 18th century, this fort houses the Jaya Vana, the world's largest wheeled cannon. This 50 tonne war monster can fire up to a range of 30km and is one of the reasons why Jaigarh Fort was never successfully captured.
The Diwa Burj watchtower offers panoramic views of the city and while you're exploring the fort make sure you visit the armoury and museum. Jaigarh Fort was built to be self-sufficient as you will notice the massive water tanks and harvesting systems. The 1km steep climb from Amber is worth the effort to witness the magnificence of this ancient defence structure.
Timings:
9:30am to 5pm
Entry Fee:
INR 70 for Indians; INR 150 for foreigners

13Chokhi Dhani— Rustic Rajasthani experience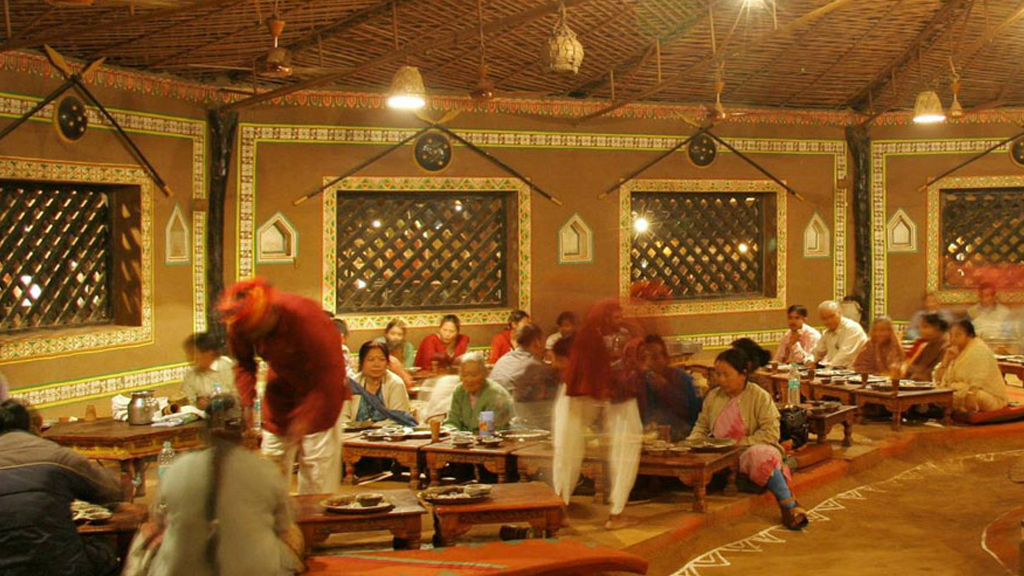 If you're looking to experience rural Rajasthani culture Chokhi Dhani (special village) is a must visit. Whether you're travelling with family or friends, this village is a true replica of a Rajasthani village complete with traditional dancers, local cuisine, elephant and camel rides.
Gorge on a Rajasthani thali, take in the cultural performances and let your mind wander as you soak in the local culture. Chokhi Dhani's open air eating space, snake charmers and puppeteers create an authentic mix of village life.
For those who want to get a feel of a village fair as conducted in Rajasthan Chokhi Dhani is your one-stop destination situated around 20kms south of Jaipur.

14Abhaneri— A regal step well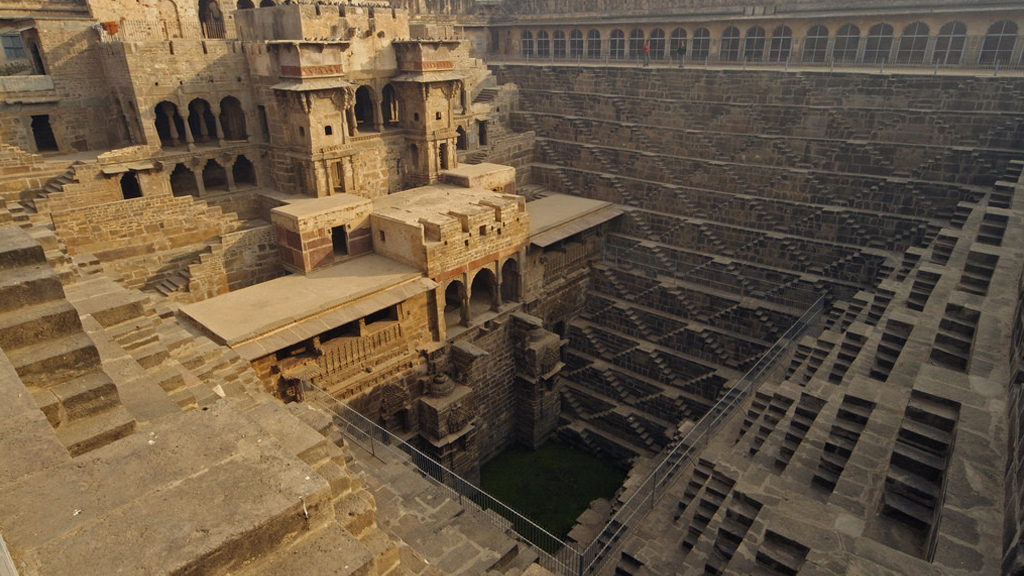 You know you're in Abhaneri when you're greeted with a sprawling expanse of wheat crops. This little-known village is home to one of the most magnificent stepwells you will find in Rajasthan.
The 10th century Chand Baori contains 11 criss-crossing levels and is 20m deep. At the side of the baori is a palace where members of the royal family would sun-bathe and picnic in seclusion. Abhaneri is also home to the 10th century, orange sandstone, Harshat Mata Temple. The remnants of the deep relief sculptures here are interesting to explore for history lovers.
Abhaneri is one of the best places to visit in Jaipur, and the perfect day-trip away from the city bustle.
Timings:
Preferably Day Visit
Entry Fee:
Free

15Royal Gaitor— Memorials for the kings of old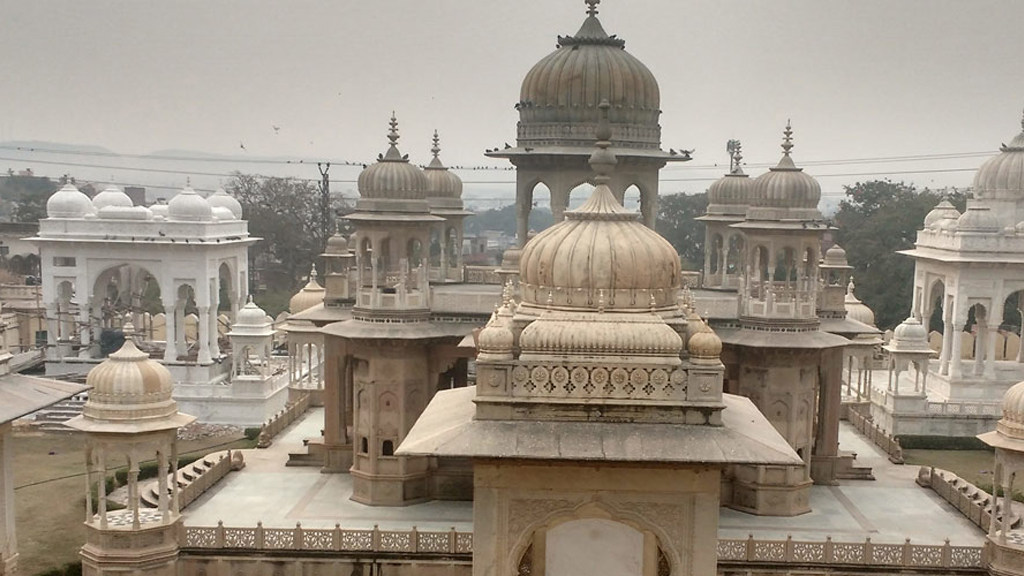 A little beyond the city walls lies the royal cenotaphs. These columns were erected to preserve the memory of the former maharajas of the Pink City. The white marble structures are designed in the vein of Rajput architecture and the carved pillars deserve an exploration.
Jai Singh II has the most magnificent cenotaph with 20 carved pillars. The memorial structures of Pratap Singh and Madho Singh II are also worth checking out. Jaipur is a city intertwined with the history of its rulers, and the Royal Gaitor is a fitting testament to the maharajas who helped build the city into a historical goldmine.
Timings:
9am to 5pm
Entry Fee:
INR 40 for Indians; INR 100 for foreigners

16Birla Mandir— The white marble Lakshmi-Narayan dedication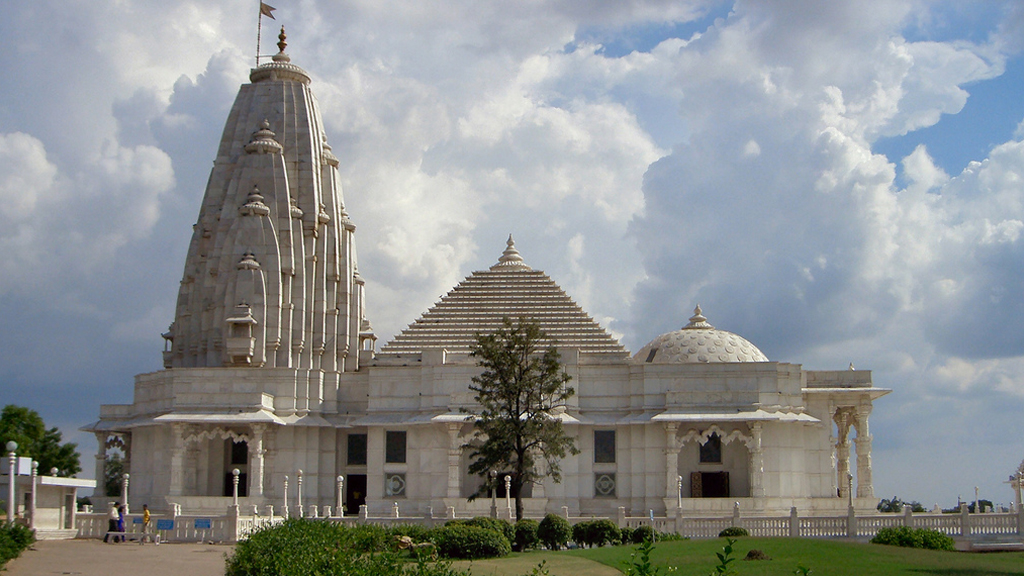 The south Jaipur skyline is dominated by the white marble outline of the Birla Mandir (Lakshmi-Narayan Temple). For the mythology enthusiasts, this temple is replete with intricate sculptures, carvings, and stained glass windows portraying scenes from the Hindu scriptures.
The three-domed rooftop of Birla Temple is symbolic of the secular nature of India and its gardens are a welcome break from the rush of Jaipur metropolis. Situated near the Moti Dungri Fort, this temple is a must-visit for pilgrims and travellers alike. Constructed by the industrialist Birla family, the temple was inaugurated in 1988, and is dedicated to Lord Vishnu and Laxmi, the Goddess of Wealth.
Timings:
6am to 12pm; 3pm to 9pm
Entry Fee:
Free

17Central Park— The Pink City's largest park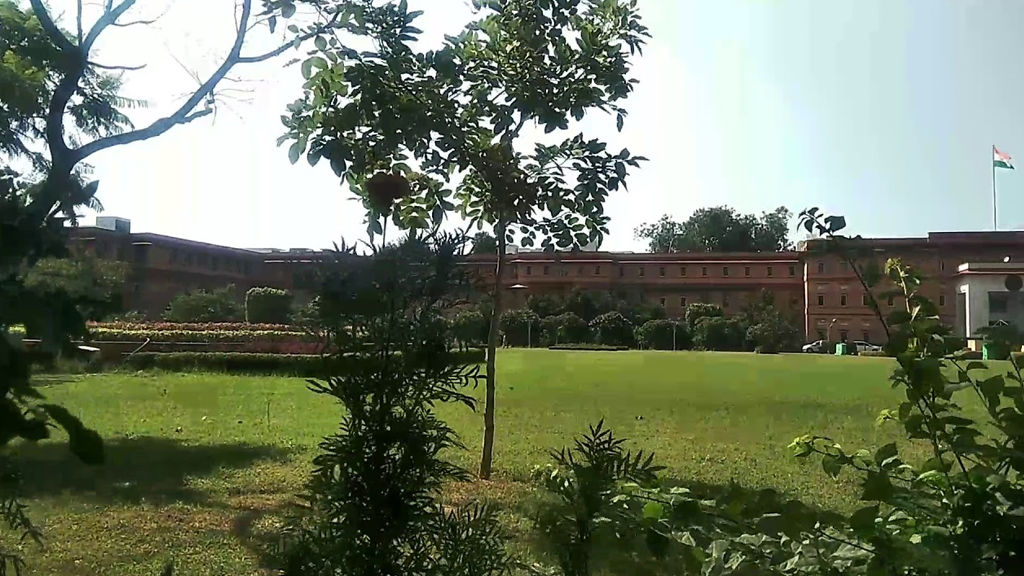 Jaipur can be a little hectic with its crowded streets and attractions. If you're looking for a place to unwind and relax head to the Central Park, a massive green zone, for a breather from the bustling bazaars of the Pink City.
The 5km walking pathway is perfect for travellers after a tiring day exploring the sights and sounds of Jaipur. If you're travelling with children, take them to this park that has musical fountains and enough space for them to run around and play. Adjoining this park is the Rambagh Polo Ground and golf club.
Timings:
5am to 9pm
Entry Fee:
Free

18Iswari Minar Swarga Sal— View Jaipur's cityscape like a bird would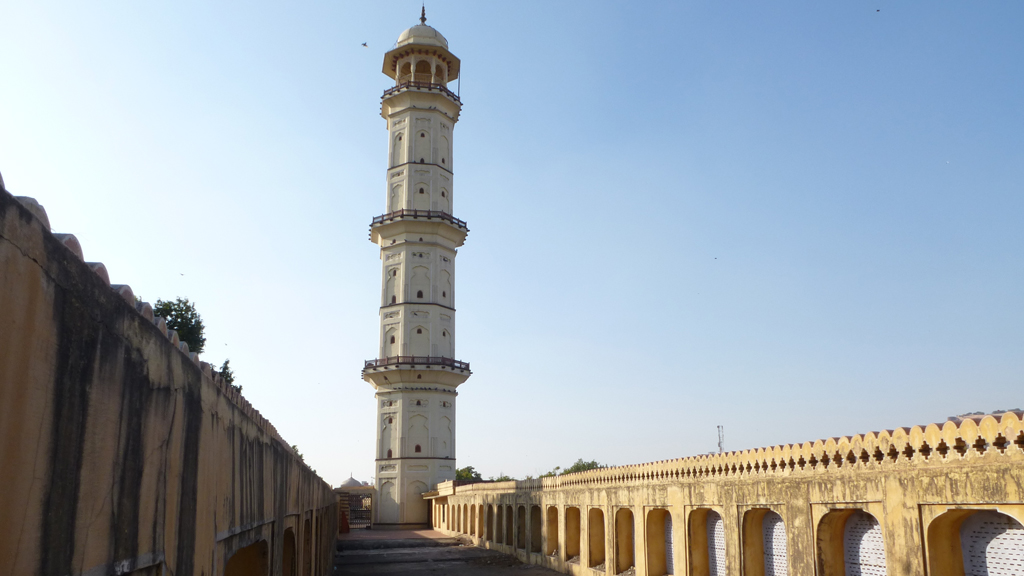 If you're a photographer, no way can you miss out on visiting the towering Iswari Minar Swarga Sal (Heaven-piercing Minaret). Historically, this tower was built by Iswari, Jai Singh's son, who gave up his life by letting a snake bite him instead of surrendering to the advancing Marathi army.
Today, travellers climb this minaret for unparalleled views of the old city. Snapshots from here capture a panorama of Jaipur that enthrals the fussiest of photographers.
Timings:
9am to 4:30pm
Entry Fee:
INR 50 for Indians; INR 200 for foreigners

19Anokhi Museum of Hand Printing— Reviving local art and craft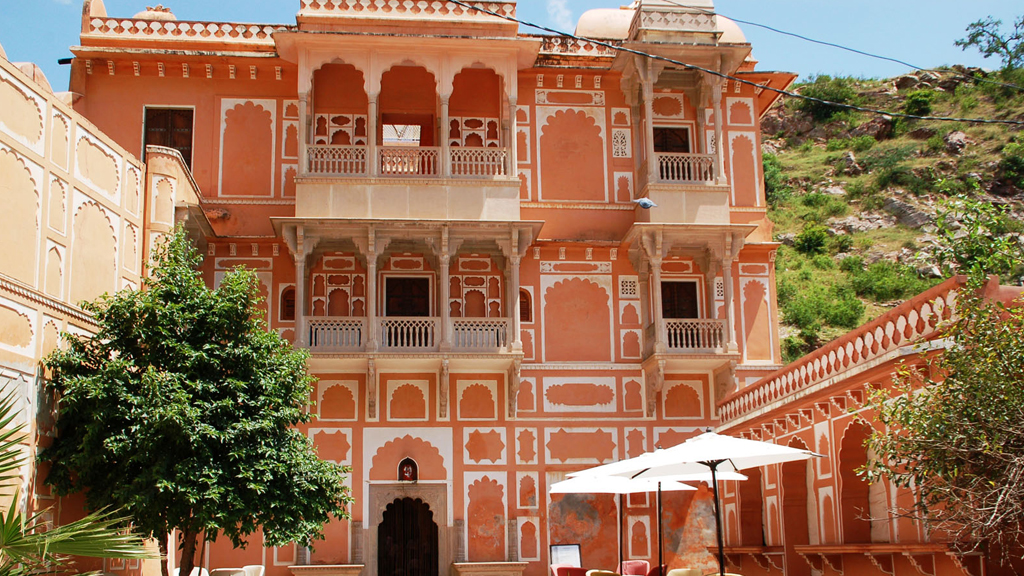 Exploring the ethnic handicrafts of Rajasthan can take up a lot of your time and the Anokhi Museum of Hand Printing is a great place to start. situated a few metres from Amber Fort, this museum preserves the history of hand-block printing and provides live demonstration of this ancient art for visitors.
The traditional block-printing method faces stiff competition in the modern era of factory manufacturing and this museum does its bit to document an age-old practice, and at the same time, provide visitors with interesting snippets of Rajasthani block-printing.
Timings:
10:30 am to 4 pm; Mondays closed.
Entry Fee:
INR 30 for adults; INR 20 for students

20Sanjay Sharma Museum— Quirky ancient hoarders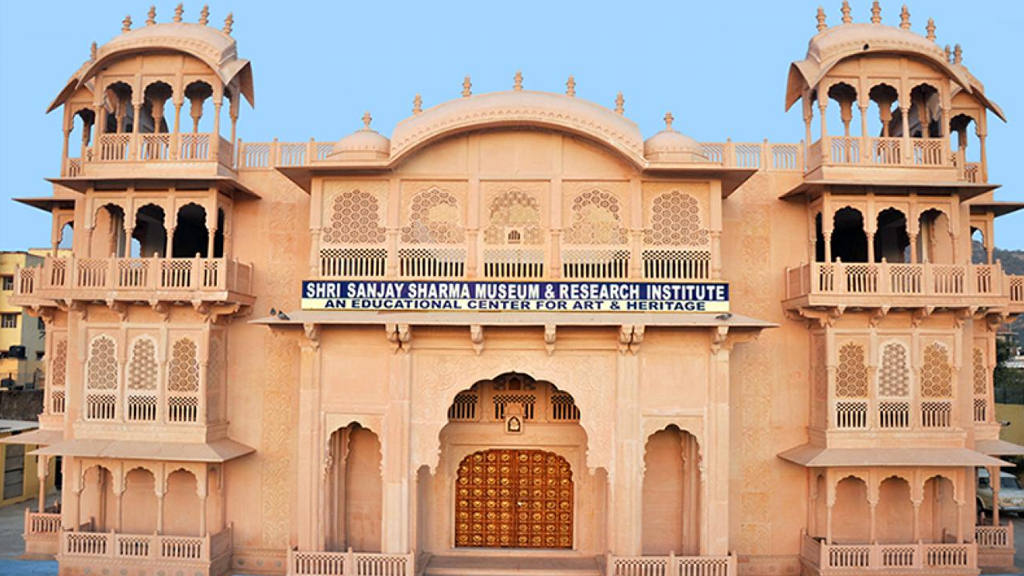 This museum is a magical menagerie of various objects collected by the parents of Sanjay Sharma (he passed away as a kid). There is a collection of 18th century art depicting a variety of yoga postures, handwritten books on alchemy, royal games, and ancient manuscripts.
The Sanjay Sharma Museum is the perfect destination for someone interested in forgotten objects from the past. The ancient footwear collection boasts of slippers worn by holy men and maharajas. The upper storey is home to 125,000 manuscripts maintained by the curators of the museum.
Timings:
9am to 5:30pm
Entry Fee:
INR 100 for Indians; INR 400 for foreigners

21SRC Museum of Indology— Hole-in-the-wall treasure trove of history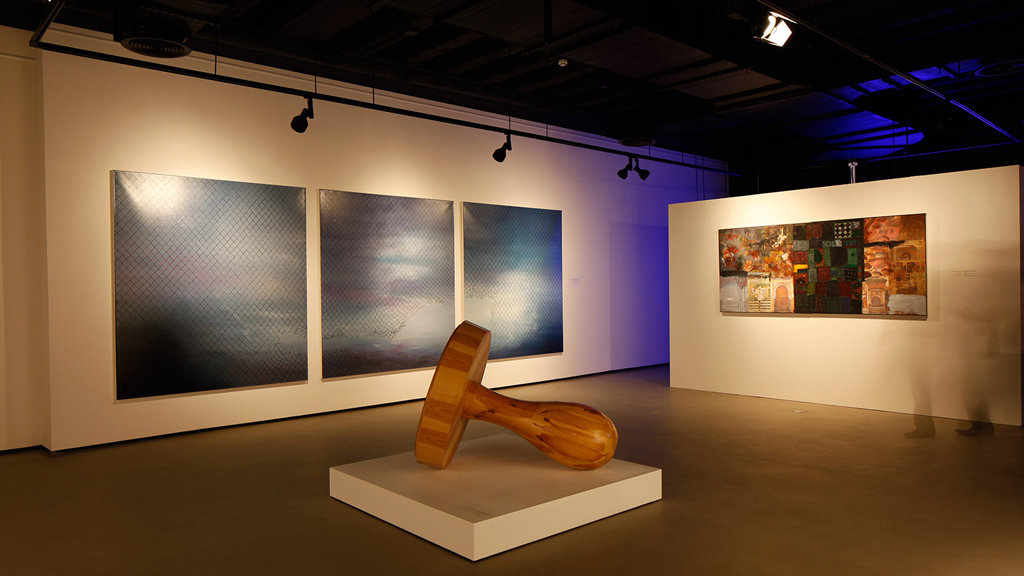 This private museum might seem rundown but it possesses a number of rare artefacts. For instance, SRC Museum of Indology has a manuscript penned by Aurangzeb, the Mughal emperor, a glass bed and a mirrorwork swing from Bikaner.
Jaipur is a city that never ceases to disappoint and SRC Museum will surprise you with its rare, ancient clutter.
Timings:
9am to 6pm
Entry Fee:
INR 20 for Indians; INR 100 for foreigners

22Nahargarh Biological Park— Birdwatcher's utopia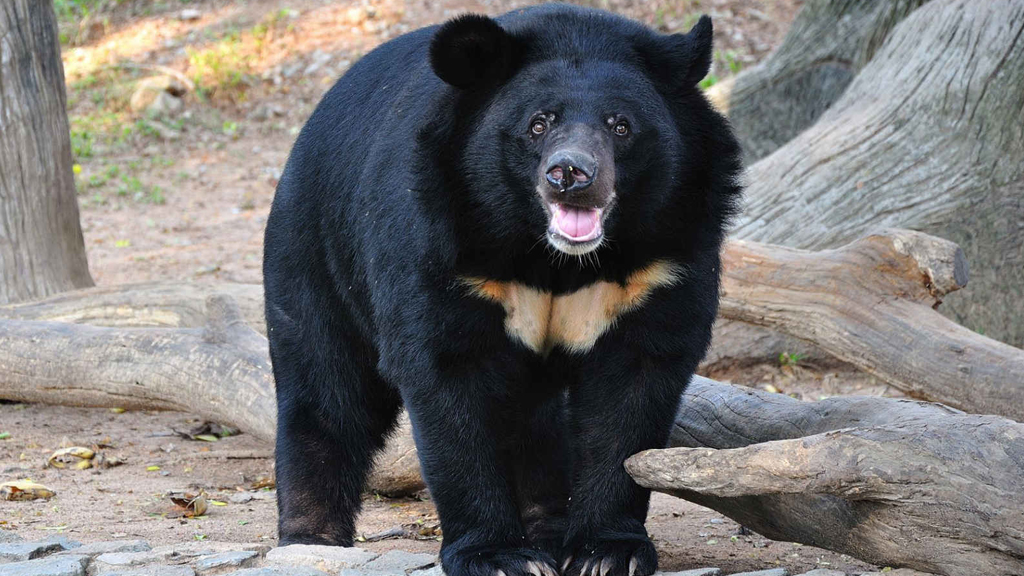 12kms from Jaipur, spread over 720 hectares, is the sprawling natural beauty of the Nahargarh Biological Park. Besides being home to the rare white-naped tit, the park boasts of over 285 species of birds. If you're an avid birdwatcher, make sure you visit Ram Sagar, the perfect spot to view these winged creatures in their natural habitat.
Timings:
8:30am to 6:30pm
Entry Fee:
INR 50 for Indians; INR 300 for foreigners.
When it comes to places to visit in Jaipur, the traveller is spoiled for choice.