Local legend has it that at the peak of Mt Abu, Brahmin priests forged the four Rajput fire clans. Another mythological story mentions Arbuda, a mighty serpent, that gave Mt Abu its name. it is said the mountains here are as ancient as the Himalayas.
Rajasthan's only hill station is a magical place. While the other cities in this desert state record scorching summer temperatures, Mt Abu remains cool and attracts travellers all through the year. This makes it the perfect destination for a family trip or a honeymoon. The lush, green mountains of Mt Abu coupled with the cool hill-station air is a welcome change from the beige backdrop you get so used to while traveling in Rajasthan.
Mt Abu is perched on a plateau 1220m high, and if you're entering by road, it's as if you're passing through a magical forest. Alpine slopes surround the winding road that leads to Mt Abu. As a hiker, the Mt Abu Wildlife Sanctuary offers a number of trails to explore. The animal and bird-watching chances are quite high if you're here during the winter months.
Rajasthan's heat can take its toll on any traveller, and if you're looking for a change of scene, complete with the perfect weather conditions, Mt Abu is the destination for you. How to reach Mt Abu by air, train or road is easy enough to figure out.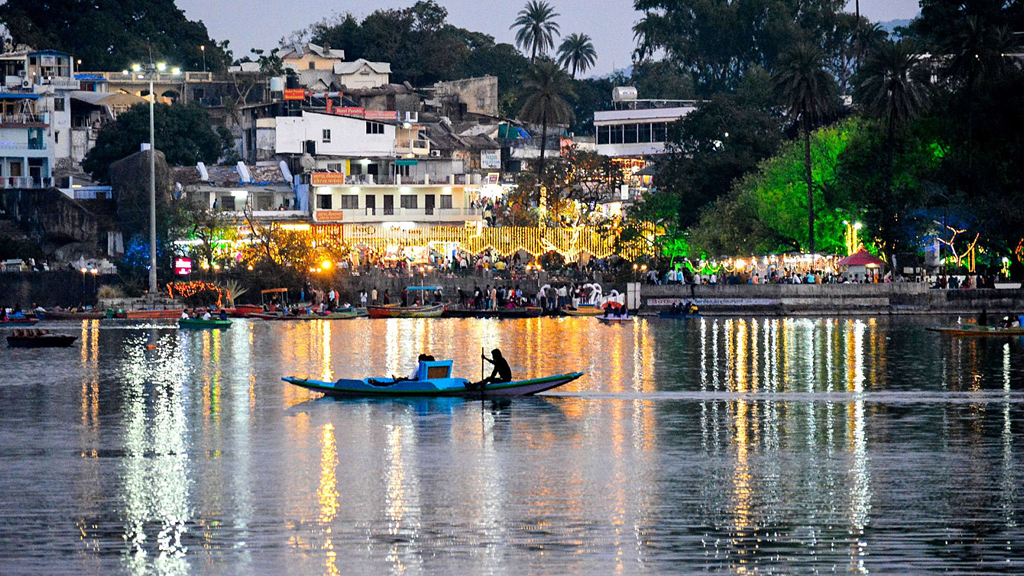 1.By Air:
The Maharana Pratap Airport (UDR) in Dabok, Udaipur is the closest to Mt Abu. This domestic airport is an agreeable 177kms from the hill station, and it shouldn't take you more than a 3 hour car journey to land up here. There are regular domestic flights that fly to Maharana Pratap Airport from Jaipur, Delhi and Mumbai.
The Sardar Vallabhbhai Patel International Airport (AMD) in Ahmedabad (Gujarat) is 224kms from Mt Abu. If you're a foreign tourist, this is the closest international airport from Rajasthan's only hill station. Since Jaipur Airport is nearly 500kms away, foreign tourists visiting only Mt. Abu can fly to Ahmedabad for a quicker trip to Mt Abu.
2.By Train:
Perched at an elevation of 861ft, the Abu Road Railway Station is a quaint little station that serves the hill station. Since the Abu Road station is part of the Delhi-Mumbai railway line, there are a number of trains that arrive here from major Indian metropolitans. This is, by far, one of the easiest ways on how to reach Mt Abu. The Jodhpur Express, Bikaner Express and Ajmer Express all make stops at Abu Road Station.
Once you disembark at the railway station, finding a taxi or bus to take you to Mt Abu is no trouble at all. The picturesque hill station is a mere 28.2kms (%4 minute car ride) from the railway station.
3.By Road:
You'd be wrong to think that Mt Abu, being a hill station, is not easily accessible by road. The National Highway 14 is simply 24kms away, connecting Mt Abu with a host of Indian cities.
RSRTC and a number of private operators run bus services from a number of Rajasthani cities. If you're planning a trip to Mt Abu from Jaipur, 495kms away, there are deluxe AC sleeper buses that will make the journey a comfortable experience. You can even land up via bus from Udaipur or Jaisalmer.
If you're planning a road trip from Jaipur, you will have to be familiar with the National Highways 76 and 79. The Mount Abu Bus Stand is fully operative and you can land up here to make reservations.
How to reach Mt Abu has never been the problem. The natural beauty of the surrounding mountains will make it hard to leave once your trip comes to an end.