3 Things to Do in Bharatpur—Get Lost in Rajasthan's Wildlife Utopia
Bharatpur's appeal centres around the fact that most tourists skip this city. For the peace-loving traveller, this offers an opportunity to explore Bharatpur's handful of delights minus the crowd. Whether you're exploring the 18th century bastion of Lohagarh, or basking in the natural beauty of Keoladeo National Park, Bharatpur offers a chilled out Rajasthani experience. A welcome change from the hustle and bustle of eastern Rajasthan.
Mahabharata, the Indian epic, puts this kingdom's origin somewhere around the 5th century B.C. Bharatpur fell under the Matsya (Sanskrit for fish) kingdom that was one of the sixteen mahajanapadas (great kingdoms), and an ally to the Pandavas during the epic battle of Mahabharata. Mythologically, Bharatpur derives its name from Bharat, the younger sibling of Ram.
In the early 18th century, Mahraja Suraj Mal laid siege to Bharatpur Fort, usurping Khemkharan, a local chieftain, and founding Bharatpur as travellers get to know it now. Suraj Mal went on to build palaces and bastions, envisioning Bharatpur as an impenetrable kingdom.
The history of Bharatpur is important in order to understand the city's major attractions. Lohagarh and Deeg are remnants of a kingdom that was once a major force among the princely states of Rajasthan. Bharatpur is commonly called the 'eastern gateway to Rajasthan'. If you're visiting Bharatpur in the first week of February, you will get to witness the kaleidoscopic Brij Festival. This pre-Holi celebration. Is marked by raslila- a traditional musical-theatrical performance of Radha and Krishna's love.
All in all, Bharatpur has a number of activities for the traveller looking to experience Rajasthan in a non-touristy avatar. Here's a list of things to do in Bharatpur for every kind of tourist.
Don't miss to explore Bharatpur Holiday Packages designed for You
Click here
1A bike/tonga ride or a leisurely hike through the wilderness of Keoladeo Ghana National Park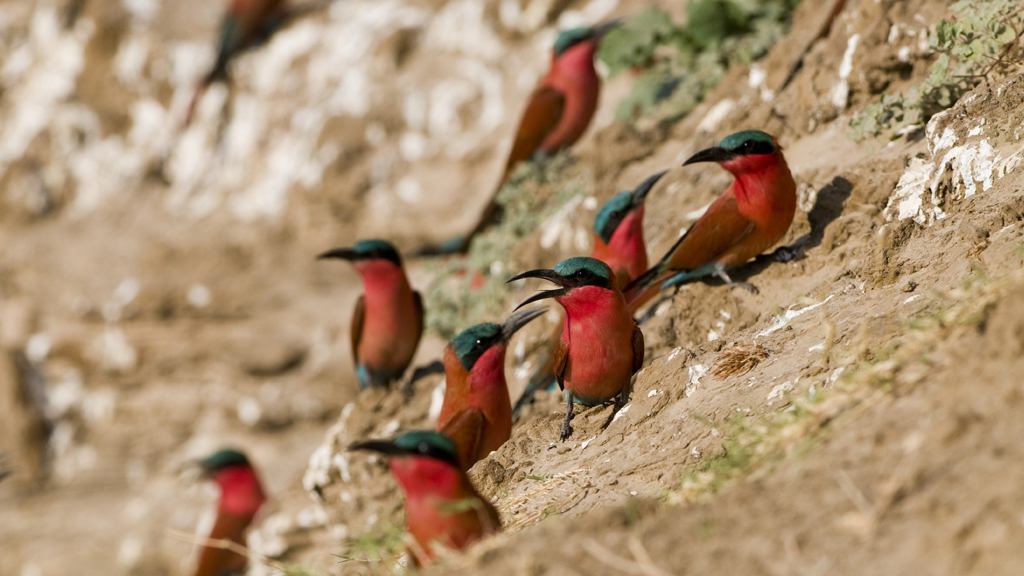 The avifauna national park formerly known as Bharatpur Bird Sanctuary deserves its UNESCO World Heritage Site listing. Keoladeo is home to nearly 300 species of birds, higher in the winter season, and they exist peacefully within the park's 29 sq.km. radius.
The wetland and woodland swamp topography makes this a birdwatcher's paradise. Whether you're a rookie or a professional, the birds here will have you staring at the trees without looking at your watch. Heron, moorhen, stork, cormorant, pelican, egrets, and many more call this park home for the winter months. Local bird guides will tell you of Siberian and Sarus cranes that would visit up till a decade ago, when the monsoons were better in eastern Rajasthan. If you're making a summer visit to Keoladeo, keep an eye out for wagtails, kingfishers and robins. A hike here will allow you to spot black bucks, antelope, jackals, blue bull deer, and sambars, and the odd python basking in the sunlight!
The paved pathway inside the park is a brisk 11km walk and is perfect for those who just want to soak in the breath-taking natural beauty of Keoladeo.
For avid birdwatchers and photographers, there are two options. Renting a bicycle is a smart choice as you can travel off the beaten tracks and find secluded areas to spot the rarest of avian creatures in Keoladeo. Make sure you cycle all the way to the southern part of the sanctuary. This is where tourists stay away from and the birds are easier to spot. If you're a photographer with lighter equipment, a bicycle tour is your best option.
Hiring a cycle rickshaw makes sense for those travelling in pairs and photographers with heavy lenses. The cycle rickshaw drivers known the park well and will lead you to the best birdwatching spots, pointing them out along the way.
If you're travelling with family hiring a tonga (horse carriage) is a fun way to experience Keoladeo National Park. Of all the things to do in Bharatpur, make sure you don't skip Keoladeo.

2An excursion to Deeg, the former capital of Bharatpur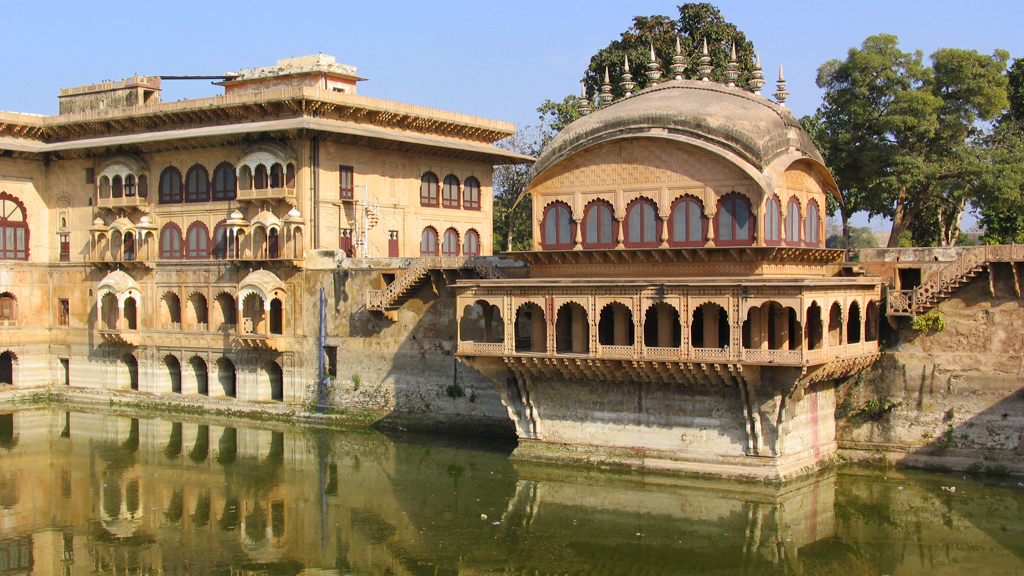 Deeg is the ideal destination for day trippers. An hour's drive from Bharatpur, Deeg is a dusty little town off the tourist track that was once the second capital of Bharatpur. This town came into existence in the 18th century under Maharaja Suraj Mal and still retains a beautiful palace complex as a reminder of its glorious past. Anyone in Bharatpur for a day (or three) should visit this historical goldmine.
Suraj Mal's Palace in Deeg is a surprisingly well-preserved complex of princely mansions and tanks. Deeg was the town where Suraj Mal successfully commandeered his army against the mighty Marathi and Mughal army of nearly 80,000 soldiers! It is said the maharaja even raided Red Fort and came back to Deeg with a massive haul and a marble building that still sits on the palace grounds.
As you explore the eastern façade of the palace you will come across forgotten royal artefacts, ranging from Chinese porcelain to elephant-foot stools, and intricately designed punkas ( hand-operated fans). These royal items are nearly two centuries old.
Deeg is a garden town and the sprawling lawns and flowerbeds are nourished by water from Gopal Sagar and Rup Sagar, two massive tanks that flank the palace. A walk on these lawns on a sunny, winter day is a must while exploring Suraj Mal's Palace.
The palace complex is peppered with over 2,000 fountains, many of them still in fine condition. Keshav Bhavan (Summer/Monsson Palace) is a single-storied edifice with five arches that spray jets of water. The pavilion here has an arcade that runs through its interior and a canal below with a row of fountains.
The Deeg palace has a gigantic wall that reaches 28m along with 12 towers that still contain cannons from when the town was a crucial part of Bharatpur's defence. Your exploration will take you to these bastion vantage points that offer pleasing panoramas of the other palaces- Kishan Bhavan, Suraj Bhavan and Nand Bhavan.

You May Also Be Interested In: "Places to Visit in Bharatpur"
Click here
3Explore the 18th century Iron Fort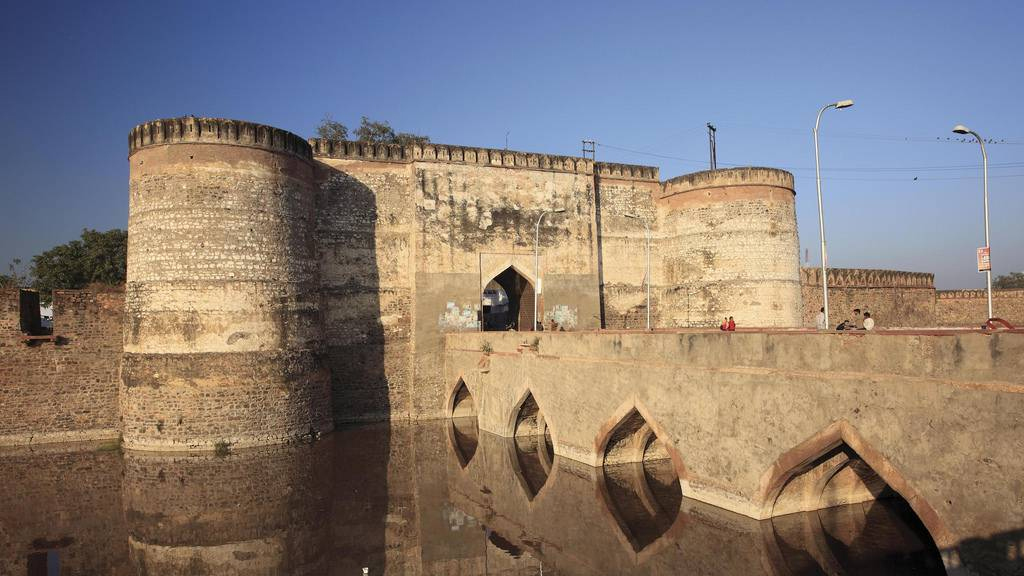 In the heart of Bharatpur's old city sits the mighty Lohagarh Fort, a rugged reminder of the former kingdom's impenetrable nature. Constructed on an island, the Iron Fort is entered via Austdhatu Gate. An amalgamation of eight metals were blended to fashion the metal spikes at this gate.
Explore the towers, Jawahar Burj and Fateh Burj, built by Suraj Mal to celebrate his victories over the Mughals and British. Don't leave without exploring the palace turned museum in the middle of the fort that contains 7th and 10th century Jain sculptures; and the royal hammam (bathhouse) with frescoed walls. The museum terrace is a great place to rest your tired legs and click sweeping photos of Bharatpur's old city.
From a nature hike to discovering historical relics, the things to do in Bharatpur will leave you exhausted but with unforgettable memories.