The Pink City of Rajasthan is an amalgamation of the old and new. The first-time visitor will be amazed to see lanky camels walking by the side of the road while luxury busses zoom past. Jaipur has all the tourist amenities one can think of and yet the city's heritage is what draws visitors here. While you're taking an elephant ride up to the majestic Amber Fort, exploring the nooks and corners of Hawa Mahal or staring in wonder at the astronomical delights of Jantar Mantar, you're always in for a rollicking time in Jaipur.
Jaipur got its moniker when in 1876 all the houses of Old Jaipur were painted pink in honour of the visiting Prince of Wales. The historical attractions of Jaipur hold their own and some against the bustling modernity of the city.
Along with Agra and Delhi, Jaipur is the pinnacle of the Golden Triangle tour itinerary. Commonly known as the gateway to Rajasthan, one can reach the Pink City via a number of modes of transportation. How to reach Jaipur is easy, but leaving can be hard because you might just fall in love with the place!
Explore Highly Recommended Jaipur Tour Packages for You
Click Here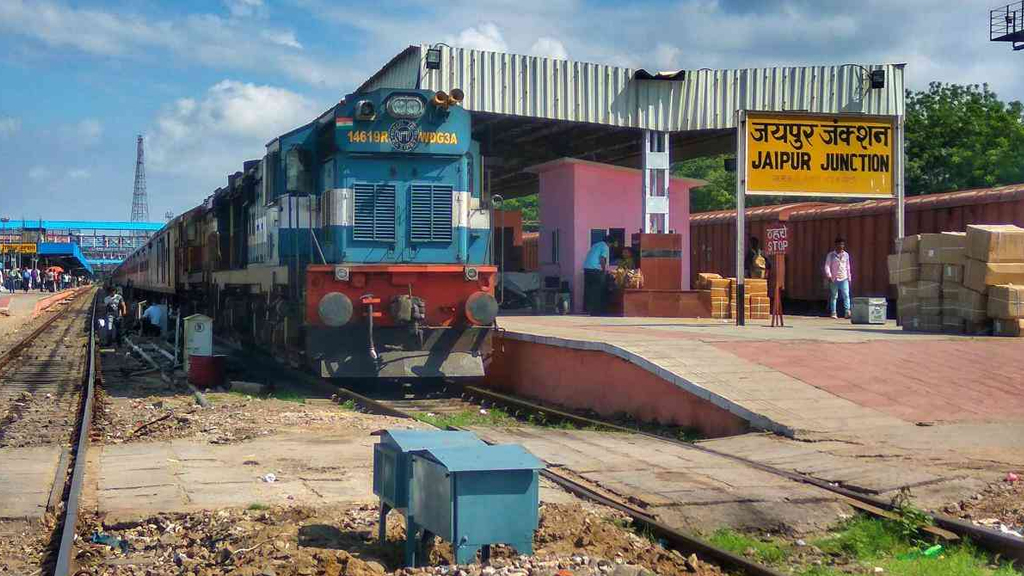 1.By Air:
The Jaipur International Airport (JAI), or Sanganer Airport is the epicentre of all major carriers. International and domestic airplanes fly in and out of Sanganer on a daily basis. A flight to Jaipur is the most convenient way to enter Rajasthan, and the airport is a mere 13kms from the main city. All major airlines, domestic and international, have multiple flights in and out of Jaipur.
A number of foreign tourists catch a connecting flight from Delhi to Jaipur. These flights are no longer than 60 minutes. For domestic fliers, there are flights to Jaipur from all major domestic airports around the country. The flight duration will vary, obviously, depending where you're flying in from.
2.By Train:
Jaipur Junction is the main railway station in Jaipur, making it a bustling stop for all types of trains ranging from passenger locals to inter-city super-fast express trains. Jaipur Junction is also the North Western Railway Zone headquarters.
A train journey from any Indian city to Jaipur is an adventure in itself. You meet people from all walks of life. Make sure you reserve your ticket well in advance from the official railway ticket booking website, www.irctc.co.in.
Travelling by train is perfect for budget conscious travellers. Shatabdi Express and a variety of Inter-City trains are your best option travelling in from other Indian states.
The Palace on Wheels is a luxury tourist train with an 8-day itinerary that covers the best sections of Rajasthan. The train departs from New Delhi and passes through Jaipur, Chittor, Udaipur, Jaisalmer, Jodhpur, Bharatpur and Agra. It is a luxury travel experience unlike any other!
If you have time to kill in Jaipur and you're willing to explore its less-touristy area, the Jaipur Metro is a good travel option. This intra-Jaipur rapid transit system is the first in India to run on triple-storey elevated road and metro track.
3.By Road:
The Rajasthan State Road Transport Corporation (RSRTC) runs AC and non-AC buses within Rajasthan. There are a handful of private agencies that offer a bus service, as well. The RSRTC buses leave from Sindhi Camp, the inter-state bust terminal in Jaipur located on Station Road. Narayan Singh Circle is another common pick-up and drop-off point for intra-Rajasthan buses.
Jaipur is nearly equidistant from Agra and Delhi. The journey from Delhi is usually along NH-8 covering a distance of 270kms. The journey from Agra is along NH-11 covering a distance of 237kms. Both journeys take close to four-and-a-half hours.
The bus service is extremely streamlined and you can book a seat or a sleeper from Jaipur to any other city in Rajasthan.
When it comes to plans on how to reach Jaipur, there are many! All you need to bother about is which one suits your budget.
You May Also Be Interested In: "Places to Visit in Jaipur"
Click here