How to Reach Ranthambore National Park
The Ranthambore National Park (RNP) is in the languid, railway town of Sawai Modhpur. The wildlife park covers over 1300 sq. km. and the forested lands will remind you of The Jungle Book, with its thick tree cover, steep crags and watering holes where animals come to quench their thirst.
RNP is home to 60 tigers and they're easily the biggest reason why wildlife lovers and nature enthusiasts land up here. The Project Tiger initiative has allowed the park to provide a natural home for these endangered animals, and it is immensely heart-warming to view these creatures strolling about the Ranthambore jungle. The early morning and evening safaris will take you through wild jungle and it is certainly a bucket list worthy experience. You will be surprised to know that there are over 300 hamlets in and around RNP. The villagers here manage to live without encroaching into animal territory.
Ranthambore National Park also contains an ancient fort, royal pavilions and frequently visited temples. The park is shut from July to September, and the best time to turn up is during the winter months. If you're deciding on how to reach Ranthambore National Park, let us help you plan your itinerary so you can get there and have a good time amidst nature.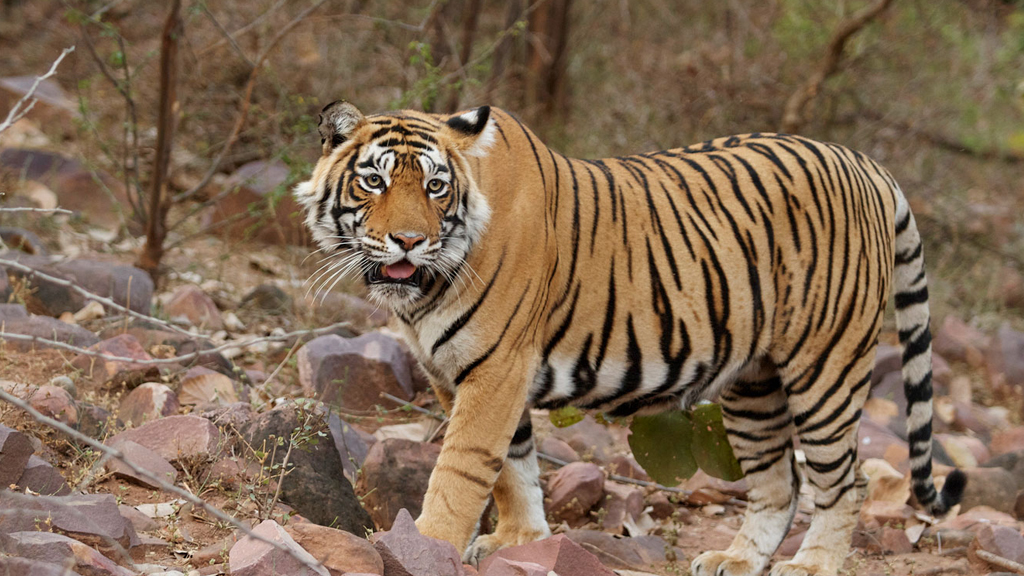 1.By Air:
The closest airport to Ranthambore National Park is Jaipur International Airport. International visitors can fly into Jaipur and then hire a car that will take around 3 hours to reach the town of Sawai Modhpur where the park is located. If you're short on time and don't mind spending on flight tickets, this is the quickest transportation option at your disposal.
Travellers can even opt to fly to Kota Airport (only domestic flights), where the journey to RNP is just135kms away.
2.By Rail:
The simplest way to get to Ranthambore National Park is by train. You know you're about to witness a wildlife spectacle as soon as you exit the train at the Sawai Modhpur Junction. The walls of the railway station are done up with pictorial representations of animals and nature inspired by Ranthambore National Park. That aside, the Sawai Modhpur Junction is connected to all major cities in Rajasthan and India.
There are trains running from Jaipur and Delhi to Sawai Modhpur on a nearly daily basis. The Ranthambore National Park is an 18km car or bus ride away from the railway station.
If you're travelling to Ranthambore between October and February, make sure you reserve your train tickets well in advance. Peak tourist season will find a number of travellers visiting the park to witness the animals. Always book your tickets via irctc.co.in
3.By Road:
The bus or car journey to Ranthambore National Park guarantees beautiful views of the state's natural landscape. There are a number of government-run and private buses that operate from major Rajasthani cities. If you're up for a road trip, you can even hire a care to get to Sawai Modhpur and then to the park. The most common route is from Jaipur that is just 181kms away. There are buses that run from Jodhpur, Bharatpur, Kota and Delhi, as well.
Make sure you pick the right mode of transportation while planning on how to reach Ranthambore National Park. A train journey is easily your best option.