14 Places to Visit in Bikaner—All the Unmissable Sights in Camel Country
The desert city of Bikaner has a certain medieval charm that shines through as you explore its fort and the old city. Take a walk along its winding lanes and admire the beauty of its red sandstone havelis and ancient Jain temples. The places to visit in Bikaner are a traveller's dream.
Bikaner is set up like a tourist city with ample accommodation and exciting camel safaris, but travellers don't usually land up here. However, there is a lot to explore in Bikaner and you can do it all at a leisurely pace. The 18th century, 7km wall that encompasses the old city is testament to Bikaner's
Set up in 1448 by a Rathore prince who didn't want to inherit a kingdom from his father, Bikaner was born out of the wilderness that was formerly known as Jangladesh. Located in northern Rajasthan, the region that is Bikaner is sand dune country and camels are everywhere. It is said that some of the best camels can be found here and it is no wonder that people give Jaisalmer's camel safari a miss, in order to have a more laidback experience here in Bikaner.
Rajasthan is like an exquisite buffet meal. All dishes on offer leave a lasting impression. Here are the major attractions you should not side step while in Bikaner.

1Junagarh Fort— A dazzling bastion, both inside and out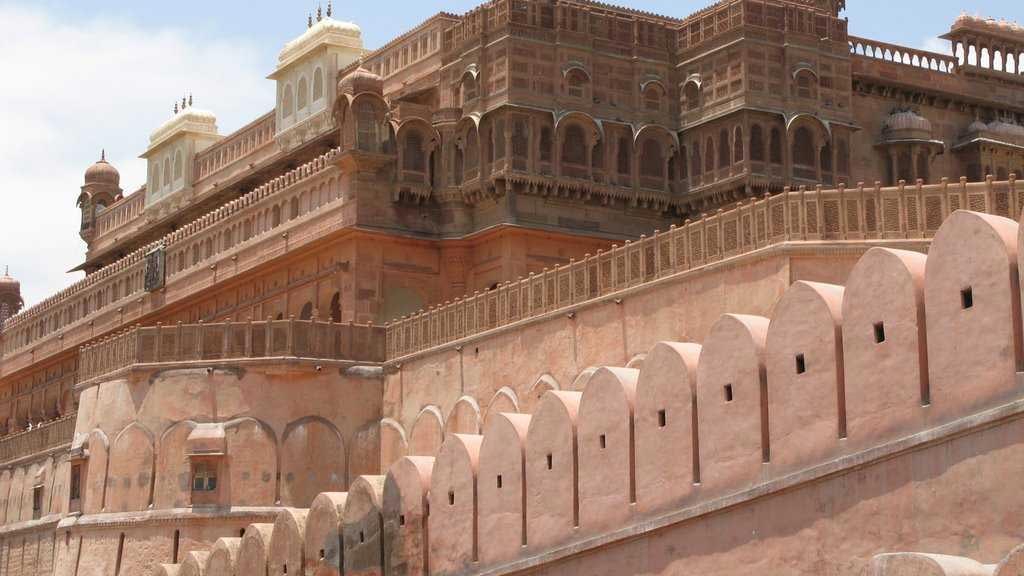 Most forts in Rajasthan are perched on a rocky outcrop looming over the city. Bikaner's Junagarh is on no such pedestal but it was never conquered throughout its history. A 986m wall surrounds the fort with 37 bastions and a dry moat making it virtually impenetrable, and you enter via the Suraj Pol (Sun Gate). Inside is a vast complex of palaces, suites, towers, balconies and courtyards with their carvings still intact.
Head towards the Diwan-i-Khas (Hall of Private Audience) where you can check out the glimmering gold ceiling and the silver cushioned throne of the maharaja. The Phool Mahal (Flower Palace) is also a grand piece of architecture.
The Badal Mahal (Palace of the Clouds) has walls that are thoroughly painted with fluffy blue clouds. Karan Mahal and Anup Mahal have some of the finest artwork in Rajasthan and can be divided into three major types. The manovat style employs a clay pillar moulded on plaster and gilded with gold leaf; the jangali sunthari style involves painting intricate floral motifs on greenish plaster; and the sonakin style features a simple white plaster canvas outlined with elegant patterns and filled in with gold leaf.
The Hawa Mahal (Palace of the Winds) employs ancient Islamic art patters on its ceiling alongside various scenes of Krishna dancing. The blue tiles found here were imported from China and Europe. All across Junagarh Fort, one finds examples of the opulence that once made Bikaner a very wealthy princely state.
Opposite Suraj Pol is the Prachina Cultural Centre & Museum that houses a fascinating collection of royal objects of Rajasthani and British influence. You will find dainty crockery residing next to Rajasthani costumes, textiles and jewellery. Definitely worth a visit if you want to see how the maharajas were influenced by British culture.
Of all the places to visit in Bikaner, the Junagarh Fort complex should not be skipped.
Timings:
10 AM – 5:30 PM
Entry Fee:
INR 50 for Indians; INR 300 for Foreigners

2Rampuria Havelis— Red sandstone mansions of opulence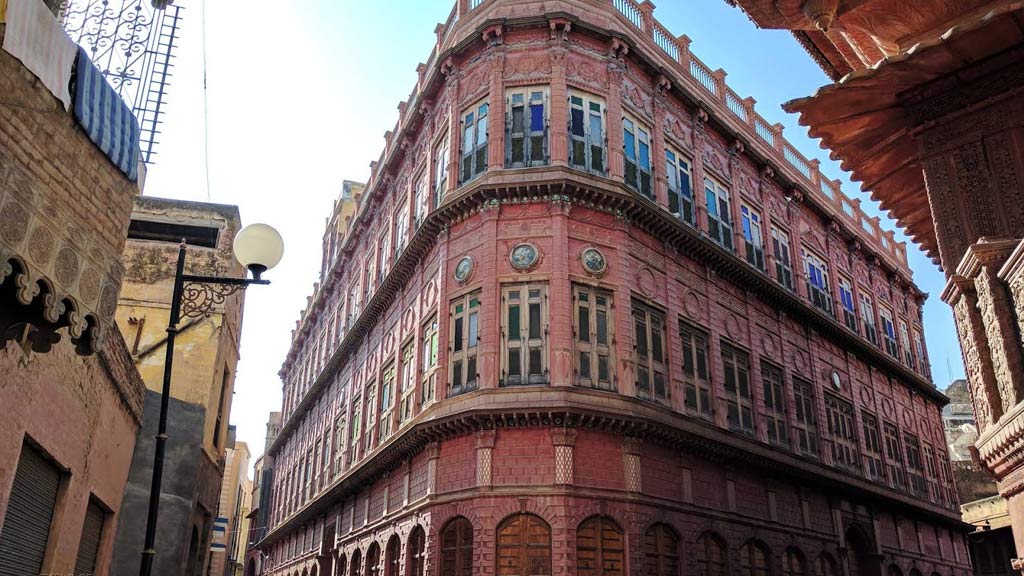 From the entrances to the latticed windows, the jharokias (casements) to the gumaharias (basements), this group of havelis (aristocratic mansions) are some of the most exotic structures in all of Bikaner. Even Aldous Huxley couldn't resist its charms.
Constructed in the 15th century for the wealthy Rampuria family, these palatial homes are living antiques of a bygone era. The drawing rooms, courtyards and balconies are mesmerising to explore and from the outside, the red sandstone gives Rampuria Havelis a magical glow.
Even if you're not an architectural enthusiast, you will marvel at the way Rajput, Mughal and Victorian motifs have been so aesthetically utilized to create these grandiose residences of old.
Timings:
Open through the day
Entry Fee:
Free

3Lalgarh Museum—A day in the life of a maharaja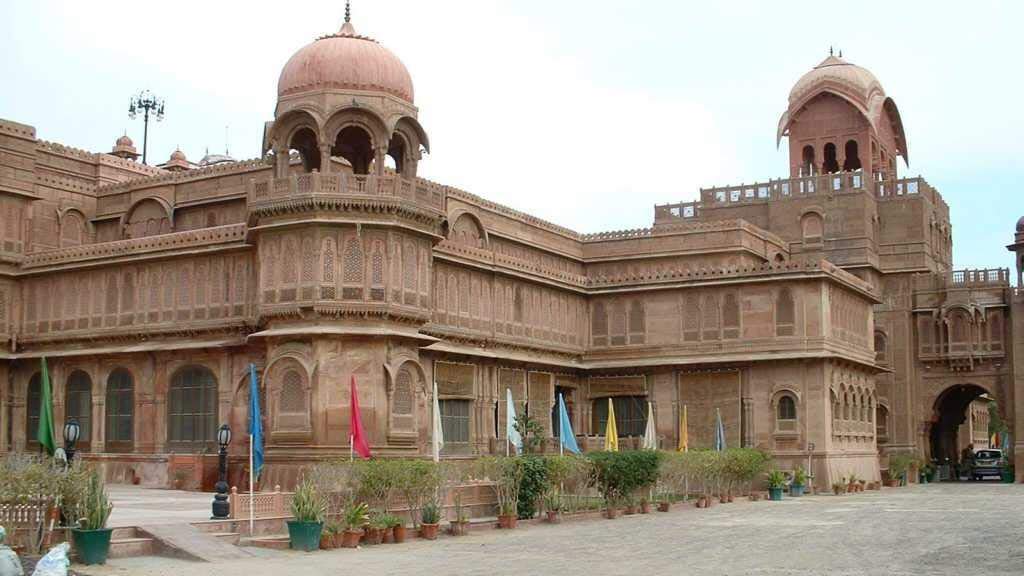 While the Lalgarh Palace has been converted into a luxury hotel, tourists can still visit the Sri Sadul Museum (Lalgarh Museum) on the first floor. Visitors get an insider's view of the life of a maharaja as one explores black-and-white photographs of hunting trips, royal golf clubs, and ancient typewriters and film projectors. Also on display is a tokna- a brass container for collecting revenue that was sent via camel to the state treasury. Overall, Lalgarh Museum gives visitors a peek into the privileged lives of the Bikaner maharajas.
Timings:
10 AM – 5:30 PM; Closed on Sundays
Entry Fee:
INR 10 for Indians; INR 20 for Foreigners

4Ganga Government Museum—A comprehensive time machine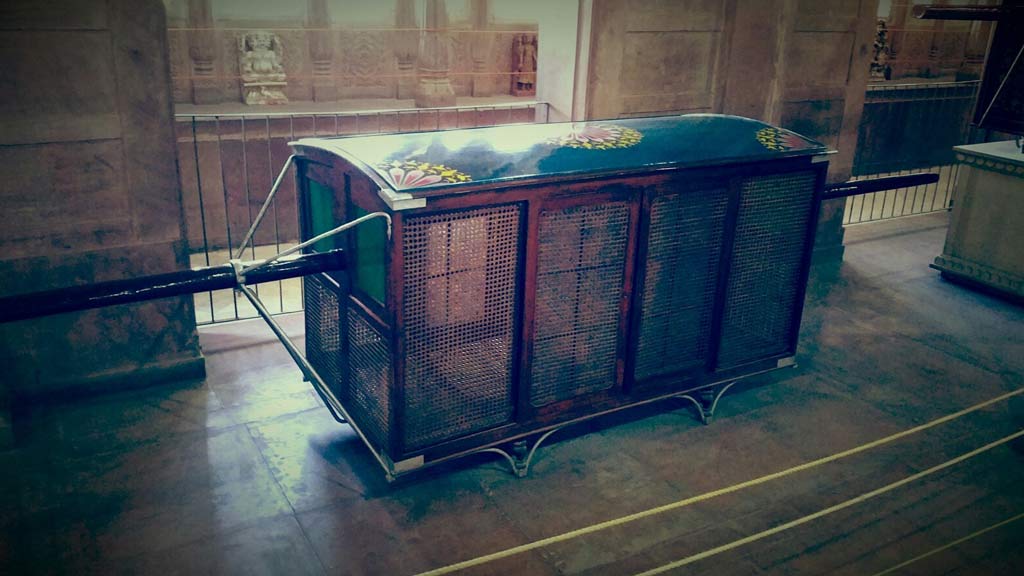 Situated on Jaipur Road, is the Ganga Government Museum that houses a comprehensive selection ranging from Harappa civilization artefacts to royal heirlooms. The displays are neatly arranged and include intricate gold paintings by Usta artists, Gupta period terracotta pottery, traditional musical instruments, and a miniature model of the Royal Bikaner train. An interesting section is the one that contains original decrees of Mughal Emperors and local maharajas. The textile and carpet gallery has a vast collection of hand-woven rugs that are a joy to behold. Don't leave without exploring the Harappan objects that stand in stark contrast to the regal artefacts of the maharajas.
History lovers will love the Ganga Government Museum of all the places to visit in Bikaner.
Timings:
10 AM – 5 PM; Closed on Fridays
Entry Fee:
INR 20 for Indians; INR 100 for Foreigners

5Gajner Wildlife Sanctuary—Heaven for the nature enthusiast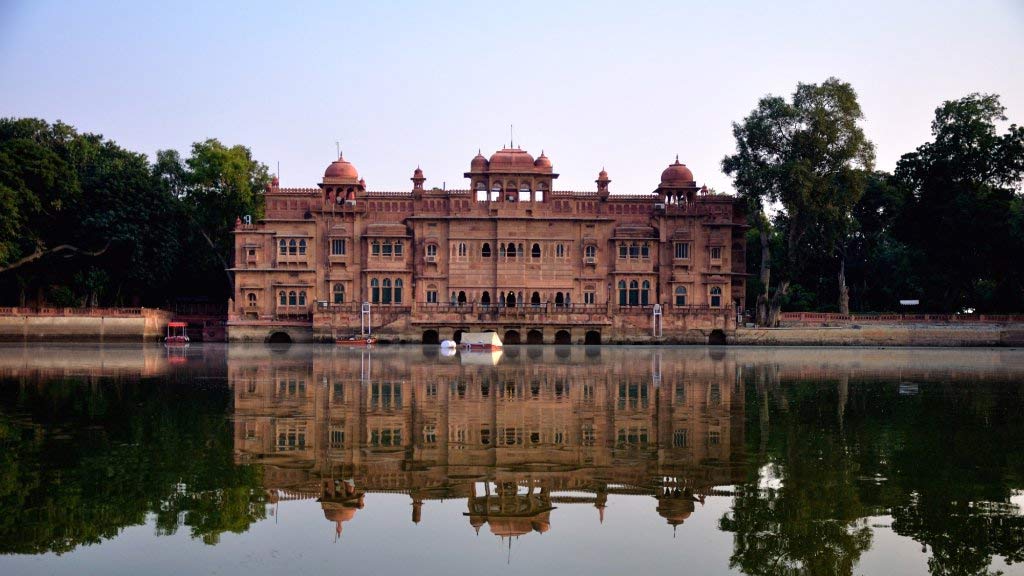 Less than an hour away from the hustle-and-bustle of Bikaner is a sanctuary that promises to envelop you in the arms of Mother Nature. The former hunting ground of maharajas, the Gajner Wildlife Sanctuary is home to a variety of birds and animals. A safari here will see you spot blue bulls, antelope, deer, wild boar, nilgai and desert foxes. For the bird lover in you be prepared for quick sightings of sand grouse, wildfowl, and a host of migratory birds if you're visiting in the winter.
Timings:
10 AM – 5 PM
Entry Fee:
INR 100

6Devi Kund—A royal memorial ground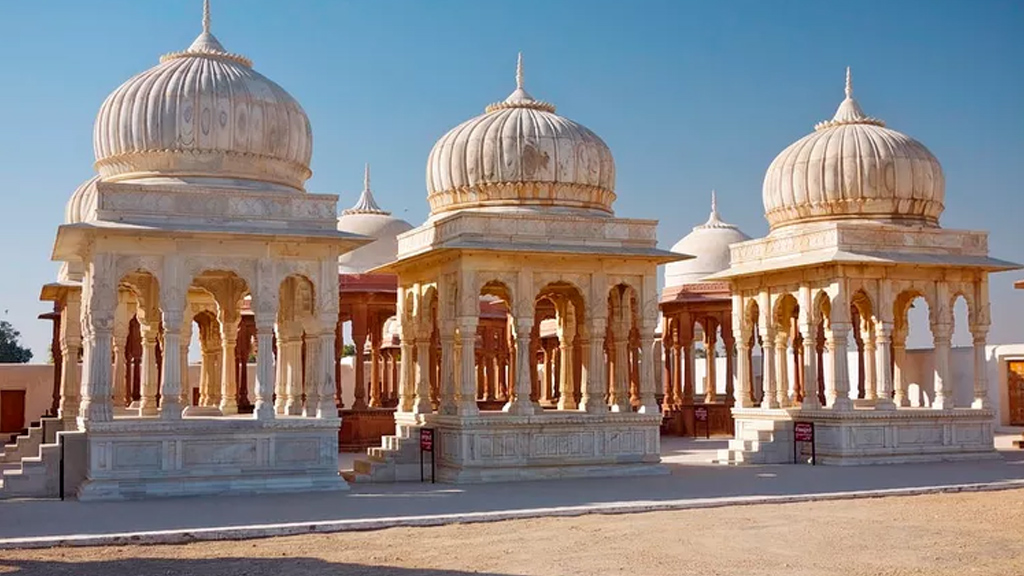 The red sandstone and marble cenotaphs are a fitting tribute to the former maharajas of Bikaner. Situated 8kms east of Bikaner city centre, Devi Kund Sagar is a must-visit for those interested in the demise of the Bikaner royalty. Even in death, the cenotaphs of Maharaja Anup Singh and Surat Singh are imposing structures that deserve exploration. The former's cenotaph stands on 16 pillars and decorated with carvings of peacocks, animals, and Krishna. Don't miss out on Surat Singh's white marble chattri and intricate Rajputana paintings that adorn the ceiling. Devi Kund also houses 22 cenotaphs of female royalty who committed sati.
Timings:
Through the day
Entry Fee:
INR 30

7Jorbeed—A birdwatcher's Eden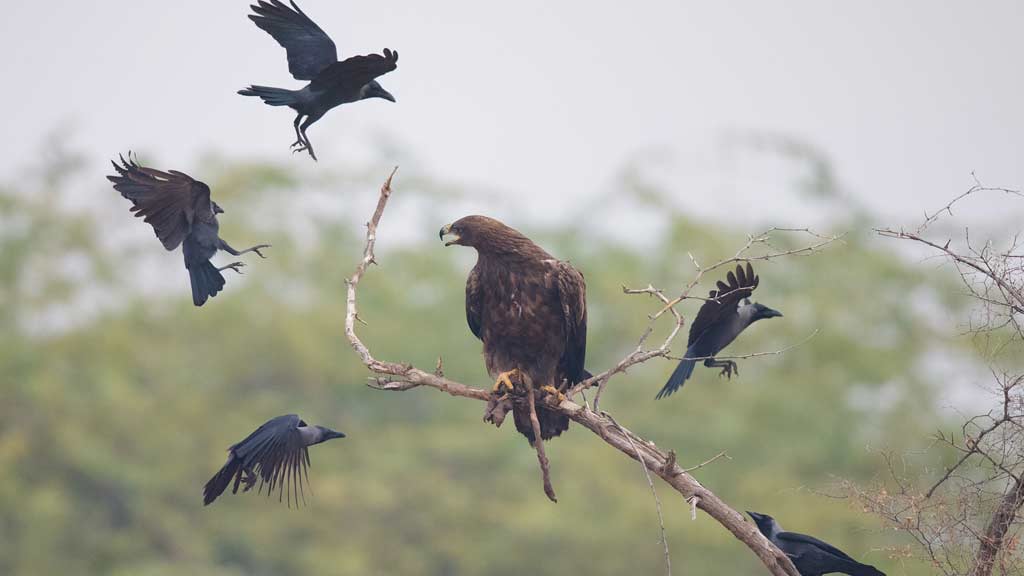 While exploring Bikaner, you will get used to seeing sombre vultures circle the cloudless sky. If you want more, take the 12km journey to Jorbeed and you won't be disappointed. The area abounds in raptors (birds of prey) and every tree branch will have steppe eagles, griffon vultures and Egyptian vultures. Jorbeed is said to have one of the largest flocks of vultures and eagles in Asia. If luck is on your side, you might just capture a shot of the elusive yellow-eyed pigeon or the majestic Saker Falcon. If you're a hardcore birder, you can combine your Jorbeed visit with a trip to Tal Chhappar Sanctuary.
Timings:
Regular birding timings

8National Research Centre on Camel—Get to know the Ship of the Desert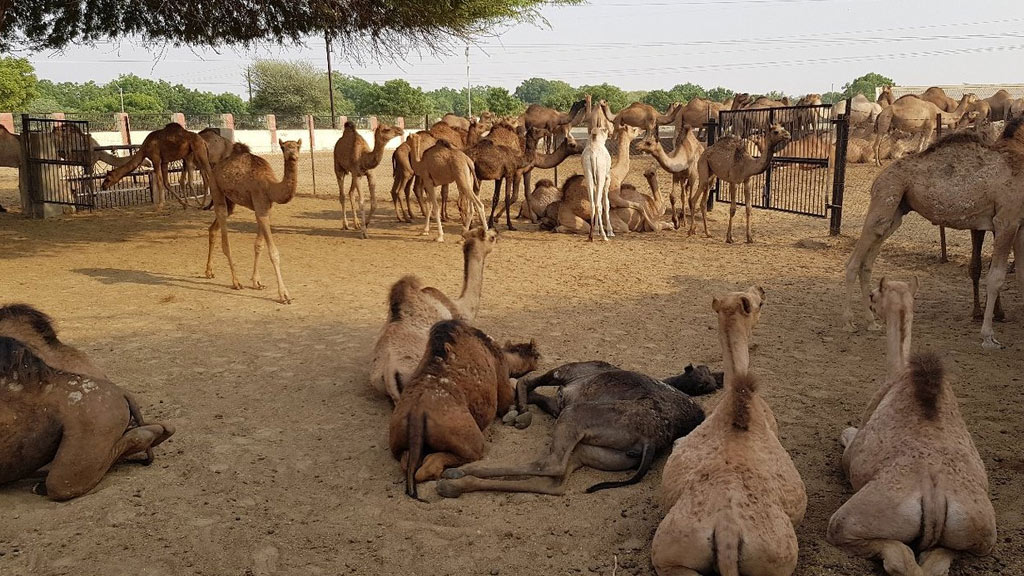 The bio-physical makeup of a camel makes it an expert at adapting to life in the desert, where water is scarce and the sun constantly fierce. The NRCC is doing some groundbreaking work with regard to these desert animals and the 8km trip here is definitely worth your time. With over 200 camels, at different stages of maturity, you will learn a thing or two about how important these animals are to Rajasthan. Don't forget to try the fresh camel milk ice cream for a once-in-a-lifetime experience. The museum and facility tour is around 30 minutes long and you can even sign up for a camel ride here. Healthy camels are known to work up to 30 days without food and water in winter and 7 days in summer!
The NRCC is one of the most interesting places to visit in Bikaner.
Timings:
12 PM – 6:30 PM
Entry Fee:
INR 30 for Indians; INR 100 for Foreigners

9Kote Gate Bazaar—A shopaholic's haven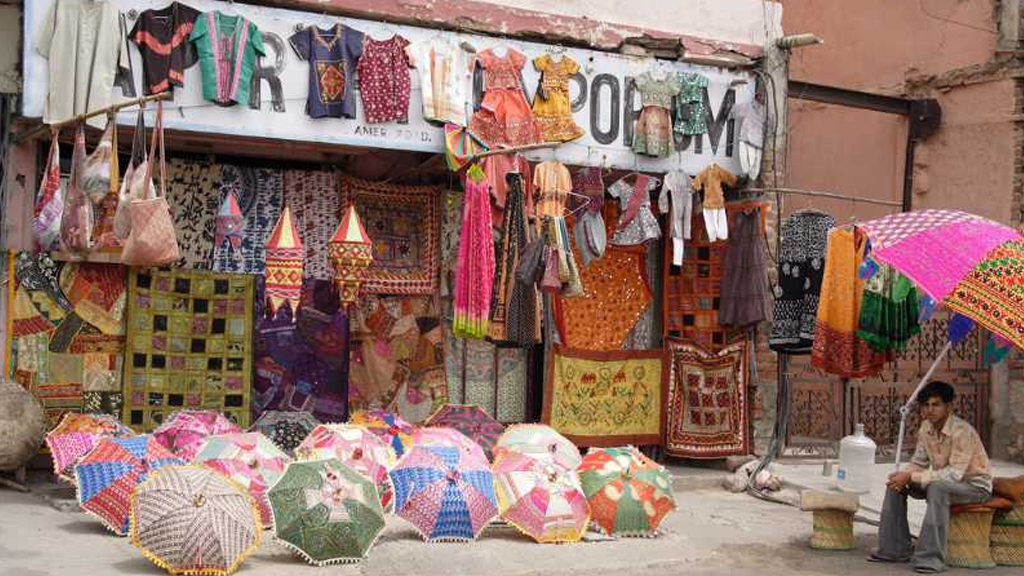 The grand old Kote Gate separates the old city from the new and it is the first glimpse you get of Bikaner's regal past. Kote Gate is a major landmark in the city, and once you're done marvelling at its grandiose architecture, make your way to the bustling bazaar that lies ahead. You can shop for everything from camel hide to miniature paintings, and Kote Gate Bazaar is the perfect Bikaner destination to pick up souvenirs to mark your time in camel country. Any curious traveller will be drawn to the number of food stalls here selling freshly made local items.

10Kolayat— Important Hindu pilgrimage town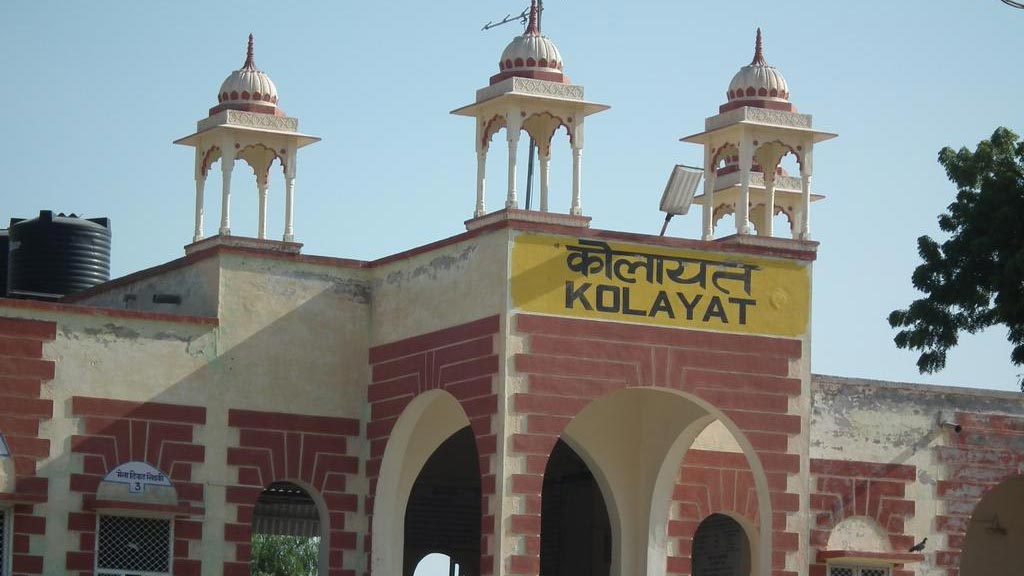 An hour from Bikaner lies the pilgrimage town of Kolayat that draws Hindu devotees from around the country, throughout the year, and especially during the Kolayat Fair (around November). There are over 50 ghats, temples and the sacred Kolayat Lake that sees massive crowds during major festivals.

11Karni Mata Temple—A shrine straight out of a Brothers Grimm fairytale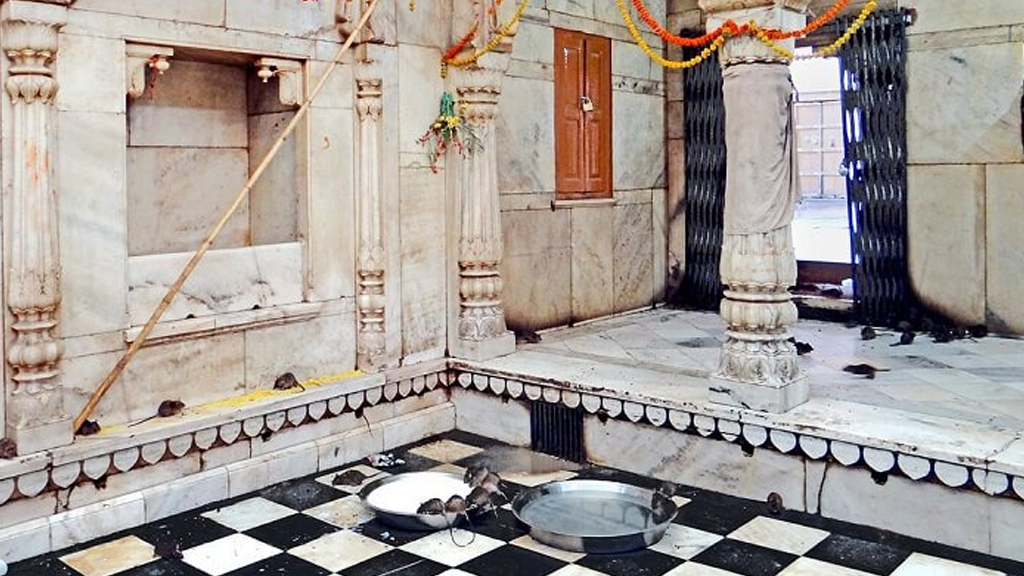 South of Bikaner, 30kms away, in the town of Deshnok, sits the imposing Karni Mata Temple. Karni Mata is believed to be an incarnation of Goddess Durga. What sets this temple apart from the others in Rajasthan is the massive population of rodents that co-exist with the travelling pilgrims. There are over 20,000 rats that scurry across the temple floors, completely at home with the crowds. The pilgrims worship these creatures and feed them prasad (religious food offerings) in the form of sugar balls. You will notice holes along the sides of the temple halls to allow these holy rodents better access to the worshippers.
Timings:
4:30 AM – 10 PM
Entry Fee:
Free

12Bhandasar Temple—15th century Jain shrine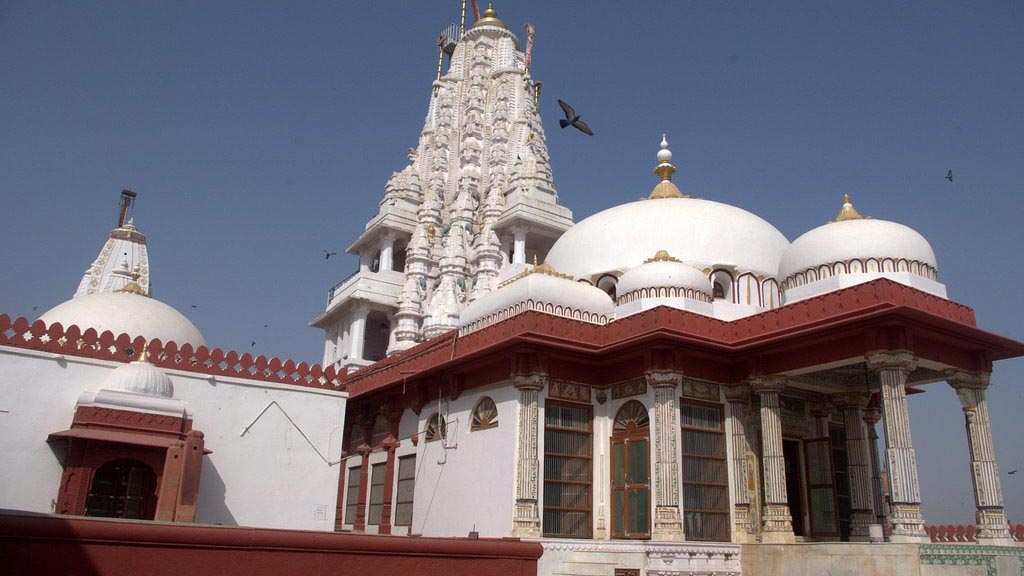 Dedicated to the fifth Jain tirthankar (revered teacher), this temple is a marvel of Rajputana architecture as is noticeable from its three-storied shrine. Also worth exploring are its gold leaf walls, marble pillars and wonderfully carved ceilings. Constructed out of red sandstone and marble, this is a major Jain pilgrimage spot. As a secular traveller, visit Bhandasar for its quietude and aesthetic appeal. The walls here are covered with arabesques with floral motifs and depict the 24 tirthankars of Jainism.
Timings:
5 AM – 1 PM; 5:30 PM – 11:30 PM

13Shri Laxminath Temple—An ancient shrine that still stands tall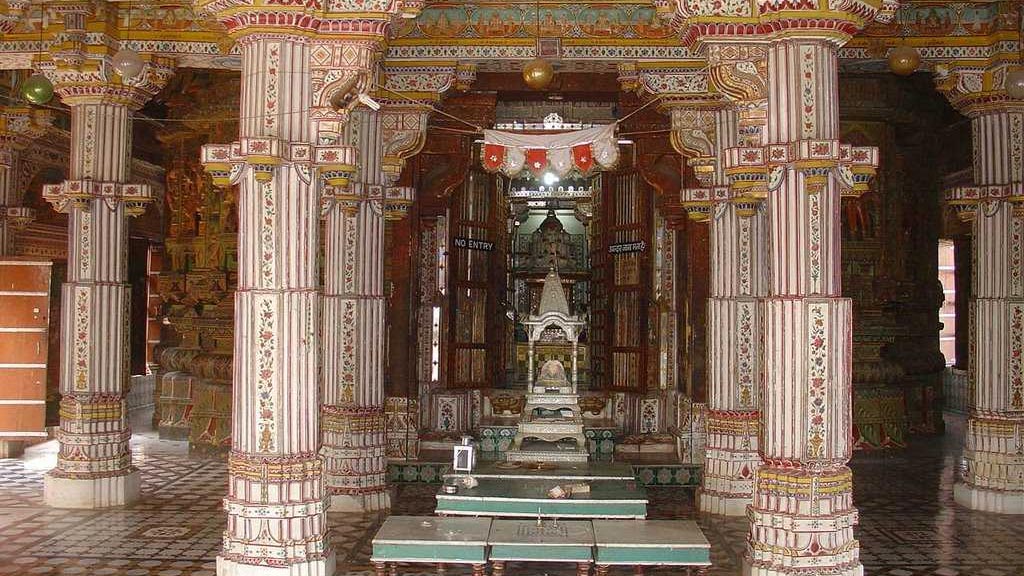 Lord Vishnu was regarded as the true king of Bikaner by its maharajas and this temple is dedicated to Vishnu and Laxmi. Easily one of the oldest temples in Bikaner, the best time to visit this spot is during the major Hindu festivals. The temple grounds come alive and you can get a real feel of Rajasthani culture.
The superbly sculpted idols and intricate wall-work make this a must-visit for pilgrims and curious travellers, alike.
Timings:
5 AM – 1 PM; 5 PM – 11 PM

14Shiv Bari Temple—Home to exquisite miniature idols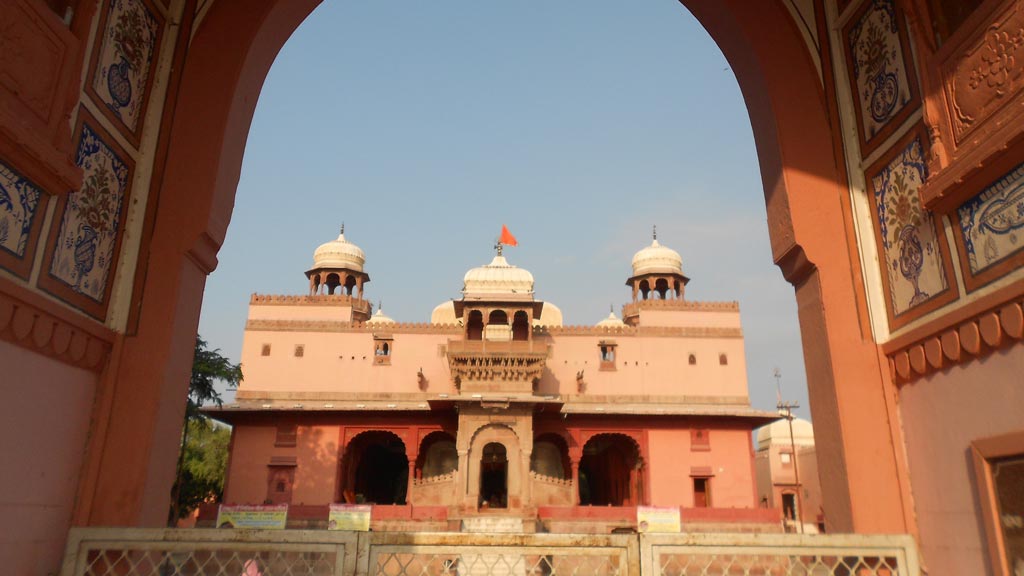 6kms from Bikaner is the Shiv Bari Temple shaped completely out of red sandstone. This temple stands out for its strict adherence to classic Rajasthani architectural motifs, giving the place of worship a palatial vibe. Inside the temple, the walls are beautifully painted, and the columns and domes add to the regality of the structure. The four-face black marble Shiva statue is a major attraction here.
The multitude of places to visit in Bikaner make it a thriving travel destination in Rajasthan.