Jaipur Pushkar Tour
(3 Nights / 4 Days)Rs 4,999/-
Jaipur – Pushkar

A visit to the iconic Hawa Mahal
Explore the magnificent City Palace
Enjoy a fun shopping trip at the local markets
A visit to the famous Jantar Mantar
Exploring the magnificent Amer Fort
Enjoy the scenic beauty of the Pushkar Lake
Immerse yourself in the serenity of the temples in Pushkar
Enjoy a hot-air balloon ride overlooking Pushkar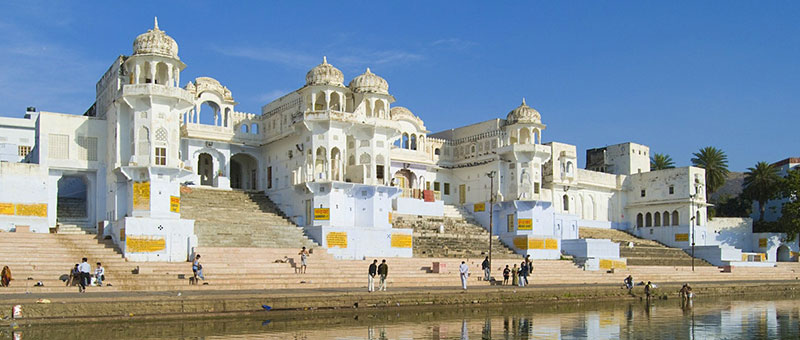 INTRODUCTION
If you are looking to embark on a journey that sparks grandeur and regal beauty, look no further. Located in the state of Rajasthan, the capital city of Jaipur evokes a sense of resplendence and imperial magnificence like none other. The city, once home to one of the wealthiest royal families, continues to house landscapes that are, without a doubt, breath-taking. Your Jaipur Pushkar holiday package is bound to transport you to the era of majestic opulence.
With numerous ancient landmarks and culturally significant architecture, our holiday package to the 'Pink City' is bound to be a treat for the senses.
With every detail taken care of, you can ensure that our itinerary and travel experts will arrange a trip that would help you relax and take in the grandiose that this destination has to offer. You can even opt to adjust this package as per your requirements. Rest assured, this holiday is sure to be one of your most memorable travel experiences.
SHORT ITINERARY
Day 01: Arrival at the Jaipur International Airport

Day 02: Sightseeing Around Jaipur

Day 03: Travel from Jaipur to Pushkar (146 kms. / 3 hours)

Day 04: Departure from Pushkar to Jaipur (146 kms. / 3 hours)
Upon your arrival at the airport, you will be given a warm welcome by our representative and will be driven to your hotel.
As soon as you arrive at the hotel, you may choose to relax for a while. Later on, you may pay a visit to one of the most prolific architectural wonders in the city, the Hawa Mahal, often called the 'Palace of Wind'. The top of this site offers a stunning view of the entire city and looks magnificent when adorned with lights in the night time.

If you wish, you could pay a visit to the local markets to explore the many shopping opportunities. From gorgeous jootis to the infamous Rajasthan blue pottery, this shopping experience is bound to be one-of-a-kind.
Following this, you may return to the hotel to enjoy a scrumptious dinner and retire to your rooms for a good night's rest.
Start the day off with a hearty breakfast and get set to explore the beautiful city. Located in the heart of Jaipur, the City Palace is a significant architectural site that cannot be missed. This pink and red sandstone palace complex is known to have been the home for a majority of the rulers from the Rajput Kingdom.
Following this, you can visit Jantar Mantar, an iconic structure that has been identified as a UNESCO World Heritage Site. This edifice is an astronomical observatory that measures the distances and positions of celestial objects.
Post lunch, you may visit the Amer Fort, which is approximately an hour's drive from Jaipur City. This fort, that overlooks the Maota Lake, is particularly famous for its artistic architectural elements and breath-taking views. You can choose to visit the various handicraft and art stalls located inside. In the evenings, the fort has a light show that is undoubtedly one of the prime attractions for tourists.
At night, return back to hotel for some well-deserved rest and recharge for the next day.
Start the day off early with a hearty breakfast and set off for a drive to Pushkar which is approximately a three-hour (146 kms.) journey from Jaipur. Pushkar is a prominent pilgrimage site located in the city of Ajmer. It is home to numerous Temples and Gurudwaras.
Upon arrival, you must visit the Pushkar Lake. Located amidst the backdrop of beautiful hills, this site is said to have much religious significance as well. In close proximity, you will find the Jagatpita Brahma Temple, a site famous for being the only grand temple in India where Lord Brahma is worshipped.
Another must-see site is the Varah Temple. Known to have been built in the 12th Century, this temple is a place of much reverence.
You may also opt for a hot-air balloon ride that allows you to have a panoramic view of the beautiful town and is undoubtedly an unforgettable experience.
Later at night, you may return to your hotel for a delicious dinner and retire for the night.

Unfortunately, this is the last day of your Jaipur Pushkar holiday package. After an enjoyable breakfast, you will depart from Pushkar. The drive to Jaipur will be approximately three hours long. Upon arriving at Jaipur International Airport, you will begin your onward journey to your home. We look forward to serving you again.