Rajasthan Honeymoon Tour
(6 Nights / 7 Days)Rs On Request
Jaipur –Pushkar – Udaipur– Jodhpur

Have a tryst with the prismatic beauty of Jaipur city.
Visit City Palace, Jantar Mantar, Hawa Mahal, and other attractions.
Embrace the warmth of Udaipur and feel the tenderness.
Enjoy romantic boat rides with your better half in Lake Pichola.
Visit the pious Brahma Temple in Pushkar and seek blessings.
Make some peasant and love-filled memories in Jodhpur.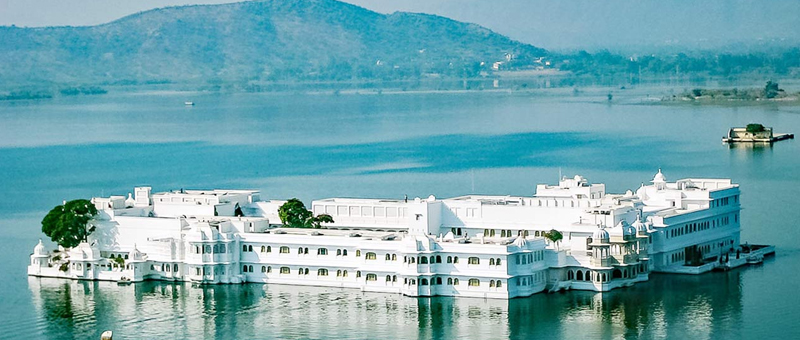 INTRODUCTION
If your marriage is one the cards; it is time for you to plan for the sweetest journey of your life; your honeymoon! Mark the beginning of this new phase of your life with your better half amidst the royalty and romanticism of Rajasthan!
Visit royal places, stunning palaces, glorious forts, historic temples, and much more! Bring out all the love, emotions and tenderness for your better half! Make him/her feel the love you have for him/her; promise each other a life where love prevails in every corner!
SHORT ITINERARY
Day 01: Arrival in Jaipur, Half-Day Jaipur City Tour

Day 02: Full-Day Jaipur City Tour

Day 03: Drive from Jaipur to Pushkar (via Ajmer) (125km / 2-3 Hours), Pushkar Sightseeing

Day 04: Drive from Pushkar to Udaipur (325km / 7-8 Hours)

Day 05: Full-Day Udaipur City Tour

Day 06: Drive from Udaipur to Jodhpur (325km / 7-8 Hours)

Day 07: Full-Day Jodhpur City Tour; Tour Ends Here
Let the imperial beauty of India's Desert Capital caress all your senses! Arrive in Jaipur with your better half; our tour representatives will greet you warmly and get you checked-in into a hotel. Take some time to unwind yourself and get freshened up.
Come afternoon, our representatives will guide you for a half-day city tour to City Palace and Museum, Hawa Mahal and Jantar Mantar. Visit this historic monument and blend your Rajasthan Honeymoon Tour with the shades of royalty and benevolence. By evening, you will be driven back to the hotel for your overnight stay.
Waking up in the morning, enjoy a heartfelt breakfast with your better half, and embark on a visit to the flamboyant Amber Fort with our tour guides. Visit this historic fortress, and discover the opulence of Rajasthan and its splendid history while in the company of your better half.
Post this visit, our tour executives will take you for an excursion to Sanganer and Bagru, where you can witness and explore the traditional art and craft of Rajasthan. With a visit to these two quaint hamlets, your romantic journey to the Thar Desert will get the touch of culture and tradition. By the end of this delightful excursion, you will be visiting the Laxmi Narayan Temple; returning to Jaipur, you will be dropped back at the hotel for your overnight stay.
After today's breakfast, pack your bags and you our tour representatives will drive you to the holy city of Pushkar. The drive will take you through the gorgeous Ajmer city where you can visit the sacred Ajmer Shariff Dargah and seek blessings from Khwaja Moinuddin Chisti.
Post this; the drive will continue further and take you to Pushkar; arriving in this city, our tour guides will get you checked-in into a hotel. After relaxing for a while at the hotel, our representatives will pick you up and take you for a visit to the pious Brahma Temple. Returning from the visit, enjoy your overnight stay at the hotel.
On this day, pack your bags and get set for an exciting drive to Udaipur with your better half. Today's journey will be a longer one, and will take you to the 'City of Lake' or the 'Venice of the East', Udaipur. Arriving in the city, our tour guides will assist you in settling down in a hotel. With the rest of the day at leisure, you can also visit the local marketplace in the evening followed by your overnight stay.
Have an early morning breakfast while basking in the beauty and charm of this pictorial city! Post this; embark on a full-day city tour with your life-partner and explore the opulence of the City of Lakes.
Visit the Saheliyon Ki Bari, Jagdish Temple, and conclude the day with the stunning City Palace built by Maharaja Udai Singh.
Completing these visits, take your better half for a romantic evening boat ride in the Lake Pichola. Embrace the company of each other and promise each other an eternal bond! Hereafter, you will be driven back to the hotel for your overnight stay.
This morning; after your breakfast, you will be driven to the 'Blue City' of Jodhpur. The journey will take you around 7-8 hours, and with your arrival in the city, you will be checked-in into a hotel for your overnight stay.
Enjoy a filling breakfast while adorning the charm and allurement of the Blue City! Following this, our tour guides will pick you up from the hotel, and take you for a full-day Jodhpur city tour. Beginning the day with a visit to the grand Mehrangarh Fort, you will be visiting several other tourist sites in and around the city.
Following your visit to Mehrangarh Fort, you will be taken to Jaswant Thada; a cenotaph of Maharaja Jaswant Singh II. With the completion of this tour; by evening, this love-filled Rajasthan Honeymoon Tour will come to an end.