10 Best Hotels in Udaipur
Planning for your honeymoon? Pick your dates and pack your bags to Udaipur! Searching for family holiday destinations? Book Rajasthan tour packages and head towards the 'Venice of the East'! Yearning for some relaxed moments with friends and colleagues? Don't waste much time and flee to the magical 'City of Lakes' in the Thar Desert!
No matter what you are craving for, Udaipur will surely quench all your desires and fulfil all your wishes. And while planning for a blissful holiday in this imperial desert city, don't miss the trysts with the promising hotels in Udaipur. The perfect fusion of royalty, luxury, elegant lifestyle, flamboyant beauty, and utmost comfort, these hotels will surely incite unlimited fun-frolic, excitement, and thrill to your Udaipur holidays!
1Taj Lake Palace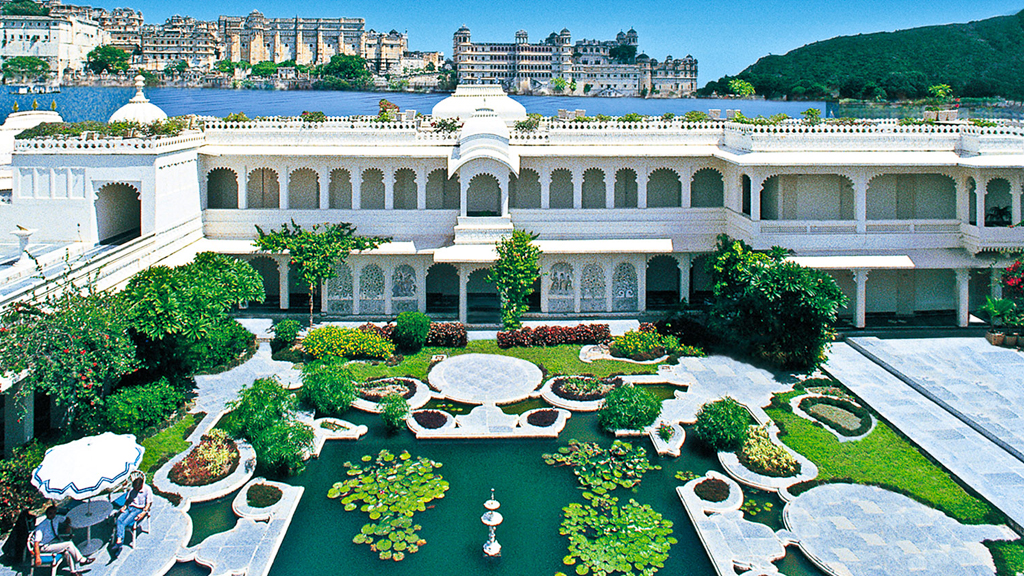 A royal palace built by Maharana Jagat Singh II in 1746, this heritage hotel wears many hats! Famed as one of the most romantic escapade in the entire country, it has also served as the shooting spot of numerous national and international documentaries. Hollywood flick like 'Octopussy' and British TV series like 'The Jewel in the Crown' are the most prominent ones to mention.
Initially called the 'Jag Niwas Palace', this remarkable monument has now been renovated into a heritage hotel that caters to visitors from all the corners of the globe. Built amidst a shimmering lake, this grand property boasts of its luxurious stay options and flamboyant appeal.
Rooms in Taj Lake Palace are studded with royal belongings, artefacts, antique furniture, and other similar elements. Each of the rooms are tastefully crafted and offers astounding views of the surrounding Aravalli Ranges, lakes, and city-line. In addition to these, the hotel also offers a range of modern amenities, facilities and services that can keep the visitors amused throughout their stay!

2The Leela Palace Udaipur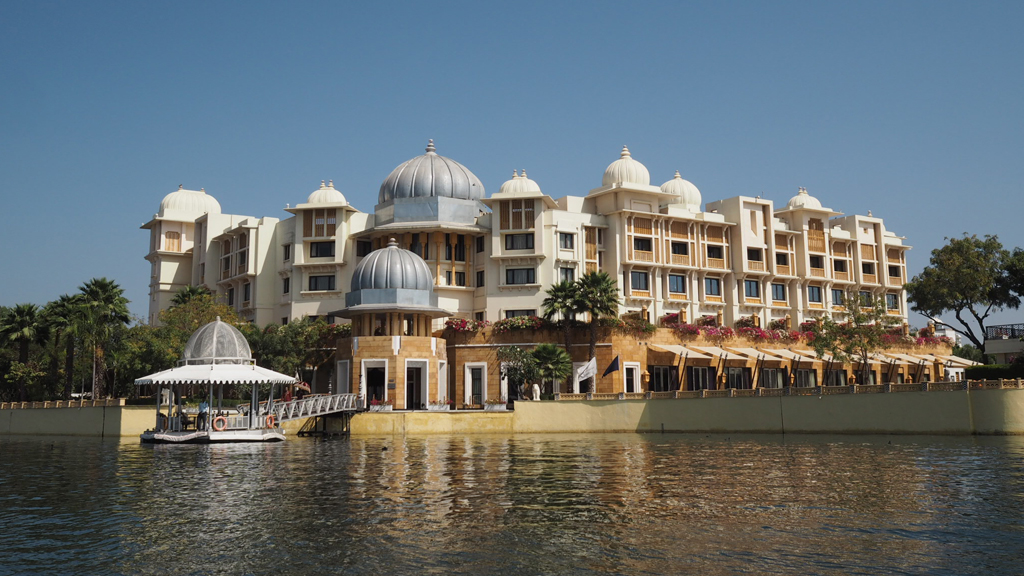 One of the finest jewel in Rajasthan's tourism map, this escapade beside the enchanting Lake Pichola has a unique charm and captivating appeal. Overlooking the lakefront, it offers breath-taking views of the Aravalli Range and the magnificent City Palace in Udaipur.
Built by the connoisseurs for the connoisseurs who yearns to mix the aura of Thar Desert's golden charm with its untouched royalty and all the luxury and comforts of life, The Leela Palace Udaipur is simply a dream come true destination. Studded with the finest of facilities and services, it hosts several ultra-luxurious and extravagant amenities and devoted hospitality to its guests.
Be it the turquoise infinity pools or the traditional boat rides across Lake Pichola, heritage suites with private balconies, living rooms, seating space, and other lively offerings, this 5-star property is a must place for every vacationer to Udaipur. It is also an ideal place for destination wedding, business meetings, conferences, and social get-togethers.

3The Oberoi Udaivilas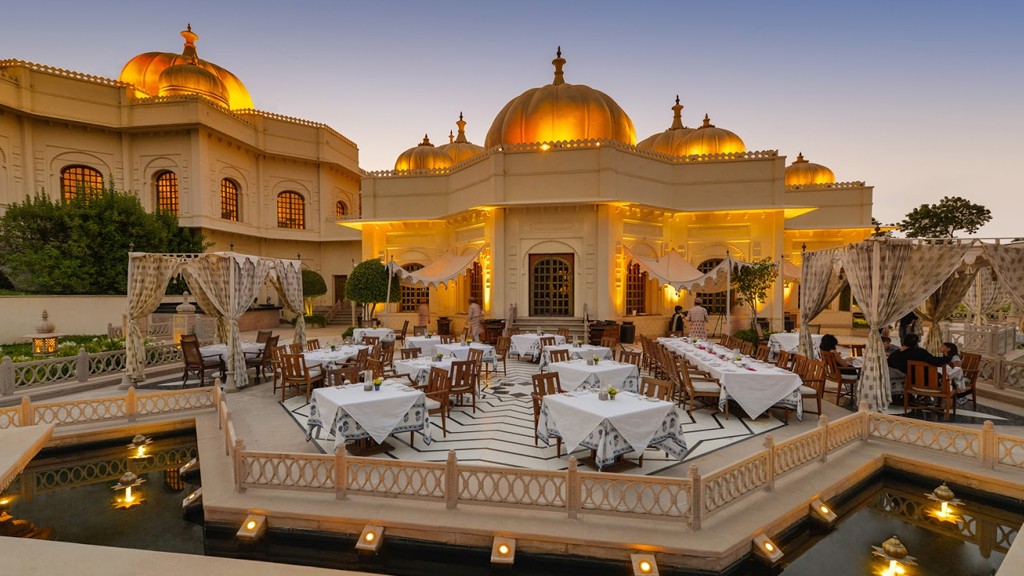 Another gem along the banks of the scenic Lake Pichola, this spectacular hotel is a timeless beauty, and is often called as a heaven for the holiday goers! Established on a lush and evergreen landscape that was once the hunting ground of the royal families, it now hosts visitors from almost all the corners of the world, and has earned the fame of being a top-rated holiday destination in Udaipur.
Characterised by remarkable domes and corridors that are decked with intricate marble works and are interconnected, The Oberoi Udaivilas showcases the elegance of Rajasthan colourful cultures, indigenous traditions, and royal lifestyle in the most significant ways. A true oasis in the Thar Desert, its rooms and suites are themed around the imperial essence of Rajasthan and displays a plethora of local art and craftsmanship.
Come evening, the hotel organises private shikara rides across Lake Pichola. Considered ideal for the honeymooners, these rides can be equally enjoyed by almost everyone. While being here, guests can also indulge in rejuvenating yoga and spa therapies and detoxify their body, mind and soul.

4Trident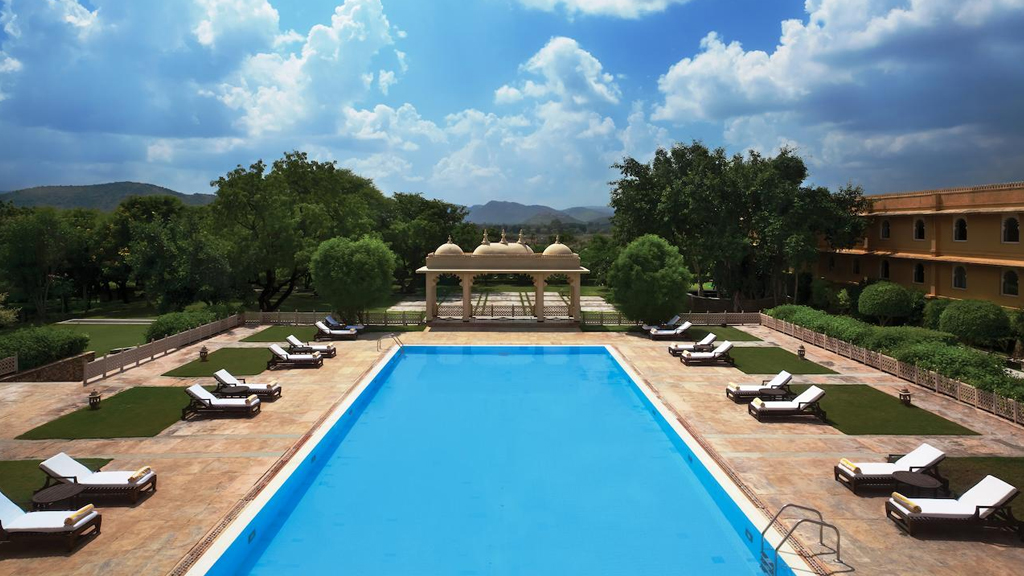 The elegance and splendours of Rajasthan comes alive in the Trident Hotel in Udaipur! Located on the alluring banks of Lake Pichola, this holiday escapade is aesthetically placed on the lakefront and is accessible from almost all the tourist spots and historical sites in the 'City of Lakes'. Among these sites and tourist attractions, City Palace, Crystal Gallery, Monsson Palace and Jagmandir are the major entries.
Days in Trident usually begins with enchanting views of Lake Pichola and the captivating Aravalli Range as its backdrop. Following this, guests are served with delicious morning meals, and gets further caressed with royal meals and a list of fun-filled and exciting things to do. For the foodies, they can delight in a number of cuisines; Rajasthani cuisine serves as the main attraction in the menu!
Adding to the luxury and comfort of the guests, Trident offers rooms that are laced with traditional artefacts, marble decor, Rajasthani jharokas, artwork, and lot more. Though the rooms showcase a quaint charm, they are fully equipped with almost all the modern amenities and other facilities. Other main offerings of Trident include lively swimming pool, fully-equipped fitness centre, spa, kids' club, and several others.

5Hotel Boheda Palace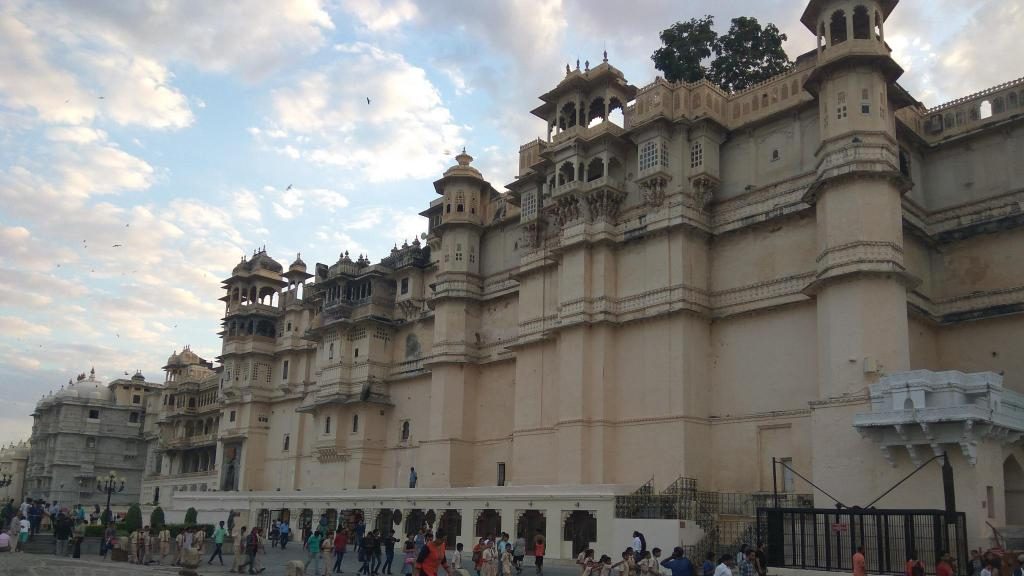 Amidst all the glitz and splendours of Rajasthan, if you happen to come across an impressive hotel that also goes friendly with your budget, you know it is the Hotel Boheda Palace! Tucked away amid pictorial landscapes and colourful parks, this hotel is a perfect place for those who yearns to spend some quiet moments while relishing the royal charm and appeal of Udaipur.
Resembling much to a typical Rajasthani haveli, this relaxed place resonates the true essence of desert culture and lifestyle. Its rustic outlook, large and spacious living rooms, a roof-terrace seating area, and bucolic Rajput hospitality makes it for a perfect holiday.
All the rooms in this retreat are decked with hanging ceilings that are hand-painted. The windows have intricated and promising arches that are built according to traditional Rajasthani architecture. Adding more to the fun and excitement of spending time in Hotel Boheda Palace, guests can delight in delicious cuisines prepared by its expert chefs.

6Jagat Niwas Palace Hotel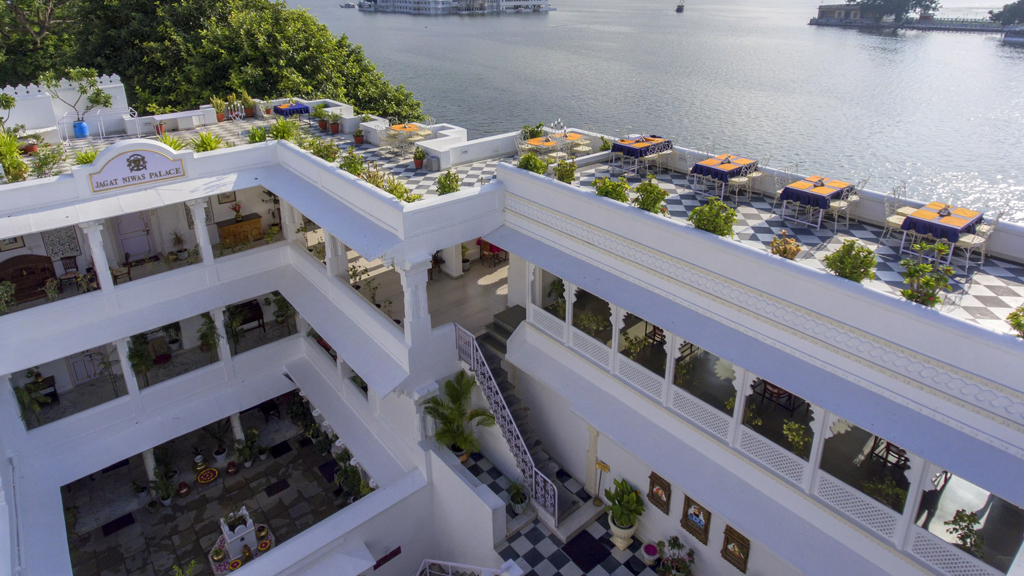 A 17th century haveli located in the heart of Udaipur, the 'Venice of the East', Jagat Niwas Palace Hotel seats along the banks of Lake Pichola. Acclaimed as a heritage hotel, it has its own charm and appeal among its visitors.
The entire property has been renovated in the most promising ways, and today it hosts visitors from all the corners of the globe. This hotel, in fact, has gained much popularity and fame due to its warm hospitality, dedicated services, extravagant stay options, fun-frolic activities, and other similar offerings.
Rooms here, boasts of vintage decor that resonates the aura and essence of an era bygone. From the rooms, guest can enjoy wonderful views of Lake Pichola and the Aravalli Ranges. Almost all the rooms are tastefully decorated, and makes it for a blissful stay. A rooftop restaurant called 'Chandni' and an exquisite sitting area called 'Jharoka' are the two main attractions of Jagat Niwas Palace Hotel.

7The Castle Mewar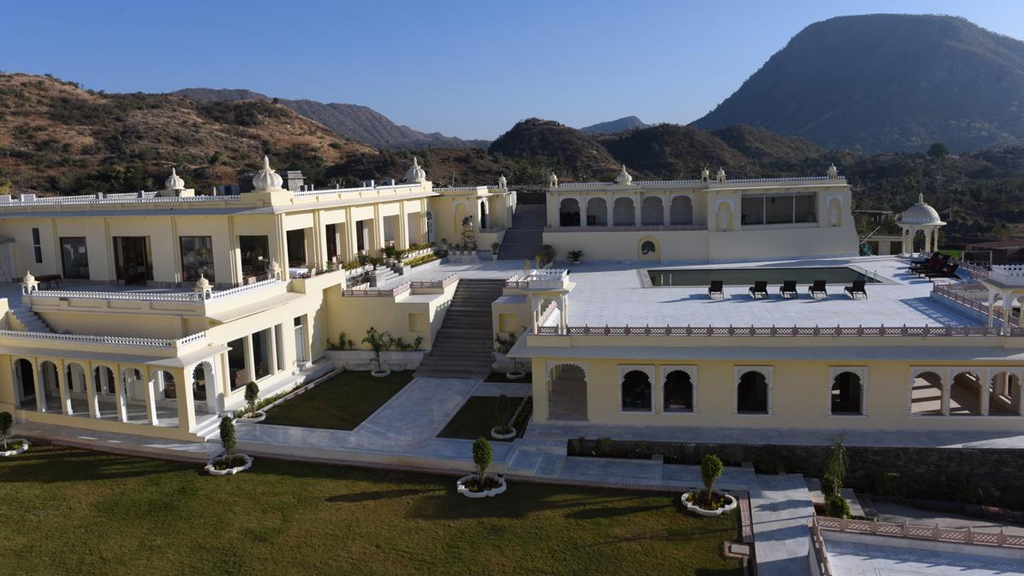 Though the Castle Mewar looks more like ancient haveli, once you step inside, it can keep you astounded with its beauty and hospitality! Nestled amidst lush and pristine Jungle Valley in the lap of the Aravalli Ranges, this is one such retreat that brings alive the feelings of staying in a castle while being surrounded by natural marvels.
Elegantly designed and decorated, this holiday home boasts of its spacious and serene ambience that is fringed with world-class amenities and facilities. Whether you want to relax in the azure swimming pool or enjoy a gastronomic delight, laze around its scenic beauty or indulge in some exciting activities, you can quench all your yearnings in The Castle Mewar.
To boost up the liveliness of your stay, rooms here are decked with wooden floorings, king-size beds, hand-woven rugs and other such luxury elements. Minibar, tea and coffee maker, hair dryer, room services, hot and cold water, cubicle showers, and LCD TV are some of the amenities and services offered by The Castle Mewar.

8Shiv Niwas Palace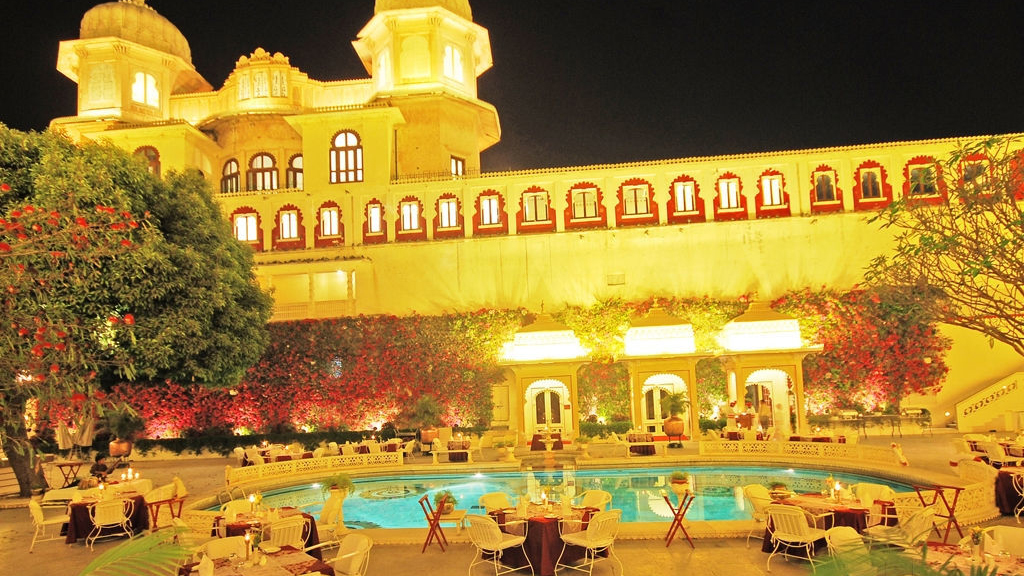 This 5-star rated hotel dates back to the 20th century, and was built under the reign of Maharana Fateh Singh to receive and host the royal guests. Witnessing the rising and downfall of many rulers, this glorious monument has endured all its charm and allurement in a meticulous way. Today, it serves as one of the finest hotels in Udaipur and has been a great host to both national and international visitors.
The hotel has a collection of rooms that are themed around different royal elements. It also offers suites that are decked with heritage furniture, spacious living rooms, luxurious beds, modern baths, and other comfy facilities. Guests to Shiv Niwas Palace can also avail an array of services to make their stay exciting and hassle-free.
To name a few of these services, guest can avail currency exchange, airport transfers, running hot/cold water, in-room dining, safety lockers, laundry services, and lot more. The hotel also offers recreational options that include horse riding, swimming pool, squash courts, billiards room, limousine rentals, and cultural shows.

9Radisson Blu Udaipur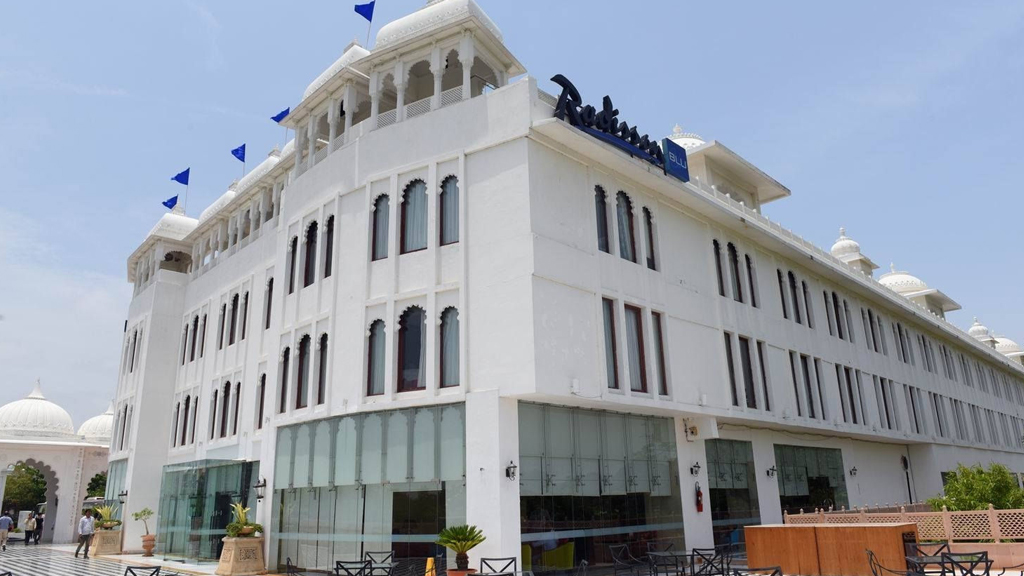 If you want to add a blend of relaxation and tranquillity to your Udaipur holidays, Radisson Blu is the place for you! A typical resort that offers all the luxury and comforts of a 5-star rated hotel, it is known for its flamboyant outlook, compelling services, world-class facilities, modern amenities, and prized hospitality.
Overlooking the picturesque Fateh Sagar Lake, it is located within a proximity to the city-centre, and can be accessed easily from some of the remarkable tourist attractions in Udaipur. While enjoying the stay in Radisson Blu, guests can enjoy relaxing and rejuvenating spa session and detoxify themselves.
While talking about the rooms in this holiday paradise, one simply cannot ignore the prismatic offerings. Rooms are well-spacious, and comes with a range of amenities. LCD TV, coffee and tea maker, electronic safe, turndown services, international calling, attach baths, modern bathrooms, and poolside lounge are some of the main attractions of Radisson Blu.

10Ananta Udaipur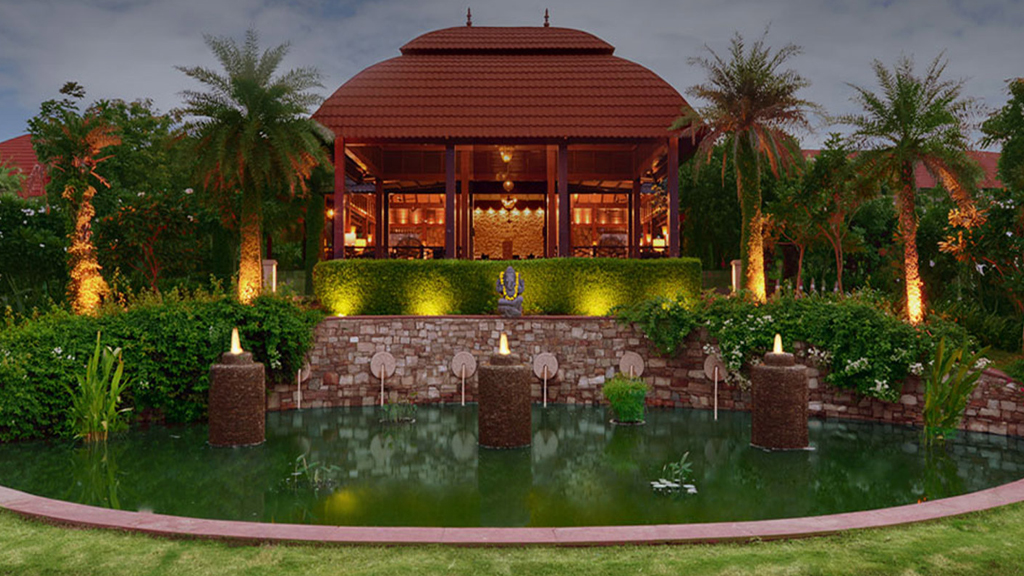 A hotel that looks straight out of a fairy-tale, a luxury retreat that has the fascinating Aravalli Range as its backdrop, and a holiday home that offers all the five-star luxuries, The Ananta Udaipur is a must visit escapade in the 'City of Lakes'. Spreading across 75 acres of picturesque landscapes, this magnificent hotel is dotted with 182 contemporary villas that caters to all the needs and requirements of its patrons.
While the Balinese architecture of this hotel ensures a relaxed stay, its spacious rooms and aesthetic interior soothes the experience further. Most of the rooms are mountain facing and comes with a private balcony. Being in this holiday hotel, guests can enjoy and utilise 24-hours room service, in-room dining, Wi-Fi, cubicle shower, and several others.
During the stay, guests can also participate in yoga sessions, or head towards the in-house spa that offers a range of aromatic and wondrous therapies.
Also Check  Hotels in Ranthambore, Resorts in Udaipur, Hotels in Jaipur