Rudyard Kipling spent quite some time holed up in Bundi writing one of his popular novels. A trip to Bundi will help you understand why. This charming town is an amalgamation of hillocks, lakes, blue houses, temples, bazaars and narrow winding streets. The Bundi Palace is delightful complex of intricate smaller mahals.
The Mina and Bhil tribes lost Bundi to the Hadoti Chauhans in the 12th century and the Mughals were more bothered about Kota, thus Bundi was allowed to walk through history at its own pace. Today, it is a quaint town, easily navigable on foot, and one can stroll up the palace complex from the main bazaar.
An August/September visit will allow you to witness the exuberant Kajli Teej Festival, that celebrates the oncoming monsoon. This is when Bundi is lit up with fireworks and cultural performances. A great time to witness Bundi in all its splendour.
Southern Rajasthan travellers usually make their way to Udaipur and stay there. If you're in for a more traditional Rajasthani experience, Bundi is the place to be.
If you're worrying about how to reach Bundi, let us help you out. The town is well connected to the main cities in Rajasthan and getting there is no trouble at all.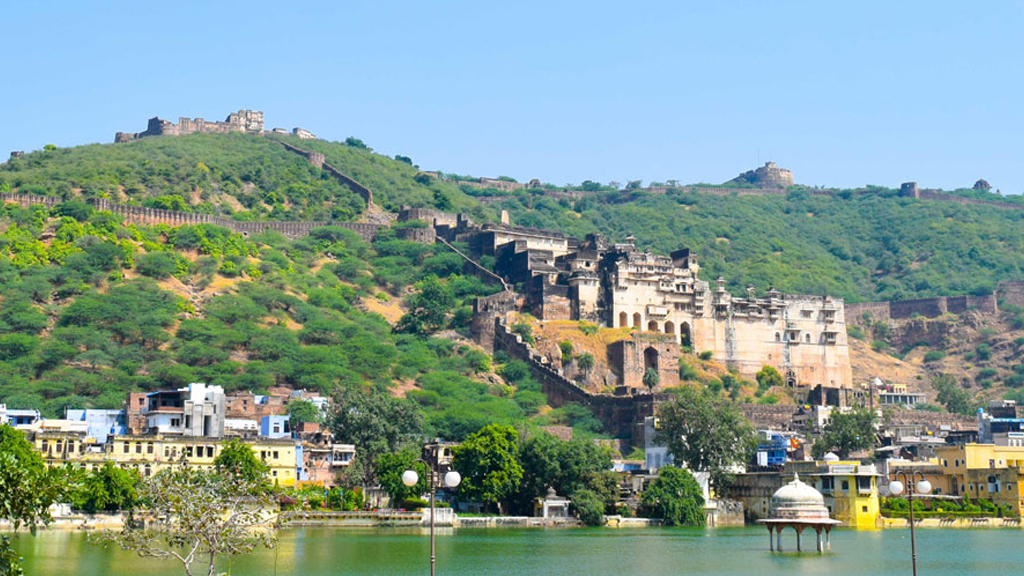 1.By Air:
Keeping with its small town vibe, Bundi doesn't have an airport of its own. The nearest international airport is at Jaipur, 210km away. However, your best bet is to catch a domestic flight to Kota Domestic Airport (KTU). From there, Bundi is a 60 minute car ride away. There are regular flights from Delhi, Jaipur, and other major Rajasthani cities to Kota Airport.
If you don't mind a long car journey, you can even fly to Maharana Pratap Airport (UDR), Udaipur. Bundi is 290kms from Udaipur.
2.By Train:
The Bundi Railway Station is well connected and you can easily reserve a train seat from a number of cities in Rajasthan. Udaipur, Ajmer, Jaipur, Delhi, and many other cities and states have trains going all the way to Bundi.
Another option is to reserve a seat on a train that is going to Kota Junction. From here, you can hire a taxi or board a bus to Bundi that is a meagre 41kms away. If the train you're booking a seat on doesn't stop at Bundi, it most probably will halt at Kota.
The train journey to Bundi is perfect for the traveller on a shoe-string budget.
3.By Road:
Even though Bundi is a small town, the roads and highway linking it with the rest of Rajasthan are well-maintained. This means you can book a bus seat from the RSRTC Bus Stand located in New Colony in Bundi.
The bus journey or car ride from Kota to Bundi is quite picturesque as it takes you through the heart of rural Rajasthan. This is the perfect adventure for the curious traveller. The desert landscape is perfect for the travelling photographer and your holiday will be enriched by the people you meet along the way.
There's no need to fret about how to reach Bundi. The quaint southern Rajasthan town is easily accessible, whether you're an international tourist or a domestic one.