Best Hotels in Jaipur – Royalty at the Best!
Jaipur, a royal city that wears many feathers in its hat is undoubtedly one of the best places to visit in India. The capital city of Rajasthan, it is fondly called the 'Pink City of India', and serves as the pinnacle of the sought-after 'Golden Triangle Tour'.
Founded by Maharaja Jai Singh II, Jaipur not only boasts of being the first planned city in the country, but also to offer a bucolic holiday experience to its visitors. And while talking about holidays in the Pink City, you simply cannot ignore the flamboyant hotels dotting the city. Let's take a look at some of the Jaipur hotels that are poised with all the luxury, comforts, fun-frolic, and promises to make your holidays even more exciting!
1Jaipur Marriott Hotel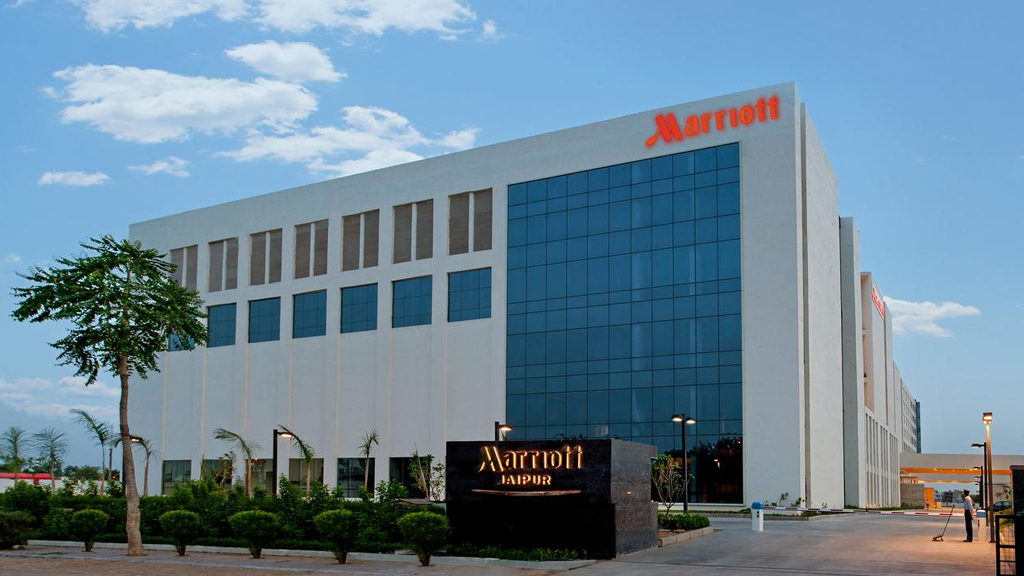 Resonating the true legacy of Jaipur's pink essence, this hotel in Jaipur is known for its heart-warming hospitality and elegant spirit! Located within a proximity to Jaipur International Airport, it offers an unparalleled holiday experience and endless opportunities to explore and feel the royal grandeurs of Rajasthan.
Rooms in Jaipur Marriott Hotel are tastefully crafted. While all the rooms carry a unique charm, visitors can choose rooms according to their own taste. Rooms are usually divided into Deluxe, Premier, and Executive class along with a Deluxe Suite option. All the rooms have king-size beds, and offers astounding views of the Jaipur city.
If you are a foodie, you will surely find this 5-star rated hotel making your taste buds greedier than before! Its platter of dishes and the tempting ambience across the food-joints can make you relinquish yourself into the hands of its expert chefs! Among the other offerings of Jaipur Marriott Hotel, there are luxury amenities and facilities like swimming pool, fitness centre, outdoor pool, sauna, spa, kids' pool, children's' activity zone, and the list goes on.

2Hilton Jaipur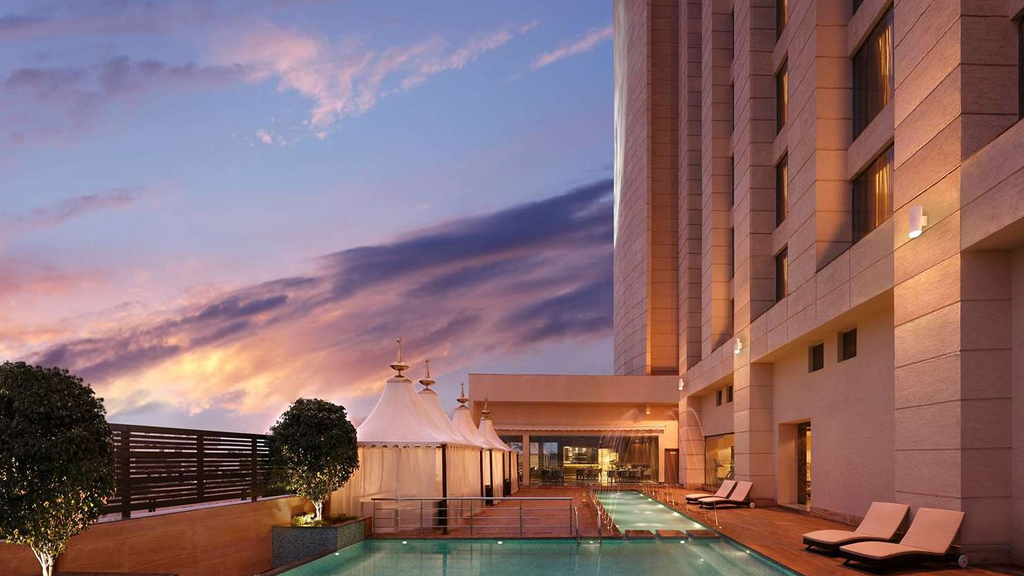 Famed as 'One of the Best Business Hotels in India', Hilton Jaipur takes its patrons for an elegant journey across the timeless beauty of Pink City. A hotel that caters to the needs and requirements of all the types and classes of travellers, it can be best explained as the confluence point where imperial beauty meets extravagant living experience!
If you want to enjoy the spellbinding views of the Aravalli Range or relish the electrifying views of Jaipur's nightlife, you can check-in into Hilton Jaipur anytime you want! Rooms here are aesthetically built, laced with gladsome furniture, have all the modern amenities and facilities, and offers dedicated room services.
Almost all the rooms are well-spacious, and are divided into categories like Guest Rooms, Suites, Executive Rooms, and Accessible Rooms. Private balcony, LCD TV, attach bathrooms, Wi-Fi, and modern toiletries are some of the most promising amenities in Hilton's rooms. Other facilities and services include business centre, meeting rooms, baggage storage, bar area, barber shop, currency exchange, laundry services, spa and salon, travel desk, and lot more.

3Ramada Jaipur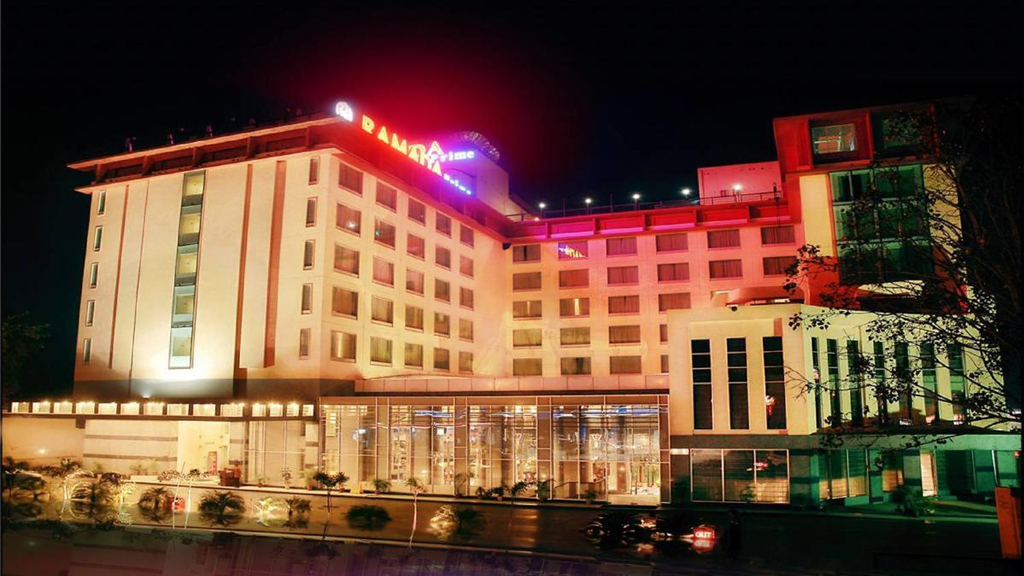 Ramada Jaipur is more than a hotel; it is a brand that showcase hospitality and luxury at their best! A perfect place to escape the monotonous schedules of life and enjoy solitude amidst all the royal charms, this hotel is a true paradise for the luxury and comfort lovers.
While staying here, visitors can opt for Club Rooms, Deluxe Suite, Club Suite, and Deluxe Rooms. Irrespective of whichever option they pick up, they get to enjoy the best of services and facilities. On checking-in, guests can also avail complimentary services and facilities like free Wi-Fi access, bottled drinking water, and a hearty welcome.
Other amenities and services offered by Ramada Jaipur includes in-room sofa, room sprinklers, valet service, daily newspaper, full length mirror, study table, tea and coffee maker, room-dining services, and several others. Visitors who want to tap their feet along with groovy music, they can make their way to Ramada's discotheque on every Saturdays. Others can enjoy and utilize pool table, swimming pool, hit the gym, relax in the spa, or sip in their favourite mocktail in the mini bar.

4SMS Hotel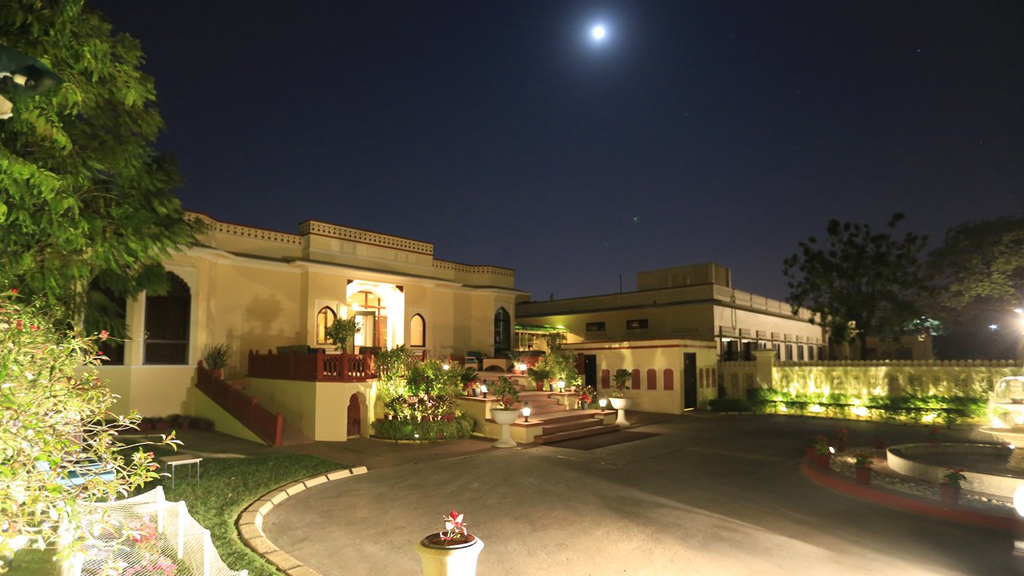 If you are craving for a stay amidst all the primary attractions in the Pink City, or to enjoy the ture vibe of Rajasthan, you must check-in into the SMS Hotel! Located within the city limits of Jaipur, this holiday abode is blended with all the satisfying services and modern-day amenities.
Its well-spacious and tastefully crafted rooms offer a signature style of living. Adding more, rooms are bejewelled with heritage furniture and offers astounding views to the guests. Its dedicated and well-trained staff members further ensure a delightful stay.
The rooms here are divided into Superior Double Rooms (with Pool or Garden View), Junior Suites, and Standard Double Rooms. All the rooms have double bed, and are laced with almost all the modern amenities and facilities. While staying in here, guests can enjoy services like Wi-Fi, outdoor pool, free parking, room services, 24-hour front desk, and lot more.

5Rambagh Palace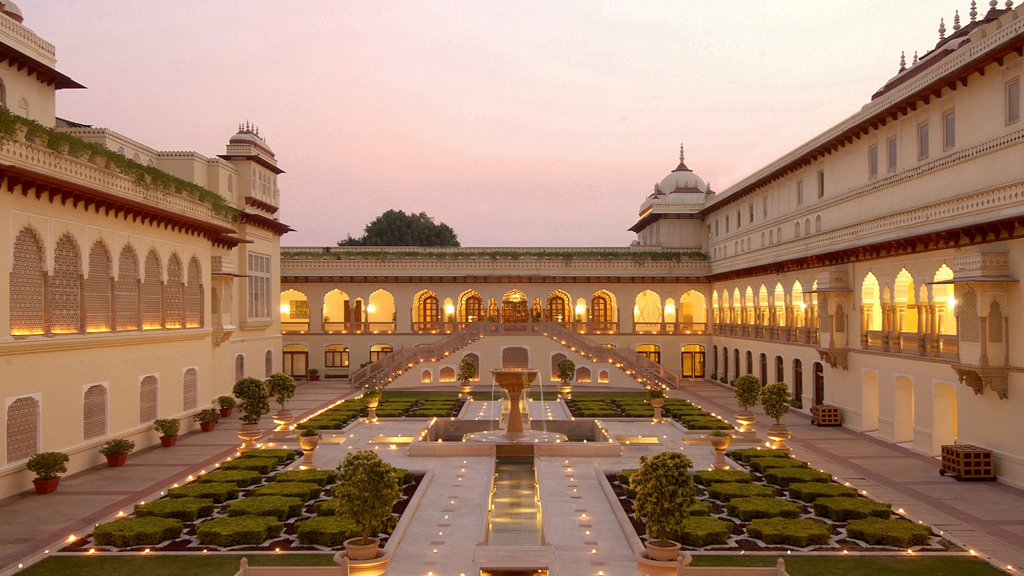 Built in 1835, this architectural marvel in Jaipur boasts of being one of the most popular host to royal functions and celebrations. The once a residence of Maharaja Sawai Singh II and Maharani Gayatri Devi, this imperial establishment now serves as a royal retreat that caters to guests from across the globe!
Visitors to Rambagh Palace are sure to get spoilt with its wide range of rooms and suites. To name a few, guests can select their stay options from Luxury Rooms, Palace Rooms, Historical Suites, Rang Niwas Suite, Badal Mahal Suite, Pothikhana Suite, MaharahaSawai Man Singh Suite, RajamataGayatri Devi Suite, and the list goes on. Well, irrespective of whichever suite or rooms are preferred by the guests, they will feel no dearth of royalty, luxury, and comfort!
From king-sized beds to marble studded bathrooms, pillow menu to forest essentials, plush bathrobes to cribs for infants, Rambagh Palace offers all the desired luxuries to its guests. It also offers world-class business facilities, dining experiences, and a range of exciting activities to its patrons. While staying here, guests can avail and enjoy other services like personalised butler services, housekeeping, in-room dining, laundry services, doctor-on call, and lot more.

6Taj Jai Mahal Palace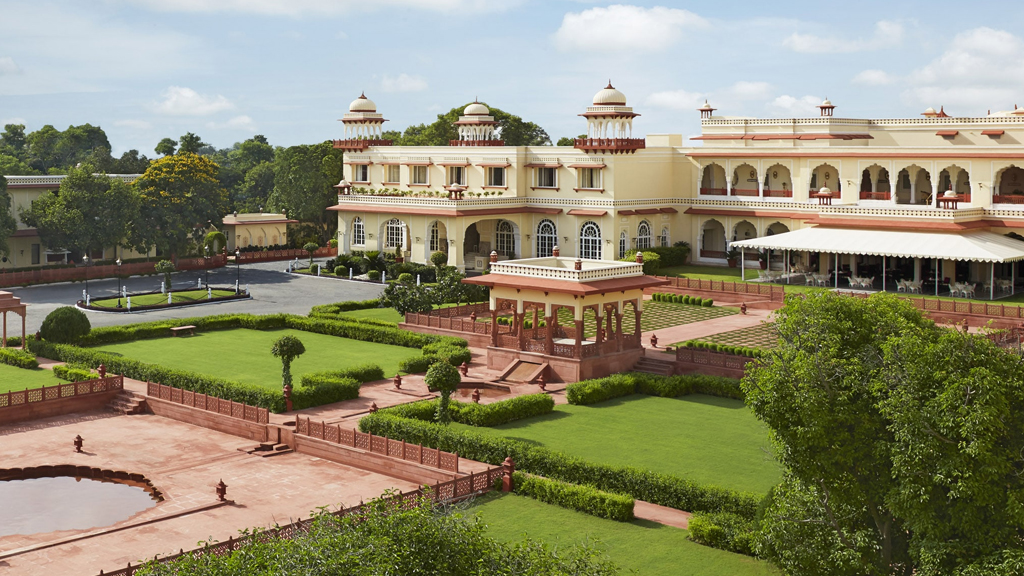 A marvellous piece of architecture amidst 18 acres of pictorial Mughal gardens, the Taj Mahal Palace is the perfect place to unwind and enjoy the elegant beauty and royal appeal of Jaipur! Built in Indo-Saracenic architecture in 1745, this opulent piece of architecture once served as the official residence of Jaipur's Prime Ministers, and has now been converted into an extravagant heritage hotel.
Showcasing all the splendours and grandeurs of Rajasthan, this hotel is known to offer the best of royalty and heart-warming hospitality to its guests. Starting from the moment visitors walk in into Taj Mahal Palace, they are welcomed with traditional aarti and tikka followed by folk music. Visitors can also expect a grand entry into the hotel by riding on decorated elephants, horses, or camels.
Taj Mahal Palace holds a special reputation to offer world-class luxury and comfort to its patrons. Its 94-luxurious room and 6 themed suits are elegantly stuffed with classy interior, miniature paintings, marble flooring, glass ceilings, and several other appealing elements. Visitors here, are also offered with delectable food and dining options. Be it the poolside or open-air restaurant, both are known to offer delicious traditional as well as multi-cuisine dishes to the guests. The hotel also has a well-stocked bar that serves the best of wines and other beverages to the wine connoisseurs.

7The LaLit Jaipur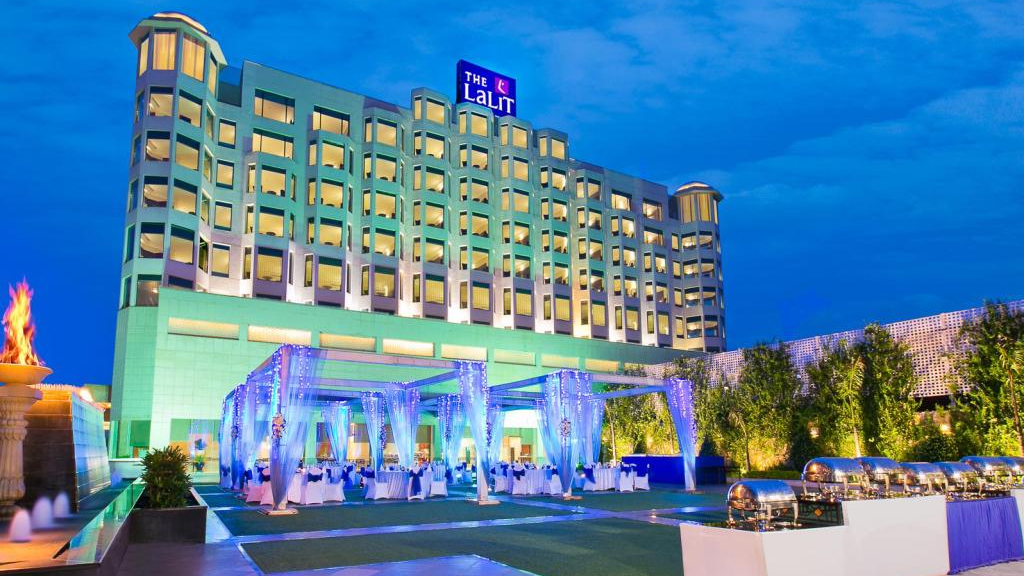 A 5-star rated hotel within the commercial hub of Pink City, The LaLit Jaipur can be the best retreat to adore and embrace the royalty of Jaipur! Crafted perfectly to showcase the colourful facets of Rajasthan, this hotel also boasts of being one of the top-notch destination among the visitors to Jaipur.
Built in the form of a traditional haveli, it showcases magnificent interiors, state-of-the-art facilities, promising dining options, alluring water bodies, and lot more. Rooms and suites in The LaLit Jaipur are divided into categories like Deluxe, Luxury, Premium, Super Deluxe, Executive, and Lalit Legacy.
All the rooms are decked with contemporary as well as antique furniture, exquisite furnishing, spa-styled bathrooms, Rajasthani artwork, and comfy bedding options. For the visitors who crave for delicious foods, they can check-in into The LaLit Jaipur anytime to satiate all their yearnings and enjoy a gastronomical sojourn while holidaying amidst the royal splendours of Rajasthan.

8ITC Rajputana, Jaipur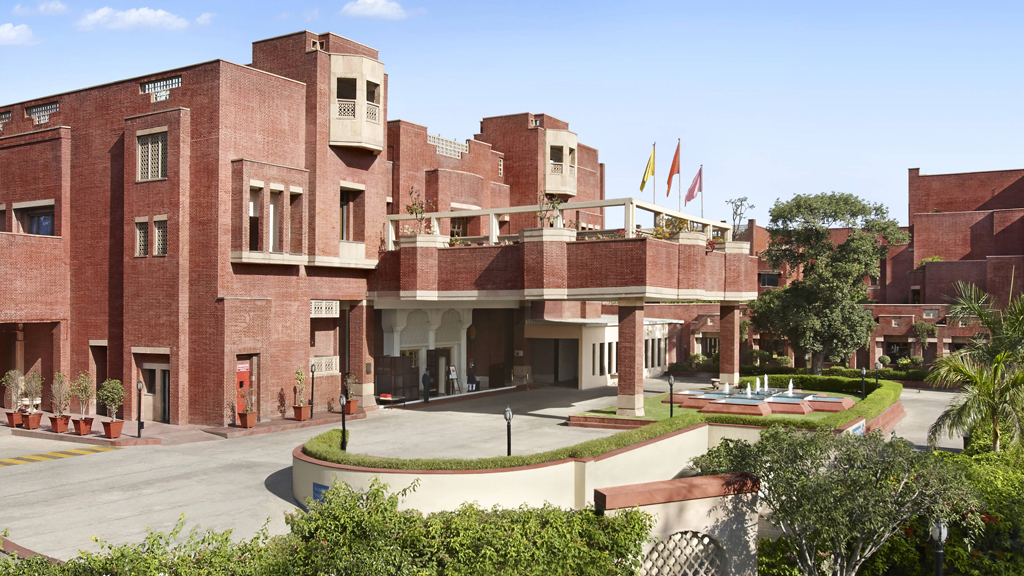 Your search for the finest 5-star hotel will end at ITC Rajputana! An ideal host to visitors to Jaipur, this remarkable hotel is located only a stone's throw from the main city centre and is known for its promising hospitality, dedicated services, amazing facilities, and top-notch amenities.
Stays at ITC Rajputana is often referred to as having a tryst with the rich traditions and vibrant cultures of Rajasthan! Decked with 218 beautifully crafted rooms and suites that are laced with almost all the modern amenities and facilities, this grand retreat has a lot to offer its visitors. Depending on the need and requirement, visitors can select from a range of Executive Club, Rajputana Chambers, Rajputana Royale, Thikana Suite, and Presidential Suite.
The rooms offer great space and makes everyone feel home with their luxury offerings. King-sized beds, en-suite bathroom, terrace garden, dining room, sitting room, sitting room, and heart-warming ambience are the main attractions of the rooms in ITC Rajputana. Along with some of the most flavoursome culinary delights, this 5-star hotel is also known to have the finest wellness and fitness centres in Jaipur.

9The Oberoi Rajvilas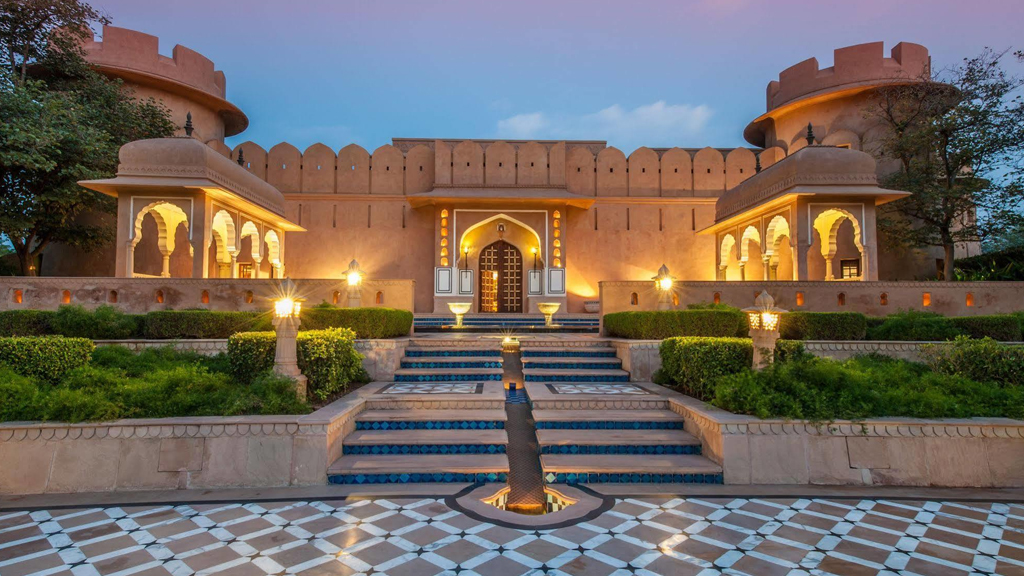 A synonym to peace and tranquillity, The Oberoi Rajvilas is an ideal place to explore the royalty and mysticism of Thar Desert and its rich heritage! Set around lush plantations and an exhilarating setting, it is among the most sought-after and celebrated 5-star rated hotels in Jaipur.
Whether you are yearning for a family trip, planning for your honeymoon, meet business dignitaries, or any other occasions, this magnificent hotel can be your ideal host! With rooms laid in cluster, it promises eventful stay while ensuring total privacy, utmost luxury, and all the desirable comforts of staying in a posh hotel.
Besides the world-class amenities and facilities, guests to The Oberoi Rajvilas can also delight in delicious foods and make their stay more pleasant. Its luxury dining options like Raj Mahal, Surya Mahal and Rajwada Library Bar promises relinquishing experiences to the visitors. Adding more to this, the hotel also offers poolside dining, private cooking sessions, and breakfast in herb garden.

10Trident, Jaipur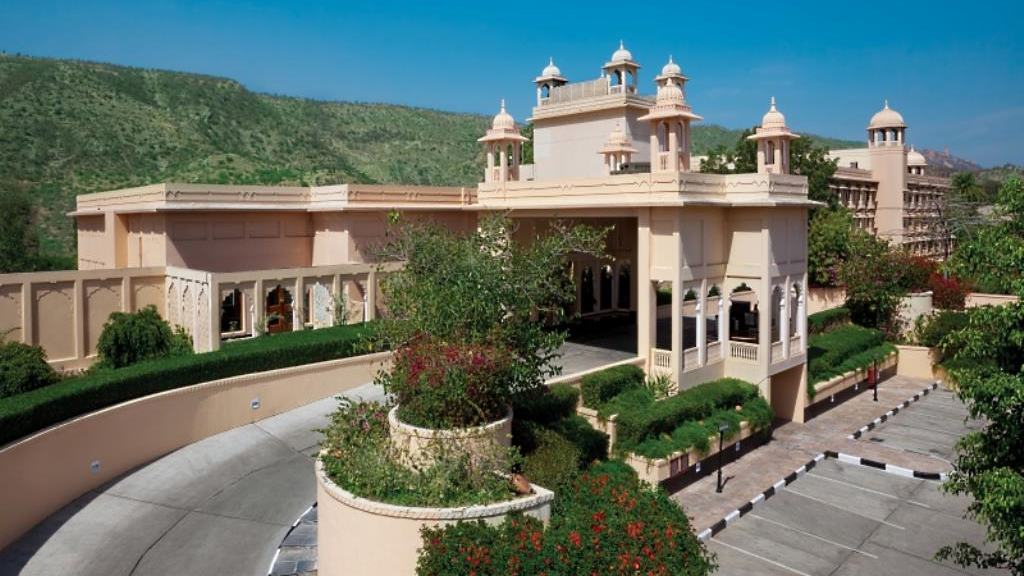 A 5-star rated hotel that overlooks the scenic Mansagar Lake, Trident, Jaipur boasts of its stunning outlook and wonderful offerings. Located within a proximity to the glorious Amber Fort, this escapade has its own charm and redefines luxury while keeping the diverse history of Rajasthan intact to its every corner!
Once you check in into this holiday paradise, you will get to witness and experience royalty from a close hand. Be it the cosy rooms or its elegant belongings, the devoted staff members or the luxury facilities, everything about the Trident, Jaipur is so captivating and usher liveliness into your holiday.
Its rooms are poised with luxury bath amenities, in-room safe, personal bar, round the clock dining facilities, and several other services. While some of the rooms offer astounding views of the fascinating Aravalli Ranges, other offers the pristine views of verdant gardens and the alluring Mansagar Lake. Traditional artefacts and handicrafts used in these rooms make the living experience even more intriguing for the guests.
Also Check Hotels in Udaipur, Resorts in Udaipur, Hotels in Ranthambore