Hotels and Resorts in Ranthambore
Ranthambore National Park, an untouched wildlife abode that is known for its remarkable Bengal Tiger population, is a paradise for the wildlife and nature lovers alike! Spreading across 392 square km in the SawaiMadhopur district, Rajasthan, this wildlife protected area is also among the most scenic and enthralling national parks in India.
Come November and May, wildlife lovers throng this wildlife reserved area to come face-to-face with the majestic Bengal Tigers. It is the ideal season to spot these mighty predators. Other common species found in Ranthambore includes Indian Leopard, Nilgai, Striped Hyena, Wild Boar, and a range of reptiles, avifauna, and floral species.
Well, if you are planning for a wildlife excursion in Ranthambore, here are some of the resorts and hotels around this captivating wildlife reserve that you must check out!
1The Oberoi Vanyavilas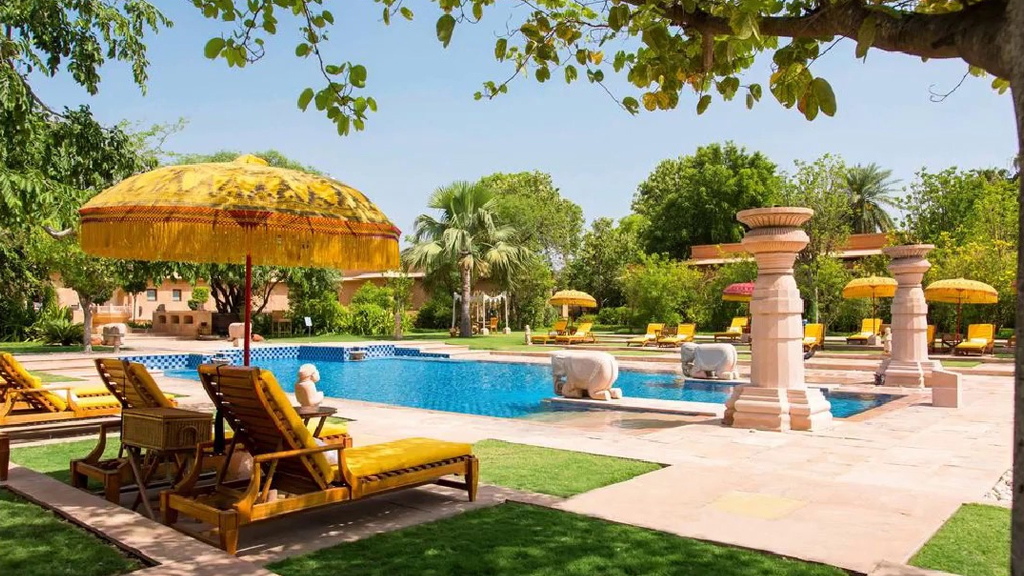 Winner of numerous national as well as international awards, The Oberoi Vanyavilas is a true heaven for the wildlife freaks. Located within a close distance to Ranthambore National Park, it has earned the fame of 'Best Small Hotel in the World' by Tripadvisor this year.
Established on a scenic patch of 20 acres, this wildlife resort is canopied by lush thickets and is adorned by manicured gardens. Guests here, can enjoy wildlife spotting from a close hand, or can also get to the observation tower within the resort's premises to have an encounter with the exotic species.
Designed as a typical Rajasthani haveli, visitors can enjoy evening bonfire, wildlife safari, spa therapies, yoga sessions, and lot more in The Oberoi Vanyavilas. Luxury tents are the main attractions in this resort.
Distance from Ranthambore National Park: 10 Minutes

2Vivanta by Taj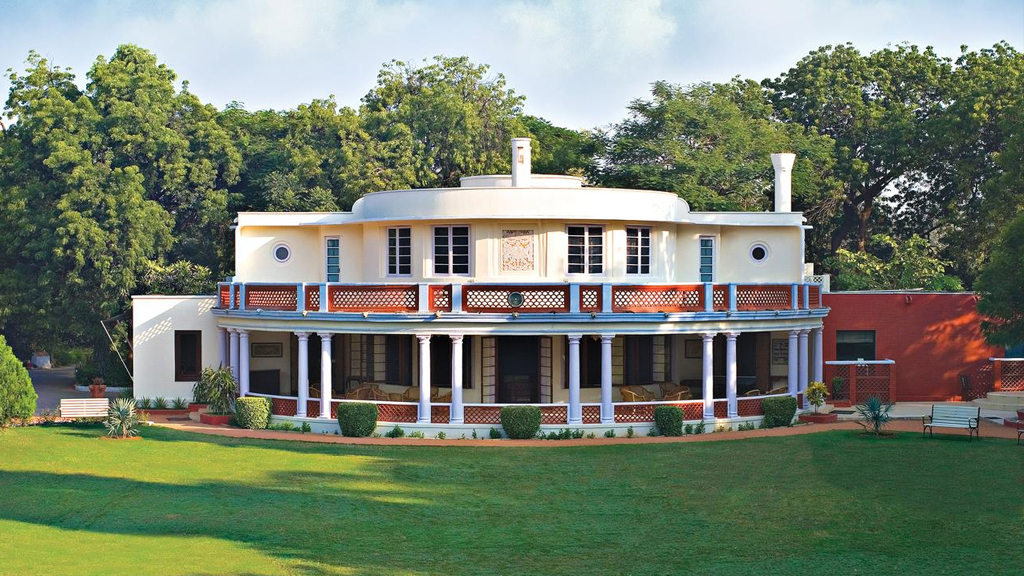 Vivanta by Taj – SawaiMadhopur Lodge is the only heritage hotel in Ranthambore! Exquisitely designed to bring in the wilderness of the wildlife protected area, it once served as a hunting ground for the rulers of Jaipur. Over the period of 80 years, this royal camping ground was renovated while keeping its original charm and aura intact, and today it boasts of being one of the finest places to spot the majestic Bengal Tigers and other mighty predators.
Rooms here are well-spacious and offers amazing views of the surroundings. Most of the rooms are fitted with modern amenities like TV, tea/coffee makers, modern baths, and other similar. Rooms are basically divided into three categories: Superior Charm, Deluxe Allure Suite and Premium Temptation Suite.
Distance from Ranthambore National Park: 3km
Irrespective of whichever room you select, you will always be promised with fun, thrill, and excitement of staying close to the exotic dwellers of Ranthambore National Park. The resort also hosts business meetings, wedding parties and social gatherings.

3Aman-i- Khas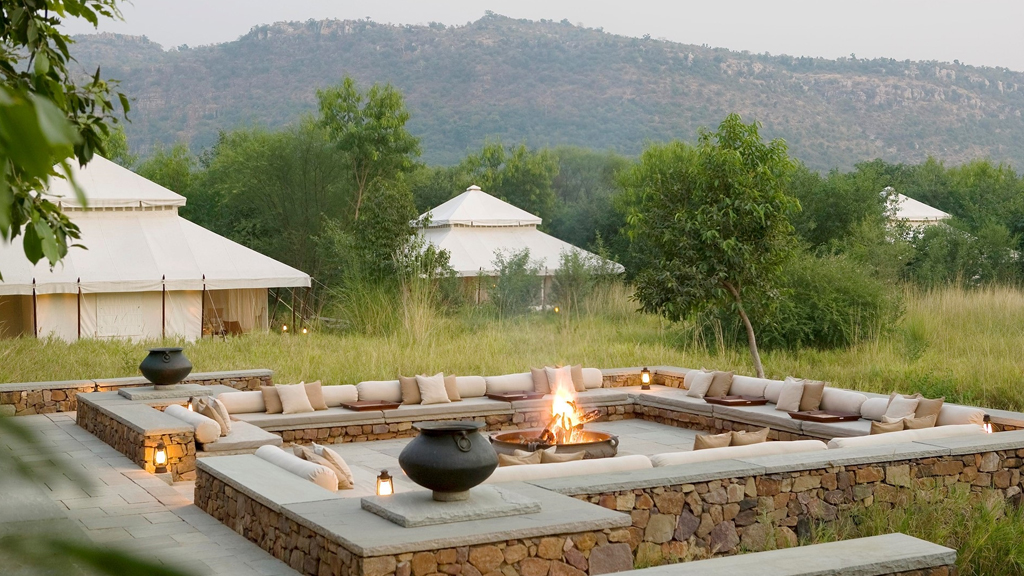 Seated amidst the sun-dappled thickets of Ranthambore National Park and the foothills of Aravalli Ranges, Aman-i- Khas takes the pride of being one of the most flamboyant and luxurious wildlife resorts in the country. If you are yearning for the most exotic glamping experience, this resort can be the most befitting destination for you to explore the wilderness of Ranthambore.
Located on the outskirts of the scenic park, it has ten luxurious tents that are placed within a rugged setting. Though from outside, they look like any other traditional tents, their interior will surely make you doubt your thoughts! From offering utmost privacy to the best of luxury, these tents are poised with all the modern amenities and facilities. The tents come with a separate living room that is decked with luxuries like writing desk, cotton drapes, comfy beds, and others.
Bathrooms are laced with modern amenities like standing bathtub and shower. While staying here, guests can relish tailor-made meals prepared by expert chefs. Lamp-lit ambience takes the dining experience to a whole new level in Aman-i- Khas! Adding more, the Tiger Safaris and other wildlife experiences make this resort an epitome of fun, thrill, and adventure.
Distance from Ranthambore National Park: Around 9km

4Sher Bagh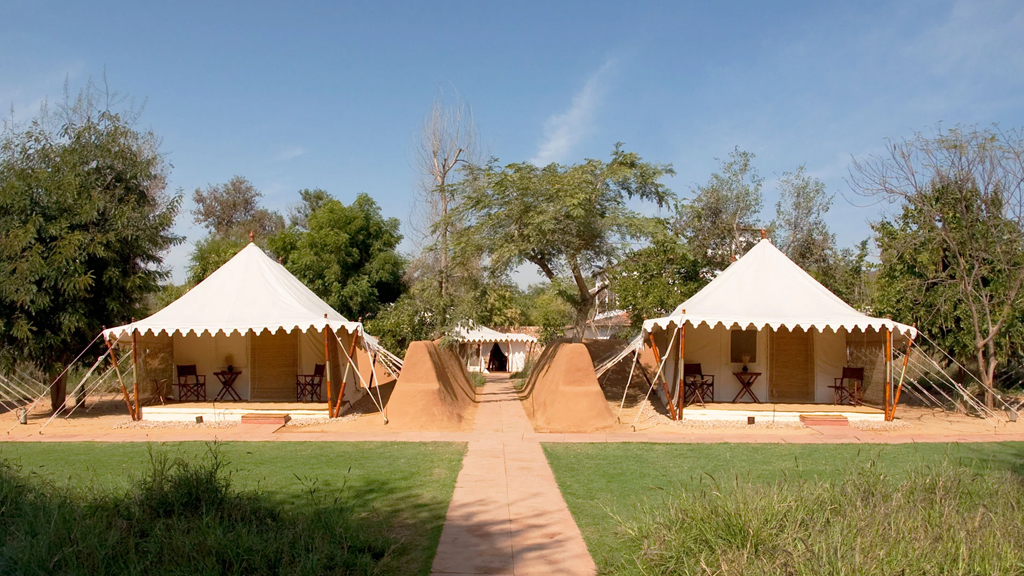 A true reminiscent of the bygone hunting camps in Rajasthan, Sher Bagh is famed as one of the most authentic and liveliest jungle resorts in Ranthambore. Nestled amidst the thick wilderness of the reserved forest and canopied by indigenous trees, it is run and maintained by a family that has generations of experience in the conservation of Ranthambore National Park.
The white canvas camps in Sher Bagh are decked with rosewood and teak furniture, and wears a classic look that can make you forget the outer world! Tastefully crafted, every element in these camps resonates the thrill and essence of the jungle. The campsite has a total of 12 tents that are hand-stitched and are categorised as Burra Sahib Suite, Pukka Sahib Suite, and Luxury Tents.
Grasses interior, heated private swimming pool, personal veranda, open-air shower, Jacuzzi, comfy beds, and campfires are some of the desirable offerings of Sher Bagh. In addition to these, guests can also enjoy private butler services, game safaris, wildlife spotting, and several other enthralling activities to get close with the dwellers of Ranthambore National Park.
Distance from Ranthambore National Park: 12km

5Pugmark Resort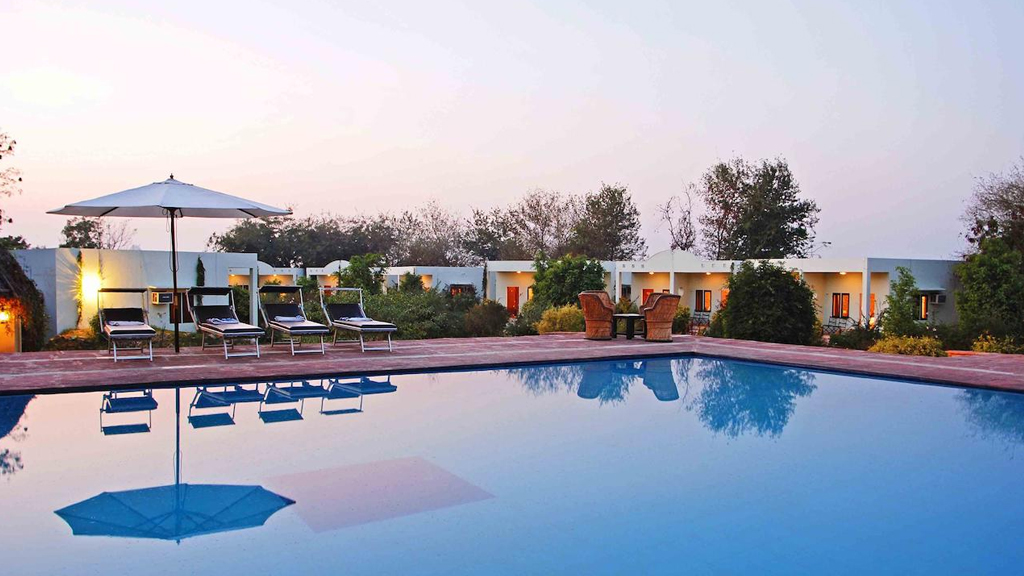 A 10-acre property on the edge of the fascinating Ranthambore National Park and overlooking the Aravalli Ranges, this private property is one of the pioneer in jungle camping and experiences. Set amidst dense thickets and adorned by all the colours of nature, it serves as a great escapade to those yearning to have a tryst with the enchanting beauty and wilderness of Ranthambore.
Be it the outlook or the stay options, everything in Pug Mark carries a signature style. Its 35 cottages and 1 villa room has everything that you can imagine while amidst the jungle. Rooms are air-conditioned, decked with heart-warming furniture, swimming pool, and offers dedicated services to their guests.
Multicuisine restaurant in Pug Mark in known to offer a blissful gastronomic delight while its organic farms ensure a tasteful sojourn to the patrons. To take the fun and excitement to a new level, the campsite also offers a well-stocked bar, a 24-hours coffee shop, and an open air amphitheatre cum restaurant. For the wildlife lovers, they can embark on Gypsy Safaris, and access the remote corners of Ranthambore to spot the majestic Bengal Tigers and other fascinating dwellers of the jungle.
Distance from Ranthambore National Park: 13km

6The Tigress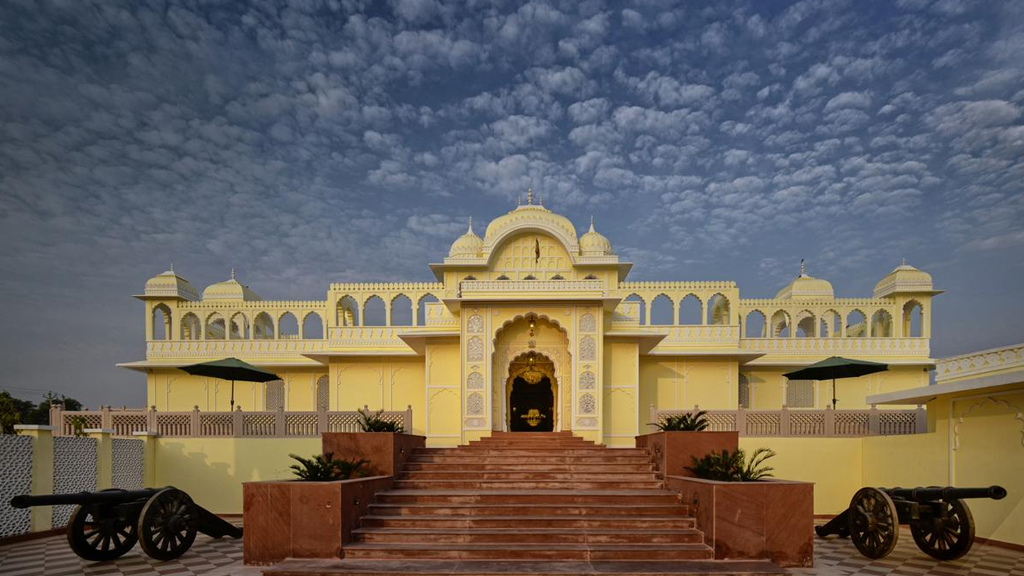 This is one such wildlife resort that incites the true sense of staying intact with the fascinating wildlife range of Ranthambore! Carrying all the looks and fun-frolic of a typical jungle resort, it offers delightful services and enthralling wildlife activities to its visitors.
Rooms here are divided into Royal Luxury Suites and Royal Luxury Villas. Irrespective of whichever option you opt for, you will always be promised with luxury and comfort at their best. Modern amenities and devoted hospitality are the elements that will make your stay even more engrossing in The Tigress.
Adding to the wilderness, this resort organises adventurous jungle safaris, boating across the Chambal Crocodile Sanctuary, visit to Ranthambore Fort and Temples, and an array of other exciting activities. Village safaris conducted in this resort is also a delightful activity to get acquainted with the rustic cultures and outlook of Ranthambore and its surroundings. The resort also boasts of a vegetable farm, swimming pool, dedicated kids' play area, jogging track, and lot more.
Distance from Ranthambore National Park: 12km

7Dev Vilas
Everything about Dev Vilas Ranthambore is so fascinating that you would surely fall in love with its aesthetic outlook and heart-warming hospitality. Located on the outskirts of the wildlife abode, it is a hidden treasure for the wildlife as well as the nature lovers!
To make your stay more exciting, this jungle resort offers individual suites and tented bungalows that are designed by international experts. Local artefacts and craftsmanship further makes these stay options more engrossing and brings in the true essence of wilderness. Each of the rooms in Dev Vials Ranthambore is unique and carries a distinct charm of their own.
While wildlife spotting and safaris play as the main attractions, the resort is also known to offer several other exciting activities and services to its guests. Multicuisine restaurant, Alfresco dining, well-stocked bar, fruit orchards, and the awe-inspiring views of the Aravalli Ranges are some of the prized offerings of Dev Vilas Ranthambore.
Distance from Ranthambore National Park: 7km

8Nahargarh Ranthambore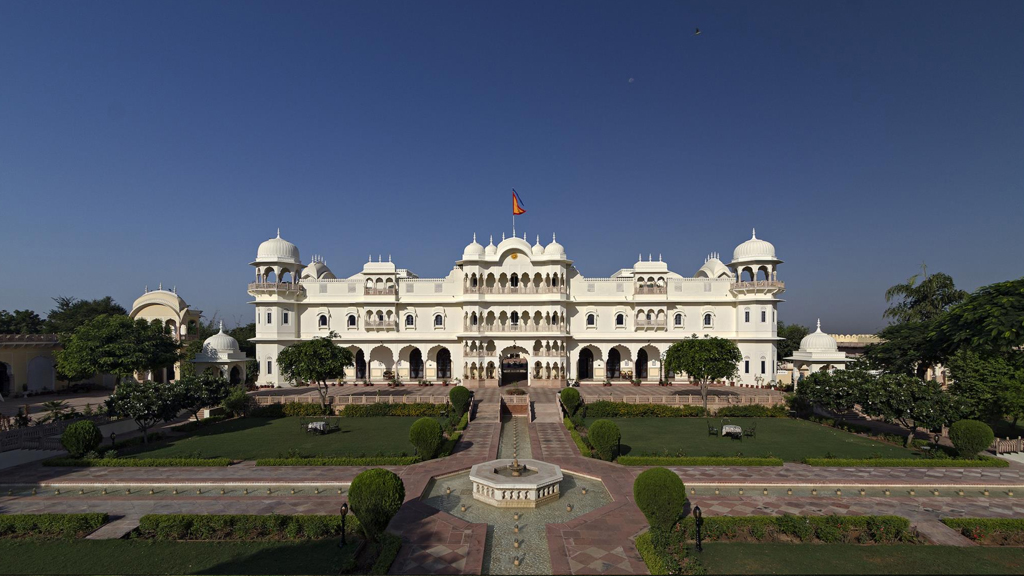 This imperial hotel is a sign of royalty fused perfectly with the wilderness of Ranthambore National Park! It is a perfect destination to enjoy the captivating allurement of Ranthambore's exotic wildlife range while enjoying the opulence of a world-class holiday abode.
Located at the foothills of Aravalli Ranges, it is nestled amidst lush and evergreen forests, and promises eventful and equally exciting stays to its guests. It has around 68 luxurious rooms that are distinctly crafted to bring in the impression of a jungle retreat while being enchanted with all the modern amenities and facilities. Rooms are further divided into Deluxe and Super Deluxe categories.
Be it with the display of colours, the facilities or services offered, delicious cuisines, or the fun-filled activities, Nahargarh Ranthambore never ceases to amaze its guests. To get the visitors connected with the local cultures and traditions, the hotel also organises cultural shows along with jungle safari and wildlife spotting.
Distance from Ranthambore National Park: 8km

9The Madison Ranthambore
What do you think is required to make your stay at Ranthambore the most comfortable one? Well, you just name it, and the Madison Ranthambore has them all! Yes, a home away from home that is soaked with all the wilderment and thrill of the national park, this holiday retreat comes with all the un-filled wonders to make your holidays more eventful!
Talking about wildlife experiences, it offers unique and unparalleled activities that can put other hotels and resorts to shame. Jungle safaris, fort visits, and an array of exciting amenities like swimming pool, banquet hall, and ultra-luxurious rooms make this hotel an ideal place to unwind yourself and get soaked with the immense beauty and charm of Ranthambore National Park.
Rooms in Madison Ranthambore are divided into Super Deluxe and Suite Rooms. All the rooms are decked with LCD TV, comforting sofa, coffee and tea maker, and fridge. Irrespective of what time you plan your visit to this holiday home, it would always keep you pampered with its other delightful services and culinary delights.
Distance from Ranthambore National Park: 8km

10The Baagh Ranthambore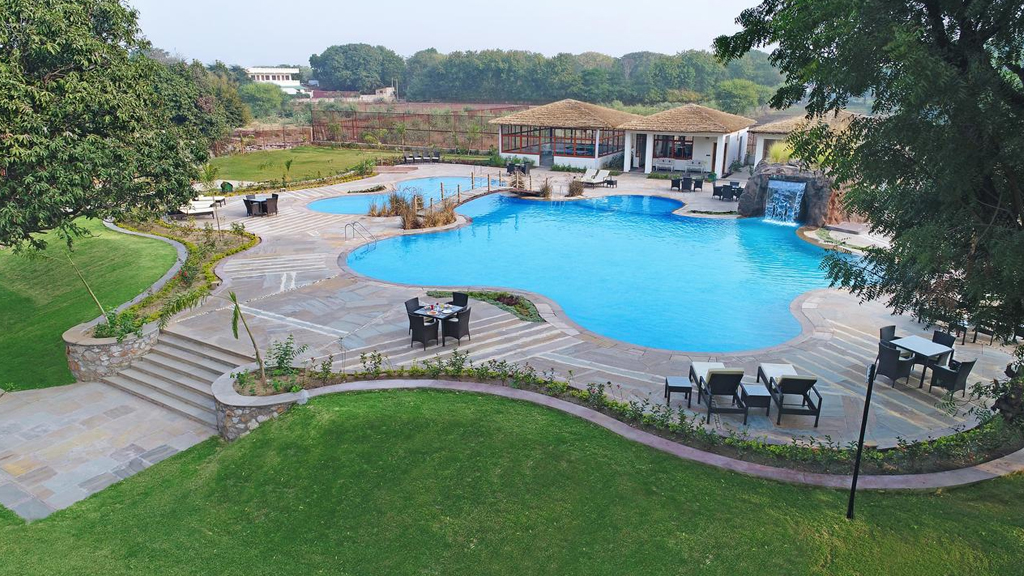 A wonderful hideout on the fringes of Ranthambore National Park, The Bagh Ranthambore is a perfect place for the wildlife and nature enthusiasts! Famed as one of the best jungle resorts in Rajasthan, it is situated only 1.5km from the sanctuary and serves as a great host to explore and enjoy the captivating beauty of the tiger reserve and its inhabitants.
The luxury and comforting quotient of the guests in The Baagh Ranthambore is fulfilled by its Super Deluxe and Luxury Cottages. Both the categories of rooms are laced with luxurious bathrooms, open shower, spacious and well-crafted living spaces. The decor of the rooms has been specially taken care off and they reflect the royalty and cultural values of Rajasthan in the best ways.
Outdoor lovers can always opt for the enthralling jungle or wildlife safaris. In case, the guests want to laze around, they can participate in an array of indoor as well as outdoor games within the premises of the resort. Swimming pool, banquet hall, conference hall, spa, and manicured lawns are some of the striking offerings of this wildlife resort.
Distance from Ranthambore National Park: 1.5km

11Khem Vilas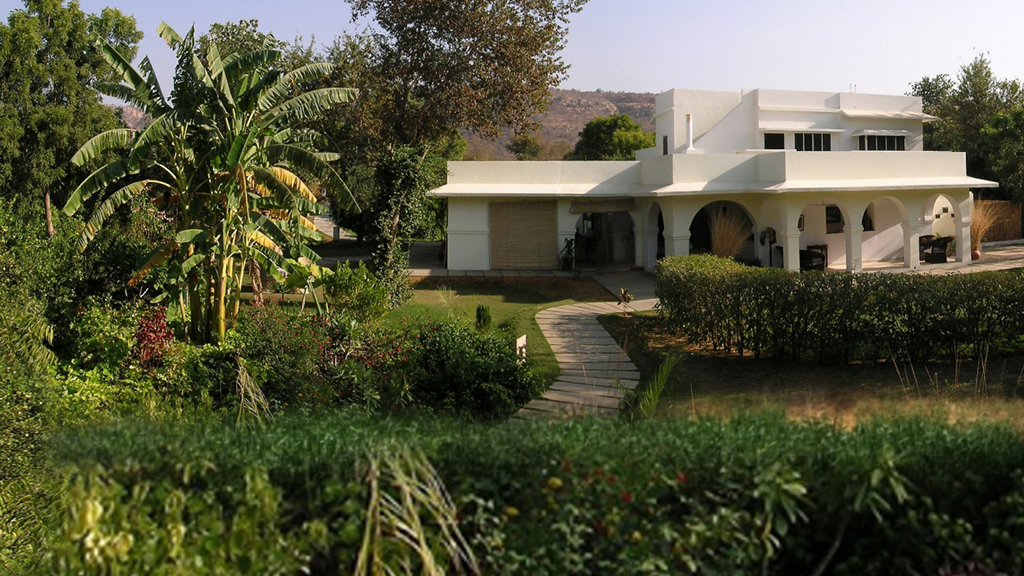 Established in 1989, this exotic jungle camp has no dearth of fun and excitement! An ideal place to crash down while adoring and embracing the enchanting beauty of Ranthambore National Park and its diverse population, this campsite is dotted with scenic water bodies, indigenous plants and trees, pictorial grasslands, and dedicated servicemen.
A treasure trove for the nature and wildlife lovers, Khem Villas also serves as a great escapade for the bird watchers. Even if the guest doesn't desire to hit the outdoors, they can pick us their binoculars and satiate all their yearnings by spotting rare and endangered avifauna species while within the campsite.
Cottages, tents and other rooms in this jungle camp offers an exquisite experience to the guests. They are crafted in total synchronisation with their surroundings; peace, serenity and the openness of Ranthambore can be felt and experienced while in this camp. Jungle trips, river safari, nature walks, Black Buck trials, spa therapies, and a plethora of fun frolic activities are the USP of Khem Villas in Ranthambore.
Distance from Ranthambore National Park: 9km

12Ranthambore Kothi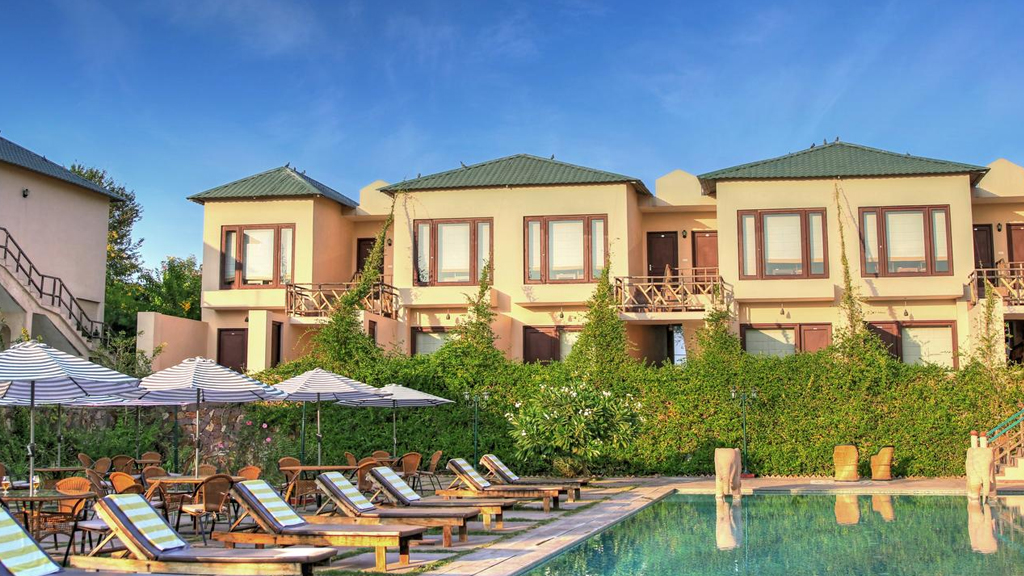 Nestled amidst lush greeneries and adorned with the alluring beauty of turquoise water bodies, this soul-soothing spot is a heaven for the wildlife enthusiasts! A holiday in this retreat doesn't only keep the guests limited to the fascinating wildlife or the untouched jungle patches, but also inspires and encourages them to open un and get connected with Mother Earth in the best ways!
Spreading across a scenic 14,400-acres land, Ranthambore Kothi carries the impression of a typical British bungalow, and stand up to the mark with its delightful offerings. Rooms in this jungle retreat are aesthetically built to bring out the best of wildlife experience along with luxury and comfort. They come with life-size windows, cubicle baths, private-areas, open showers, and lot more. However, the heritage furniture and heart-warming hospitality steals the show in Ranthambore Kothi.
Along with the elegant stay options, this resort also offers amazing dining options to the guests. Its poolside bar and another one called 'Tiger Onyx' showcases wooden furniture and serves some of the tasteful drinks to its patrons. Visitors can also opt for candle light dinners within the tranquil ambience of Ranthambore Kothi. Its other offerings include open-canter safari, rejuvenating spa therapies, sky shower, and an azure swimming pool.
Distance from Ranthambore National Park: 8km

13Sultan Bagh Jungle Camp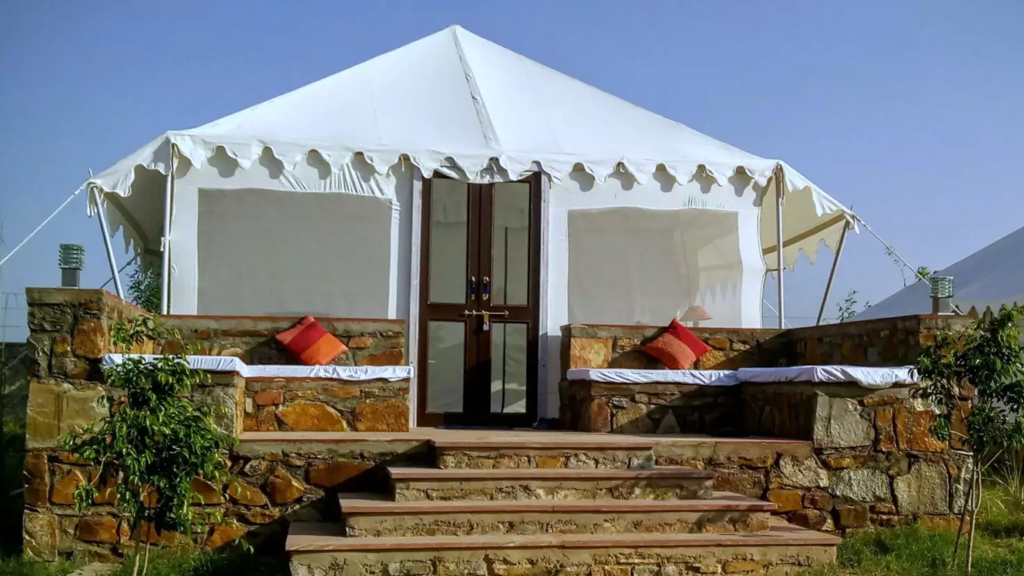 Yet another wonderful destination for the wildlife lovers, this is the resort that takes glamping to another level! Located only 3.5km away from the picturesque Ranthambore National Park, Sultan Bagh is also an ideal place to experience the authentic hospitality and indigenous offerings of Rajasthan's colourful cultures and traditions.
The resort boasts of its luxurious tents that are divided into two distinct categories: Maharaja Villas and Rajwada. The Maharaja Villas are Swiss tents with AC and are pitched aesthetically to bring in the true sense of staying in a jungle. Rajwada tents also have AC and are 6 in numbers. They too are perfectly pitched with the surroundings and offer an ultra-comfy stay to the guests.
Restaurant in Sultan Bagh is known for its delicious offerings and are often disguised to make the patrons greedier than before. In addition to the enthralling wildlife spotting and safaris, guests to this resort can also indulge in fun-filled activities like horse riding, camel riding, billiards, chess, badminton, and lot more.
Distance from Ranthambore National Park: 3.5km

14Anuraga Palace – A Treehouse Palace Hotel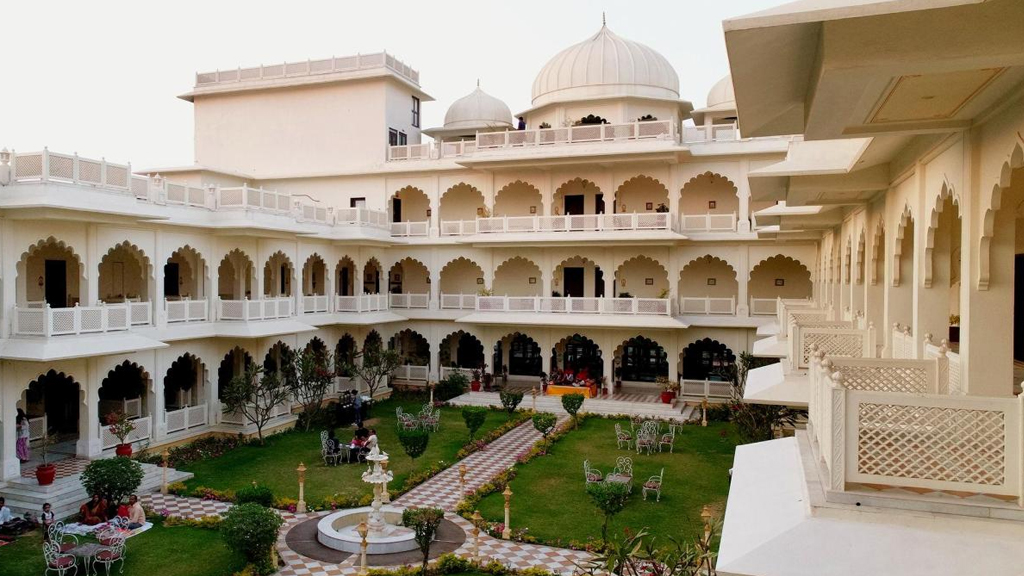 This unique resort has a distinct appeal; it will make you feel the true vibes of wilderness while offering you all the luxury and comfort of a royal sojourn! It boasts of being a place where time gets pleasantly lost and casts a magical appeal on the guests.
Set amidst the foothills of Aravalli Ranges, it showcases the perfect blend of heritage with modernity, adventure with fun, wildlife with delicacy. An architectural masterpiece, it has rooms that are adorned and decked with captivating tribal motifs, Rajputana architecture, and the rich tradition of the golden Thar Desert.
It also offers an extensive list of amenities and facilities. To name a few, there are swimming pool, outdoor play-area, spa, organic farm, and lot more. Besides the wondrous safaris in Ranthambore National Park, Anuraga, A Treehouse Palace Hotel is also known for its amazing Temple Trails that takes the guests to several sacred temples in and around the wildlife sanctuary.
Distance from Ranthambore National Park: 12km

15Hotel Juna Mahal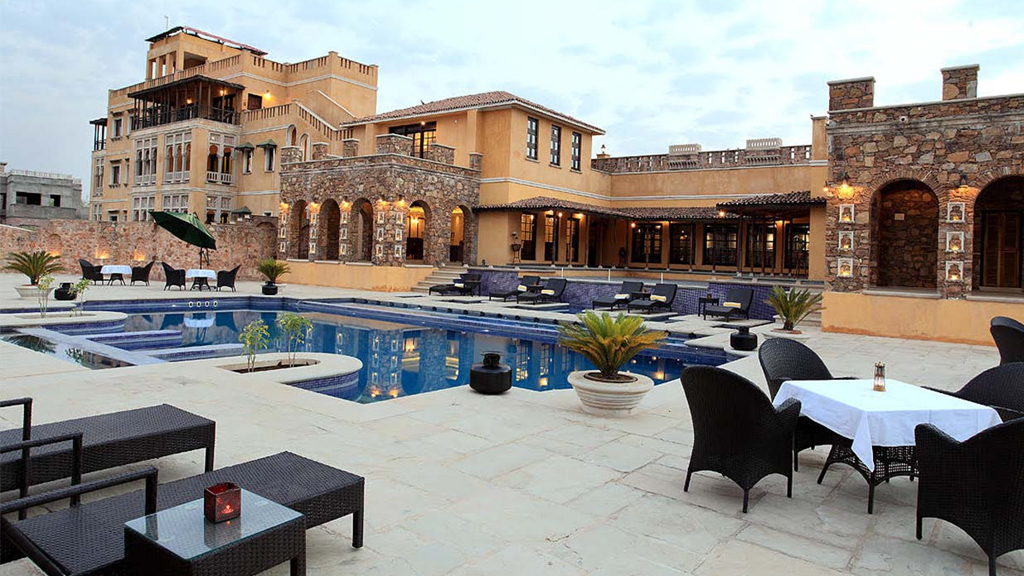 Though a new entrant in the list of hotels and resorts in Ranthambore, Juna Mahal has made its own mark among the wildlife enthusiasts! Offering the finest of luxury and comfort, opening the windows to Rajasthan's rich culture and history, Ranthambore's wilderness, this resort proves to be an ideal escapade for visitors from all the walks of life.
Built in the most appealing ways, it showcases Rajasthani architecture in a brilliant way. Be its antique collection, well-carved pillars, lintels, and intricate wood works; everything makes Juna Mahal an ideal place to unwind along the wilderness of Ranthambore National Park.
The luxury quotient in Juna Mahal is satiated by its rooms that offers amazing range of fittings and amenities. All the rooms have TV, satellite channels tea or coffee maker, hair dryer, refrigerator, and a minibar. Services offered by Juna Mahal includes banquet facilities, room services, laundry and dry cleaning, travel desk, gift shop, car rentals, and the list goes on.
Distance from Ranthambore National Park: 10km
Also Check Hotels in Udaipur, Resorts in Udaipur, Hotels in Jaipur